As the Earth warms, the overturning circulation of the upper atmosphere is projected to speed up. Model simulations suggest that this will increase the flux of ozone from the stratosphere to the troposphere, and alter surface levels of ultraviolet radiation.
Access options
Subscribe to Journal
Get full journal access for 1 year
$119.00
only $9.92 per issue
All prices are NET prices.
VAT will be added later in the checkout.
Tax calculation will be finalised during checkout.
Buy article
Get time limited or full article access on ReadCube.
$32.00
All prices are NET prices.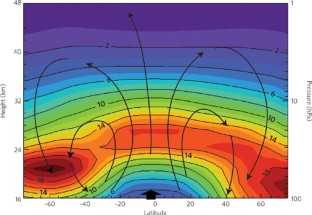 References
Tourpali, K. et al. Atmos. Chem. Phys. 9, 1165–1172 (2009).

Gauss, M. et al. Atmos. Chem. Phys. 6, 575–599 (2006).

Fiore, A. M. et al. J. Geophys. Res. 114, D04301 (2009).

Hegglin, M. I. & Shepherd, T. G. Nature Geosci. 2, 687–691 (2009).

McLandress, C. & Shepherd, T. G. J. Clim. 22, 1516–1540 (2009).

Butchart, N. et al. Clim. Dynam. 27, 727–741 (2006).

Engel, A. Nature Geosci. 2, 28–31 (2009).

Ordóñez, C. et al. Geophys. Res. Lett. 34, L07805 (2007).

Parrish, D. D., Millet, D. B. & Goldstein, A. H. Atmos. Chem. Phys. 9, 1303–1323 (2009).

Stevenson, D. S. et al. J. Geophys. Res. 111, D08301 (2006).

Jacob, D. J. & Winner, D. A. Atmos. Environ. 43, 51–63 (2009).

Cordero, E., Newman, P. A., Weaver, C. & Fleming, E. in Stratospheric Ozone: An Electronic Textbook (ed. Todaro, R. M.) Ch. 6 (NASA, 2000); available at <http://www.ccpo.odu.edu/SEES/ozone/class/Chap_6/.>
About this article
Cite this article
Stevenson, D. Putting the wind up ozone. Nature Geosci 2, 677–679 (2009). https://doi.org/10.1038/ngeo634
Published:

Issue Date:

DOI: https://doi.org/10.1038/ngeo634