Abstract
Mineral dust is usually transported long distances in the lower troposphere. There are examples of Asian dust being transported across the Pacific Ocean1,2,3,4,5,6,7, and traces of Asian dust have also been found in ice and snow cores in Greenland8 and the French Alps9. Here, we use measurements from the Cloud–Aerosol Lidar with Orthogonal Polarization10, an air parcel trajectory model and a three-dimensional aerosol transport model to map the transport of dust clouds generated during a storm in China's Taklimakan Desert during May 2007. We show that the dust-veiled clouds were lofted to the upper troposphere around 8–10 km above the Earth's surface and transported more than one full circuit around the globe in about 13 days. When the dust reached the northwestern Pacific Ocean for the second time, the subsidence of a large-scale high-pressure system caused it to descend into the lower troposphere; some of the dust was then deposited over the ocean. Our analysis also indicates that the dust particles may have acted as ice nuclei in these high-altitude clouds, leading to the formation of cirrus clouds. We suggest that Asian dust can influence the global radiation budget by stimulating cirrus cloud formation and marine ecosystems by supplying nutrients to the open ocean.
Your institute does not have access to this article
Relevant articles
Open Access articles citing this article.
Hyo-Jung Lee

,

Yu-Jin Jo

…

Cheol-Hee Kim

Scientific Reports Open Access 22 March 2022

Kang Yang

,

Zhien Wang

…

Mingxuan Wu

Communications Earth & Environment Open Access 10 February 2022

S. Allen

,

D. Allen

…

J. E. Sonke

Nature Communications Open Access 21 December 2021
Access options
Subscribe to Journal
Get full journal access for 1 year
$99.00
only $8.25 per issue
All prices are NET prices.
VAT will be added later in the checkout.
Tax calculation will be finalised during checkout.
Buy article
Get time limited or full article access on ReadCube.
$32.00
All prices are NET prices.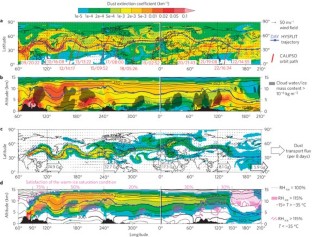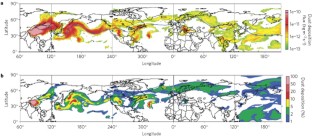 References
Uno, I. et al. Trans-Pacific yellow sand transport observed in April 1998: A numerical simulation. J. Geophys. Res. 106, 18331–18344 (2001).

Takemura, T., Uno, I., Nakajima, T., Higurashi, A. & Sano, I. Modeling study of long-range transport of Asian dust and anthropogenic aerosols from East Asia. Geophys. Res. Lett. 29, 2158 (2002).

Jaffe, D. et al. Transport of Asian air pollution to North America. Geophys. Res. Lett. 26, 711–714 (1999).

McKendry, I. G. et al. Trans-Pacific dust events observed at Whistler, British Columbia during INTEX-B. Atmos. Chem. Phys. 8, 6297–6307 (2008).

Tanaka, T. et al. Possible transcontinental dust transport from North Africa and the Middle East to East Asia. Atmos. Environ. 39, 3901–3909 (2005).

Betzer, P. R. et al. Long-range transport of giant mineral aerosol particles. Nature 336, 568–571 (1988).

McKendry, I. G. et al. A case of trans-Pacific transport of Saharan Dust to Western North America. J. Geophys. Res. 112, D01103 (2007).

Bory, A. J.-M., Biscaye, P. E. & Grousset, F. E. Two distinct seasonal Asian source regions for mineral dust deposited in Greenland (NorthGRIP). Geophys. Res. Lett. 30, 1167 (2003).

Grousset, F. E., Ginoux, P., Bory, A. & Biscaye, P. E. Case study of a Chinese dust plume reaching the French Alps. Geophys. Res. Lett. 30, 1277 (2003).

Winker, D. M., Hunt, W. H. & McGill, M. J. Initial performance assessment of CALIOP. Geophys. Res. Lett. 34, L19803 (2007).

Shimizu, A. et al. Continuous observations of Asian dust and other aerosols by polarization lidars in China and Japan during ACE-Asia. J. Geophys. Res. 109, D19S17 (2004).

Liu, Z. et al. CALIPSO lidar observations of the optical properties of Saharan dust: A case study of long-range transport. J. Geophys. Res. 113, D07207 (2008).

Uno, I. et al. 3D structure of Asian dust transport revealed by CALIPSO lidar and a 4DVAR dust model. Geophys. Res. Lett. 35, L06803 (2008).

Eguchi, K. et al. Trans-Pacific dust transport: Integrated analysis of NASA/CALIPSO and a global aerosol transport model. Atmos. Chem. Phys. 9, 3137–3145 (2009).

Aoki, I., Kurosaki, Y., Osada, R., Sato, T. & Kimura, F. Dust storms generated by mesoscale cold fronts in the Tarim Basin, Northwest China. Geophys. Res. Lett. 32, L06807 (2005).

Draxler, R. R. & Hess, G. D. An overview of the HYSPLIT 4 modelling system for trajectories, dispersion, and deposition. Aust. Meteorol. Mag. 47, 295–308 (1998).

Takemura, T. et al. Global three-dimensional simulation of aerosol optical thickness distribution of various origins. J. Geophys. Res. 105, 17853–17873 (2000).

Sugimoto, N. et al. 23rd International Laser Radar Conference, July 2006 Nara, Japan 851–854 23ILRC, ISBN 4- 9902916-0-3 (2006).

Wong, C. S., Whitney, F. A., Matear, R. J. & Iseki, K. Enhancement of new production in the northeast subarctic Pacific Ocean during negative North Pacific index events. Limnol. Oceanogr. 43, 1418–1426 (1998).

Isono, K., Komabayashi, M. & Ono, A. The nature and the origin of ice nuclei in the atmosphere. J. Meteorol. Soc. Jpn. 37, 211–233 (1959).

Sassen, K. Indirect climate forcing over the western US from Asian dust storms. Geophys. Res. Lett. 29, 1465 (2002).

Sakai, T., Nagai, T., Nakazato, M. & Matsumura, T. Raman lidar measurement of water vapor and ice clouds associated with Asian dust layer over Tsukuba, Japan. Geophys. Res. Lett. 31, L06128 (2004).

Sokolik, I. N. & Toon, O. B. Direct radiative forcing by anthropogenic airborne mineral aerosols. Nature 381, 681–683 (1996).

Tegen, I., Lacis, A. A. & Fung, I. The influence on climate forcing on mineral aerosols from disturbed soils. Nature 380, 419–422 (1996).

Hara, Y., Uno, I. & Wang, Z. Long-term variation of Asian dust and related climate factor. Atmos. Environ. 40, 6730–6740 (2006).

Sun, J., Zhang, M. & Liu, T. Spatial and temporal characteristics of dust storms in China and its surrounding regions, 1960–1999: Relations to source area and climate. J. Geophys. Res. 106, 10325–10333 (2001).

Zhu, C., Wang, B. & Qian, W. Why do dust storms decrease in northern China concurrently with the recent global warming. Geophys. Res. Lett. 35, L18702 (2008).

Hartmann, D. L. et al. The effect of cloud type on Earth's energy balance: Global analysis. J. Clim. 5, 1281–1304 (1992).

Liu, D., Wang, Z., Liu, Z., Winker, D. & Trepte, C. A height resolved global view of dust aerosols from the first year CALIPSO lidar measurements. J. Geophys. Res. 113, D16214 (2008).

Fernald, F. G. Analysis of atmospheric LIDAR observations: Some comments. Appl. Opt. 23, 652–653 (1984).
Acknowledgements
This work was partly supported by the Grant-in-Aid for Scientific Research in Priority Areas 'Western Pacific Air–Sea Interaction Study (W-PASS)' under the Grant No. 18067005 from the Ministry of Education, Culture, Sports, Science and Technology (MEXT), Japan and by the Global Environment Research Fund, Ministry of Environment, Japan (C-061). The authors gratefully thank M. Mikami for his continuous encouragement during the work of this paper, and C. Hostetler for his valuable comments on the original manuscript and English proofreading. The CALIPSO data were obtained from the NASA Langley Research Center Atmospheric Sciences Data Center.
Supplementary information
About this article
Cite this article
Uno, I., Eguchi, K., Yumimoto, K. et al. Asian dust transported one full circuit around the globe. Nature Geosci 2, 557–560 (2009). https://doi.org/10.1038/ngeo583
Received:

Accepted:

Published:

Issue Date:

DOI: https://doi.org/10.1038/ngeo583