The timing of the earliest production of oxygen by photosynthesis is hotly debated. Haematite crystals from Pilbara, Australia, may provide evidence for a deep ocean that was at least occasionally oxygenated by photosynthetic microbes 3.46 billion years ago.
This is a preview of subscription content
Access options
Subscribe to Journal
Get full journal access for 1 year
$99.00
only $8.25 per issue
All prices are NET prices.
VAT will be added later in the checkout.
Tax calculation will be finalised during checkout.
Buy article
Get time limited or full article access on ReadCube.
$32.00
All prices are NET prices.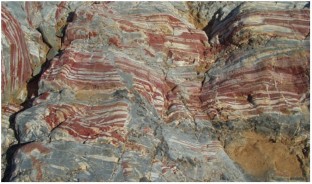 References
Knoll, A. H. Geobiology 1, 3–14 (2003).

Brocks, J. J., Logan, G. A., Buick, R. & Summons, R. E. Science 285, 1033–1036 (1999).

Rasmussen, B., Fletcher, I. R., Brocks, J. J. & Kilburn, M. R. Nature 455, 1101–1104 (2008).

Hoashi, M. et al. Nature Geosci. 2, 301–306 (2009).

Konhauser, K. O. et al. Earth Planet. Sci. Lett. 258, 87–100 (2007).

Holland, H. D. The Chemical Evolution of the Atmosphere and Oceans (Princeton Univ. Press, 1984).

Poulton, S. W., Fralick, P. W. & Canfield, D. E. Nature 431, 173–177 (2004).

Ohmoto, H., Kakegawa, T. & Lowe, D. R. Science 262, 555–557 (1993).

Ohmoto, H. Geology 24, 1135–1138 (1996).

Kaufman, A. J. et al. Science 317, 1900–1903 (2007).

Barley, M. E., Bekker, A. & Krapež, B. Earth Planet. Sci. Lett. 238, 156–171 (2005).

Rosing, M. T. & Frei, R. Earth Planet. Sci. Lett. 217, 237–244 (2004).
About this article
Cite this article
Konhauser, K. Deepening the early oxygen debate. Nature Geosci 2, 241–242 (2009). https://doi.org/10.1038/ngeo484
Issue Date:

DOI: https://doi.org/10.1038/ngeo484