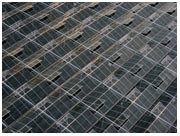 Greenhouse agriculture has undergone a massive expansion in southeastern Spain in recent years in order to provide regions of Europe that receive less natural sunlight with fruit and vegetables. In fact, the extremely dry landscape of Almeria, once a backdrop to numerous 'spaghetti westerns', is now home to the world's largest collection of greenhouses.
This horticultural explosion, which has overidden the semi-arid pasture that characterized the region, has had its own regional climatic impact: Pablo Campra of the University of Almeria, Spain and colleagues (J. Geophys. Res. 113, D18109; 2008) found that greenhouses in the coastal regions of Almeria bounce significantly more radiation back into the atmosphere compared with the vegetation in neighbouring communities. The increase in surface reflectance is greatest in summer, when farmers whitewash their greenhouses to stop the plants getting too much sun.
In an effort to determine the climatic significance of this agricultural development, the team trawled through satellite records of surface reflectivity and regional temperature records. They calculated the net change in solar radiation absorbed due to this particular land-use change, and estimated a reduction by an enormous 19.8 Wm−2, much higher than earlier computations of the radiative effects associated with a variety of land-use changes.
Apparently as a result of this increase in surface reflectivity, the localtemperature fell by 0.3 °C per decade between 1983 and 2006 whereas the rest of Spain warmed by 0.5 °C per decade over the same period. The development of greenhouse farming in southeastern Spain therefore seems to have generated a microclimate that has provided local relief from globalwarming.
About this article
Cite this article
Armstrong, A. The other greenhouse effect. Nature Geosci 1, 729 (2008). https://doi.org/10.1038/ngeo350