Abstract
The North Atlantic experiences climate variability on multidecadal scales, which is sometimes referred to as Atlantic multidecadal variability. However, the relative contributions of external forcing such as changes in solar irradiance or volcanic activity and internal dynamics to these variations are unclear. Here we provide evidence for persistent summer Atlantic multidecadal variability from AD 800 to 2010 using a network of annually resolved terrestrial proxy records from the circum-North Atlantic region. We find that large volcanic eruptions and solar irradiance minima induce cool phases of Atlantic multidecadal variability and collectively explain about 30% of the variance in the reconstruction on timescales greater than 30 years. We are then able to isolate the internally generated component of Atlantic multidecadal variability, which we define as the Atlantic multidecadal oscillation. We find that the Atlantic multidecadal oscillation is the largest contributor to Atlantic multidecadal variability over the past 1,200 years. We also identify coherence between the Atlantic multidecadal oscillation and Northern Hemisphere temperature variations, leading us to conclude that the apparent link between Atlantic multidecadal variability and regional to hemispheric climate does not arise solely from a common response to external drivers, and may instead reflect dynamic processes.
Relevant articles
Open Access articles citing this article.
Ruyu Gan

,

Qi Liu

…

Xichen Li

Nature Communications Open Access 24 January 2023

Mengyu Wang

,

Chaoyong Hu

…

Kathleen Johnson

Communications Earth & Environment Open Access 22 December 2022

Si Woong Bae

,

Kyung Eun Lee

…

Young-Gyu Park

Scientific Reports Open Access 03 September 2022
Access options
Subscribe to Nature+
Get immediate online access to Nature and 55 other Nature journal
Subscribe to Journal
Get full journal access for 1 year
$119.00
only $9.92 per issue
All prices are NET prices.
VAT will be added later in the checkout.
Tax calculation will be finalised during checkout.
Buy article
Get time limited or full article access on ReadCube.
$32.00
All prices are NET prices.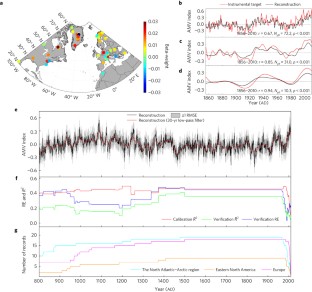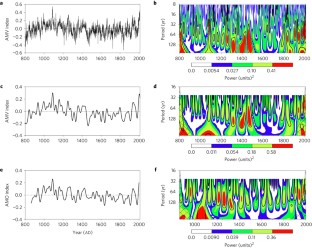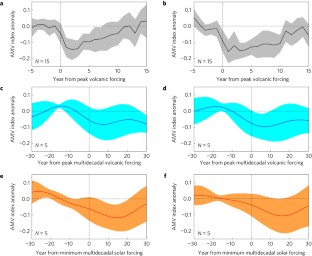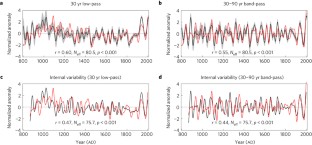 References
Enfield, D. B., Mestas-Nuñez, A. M. & Trimble, P. J. The Atlantic Multidecadal Oscillation and its relation to rainfall and river flows in the continental US. Geophys. Res. Lett. 28, 2077–2080 (2001).

Sutton, R. T. & Hodson, D. L. Atlantic Ocean forcing of North American and European summer climate. Science 309, 115–118 (2005).

Straneo, F. & Heimbach, P. North Atlantic warming and the retreat of Greenland's outlet glaciers. Nature 504, 36–43 (2013).

Sutton, R. T. & Dong, B. Atlantic Ocean influence on a shift in European climate in the 1990s. Nat. Geosci. 5, 788–792 (2012).

Goldenberg, S. B., Landsea, C. W., Mestas-Nuñez, A. M. & Gray, W. M. The recent increase in Atlantic Hurricane activity: causes and implications. Science 293, 474–479 (2001).

Zhang, R. & Delworth, T. L. Impact of Atlantic multidecadal oscillations on India/Sahel rainfall and Atlantic hurricanes. Geophys. Res. Lett. 33, L17712 (2006).

Li, S., Perlwitz, J., Quan, X. & Hoerling, M. P. Modelling the influence of North Atlantic multidecadal warmth on the Indian summer rainfall. Geophys. Res. Lett. 35, L05804 (2008).

Wang, J., Yang, B., Ljungqvist, F. C. & Zhao, Y. The relationship between the Atlantic multidecadal oscillation and temperature variability in China during the last millennium. J. Quat. Sci. 28, 653–658 (2013).

Tung, K. K. & Zhou, J. Using data to attribute episodes of warming and cooling in instrumental records. Proc. Natl Acad. Sci. USA 110, 2058–2063 (2013).

Chylek, P., Klett, J. D., Lesins, G., Dubey, M. K. & Hengartner, N. The Atlantic multidecadal oscillation as a dominant factor of oceanic influence on climate. Geophys. Res. Lett. 41, 1689–1697 (2014).

Steinman, B. A., Mann, M. E. & Miller, S. K. Atlantic and Pacific multidecadal oscillations and Northern Hemisphere temperatures. Science 347, 988–991 (2015).

McCarthy, G. D., Haigh, I. D., Hirschi, J. J., Grist, J. P. & Smeed, D. A. Ocean impact on decadal Atlantic climate variability revealed by sea-level observations. Nature 521, 508–510 (2015).

Delworth, T. L. & Mann, M. E. Observed and simulated multidecadal variability in the Northern Hemisphere. Clim. Dynam. 16, 661–676 (2000).

Knight, J. R., Allan, R. J., Folland, C. K., Vellinga, M. & Mann, M. E. A signature of persistent natural thermohaline circulation cycles in observed climate. Geophys. Res. Lett. 32, L20708 (2005).

Otterå, O. H., Bentsen, M., Drange, H. & Suo, L. External forcing as a metronome for Atlantic multidecadal variability. Nat. Geosci. 3, 688–694 (2010).

Knudsen, M. F., Jacobsen, B. H., Seidenkrantz, M. S. & Olsen, J. Evidence for external forcing of the Atlantic multidecadal oscillation since termination of the Little Ice Age. Nat. Commun. 5, 3323 (2014).

Booth, B. B., Dunstone, N. J., Halloran, P. R., Andrews, T. & Bellouin, N. Aerosols implicated as a prime driver of twentieth-century North Atlantic climate variability. Nature 484, 228–232 (2012).

Dai, A., Fyfe, J. C., Xie, S.-P. & Dai, X. Decadal modulation of global surface temperature by internal climate variability. Nat. Clim. Change 5, 555–559 (2015).

Frankcombe, L. M., England, M. H., Mann, M. E. & Steinman, B. A. Separating internal variability from the externally forced climate response. J. Clim. 28, 8184–8202 (2015).

Cheung, A. H. et al. Comparison of low frequency internal climate variability in CMIP5 models and observations. J. Clim. http://dx.doi.org.10.1175/jcli-d-1116-0712.1171 (in the press).

Cook, E. R., D'Arrigo, R. D. & Mann, M. E. A well-verified, multiproxy reconstruction of the winter North Atlantic Oscillation index since AD 1400. J. Clim. 15, 1754–1764 (2002).

Coats, S. et al. Internal ocean-atmosphere variability drives megadroughts in Western North America. Geophys. Res. Lett. 43, 9886–9894 (2016).

Torrence, C. & Compo, G. P. A practical guide to wavelet analysis. Bull. Am. Meteorol. Soc. 79, 61–78 (1998).

Mann, M. E. et al. Global signatures and dynamical origins of the Little Ice Age and medieval climate anomaly. Science 326, 1256–1260 (2009).

Gray, S. T., Graumlich, L. J., Betancourt, J. L. & Pederson, G. T. A tree-ring based reconstruction of the Atlantic multidecadal oscillation since 1567 AD. Geophys. Res. Lett. 31, L12205 (2004).

Sigl, M. et al. Timing and climate forcing of volcanic eruptions for the past 2,500 years. Nature 523, 543–549 (2015).

Crowley, T. J. & Unterman, M. B. Technical details concerning development of a 1,200 yr proxy index for global volcanism. Earth Syst. Sci. Data 5, 187–197 (2013).

Swingedouw, D. et al. Bidecadal North Atlantic ocean circulation variability controlled by timing of volcanic eruptions. Nat. Commun. 6, 6545 (2015).

Zanchettin, D. et al. Background conditions influence the decadal climate response to strong volcanic eruptions. J. Geophys. Res. 118, 4090–4106 (2013).

Esper, J., Schneider, L., Smerdon, J. E., Schöne, B. R. & Büntgen, U. Signals and memory in tree-ring width and density data. Dendrochronologia 35, 62–70 (2015).

Ammann, C. M., Joos, F., Schimel, D. S., Otto-Bliesner, B. L. & Tomas, R. A. Solar influence on climate during the past millennium: results from transient simulations with the NCAR Climate System Model. Proc. Natl Acad. Sci. USA 104, 3713–3718 (2007).

Steinhilber, F., Beer, J. & Fröhlich, C. Total solar irradiance during the Holocene. Geophys. Res. Lett. 36, L19704 (2009).

Christiansen, B. & Ljungqvist, F. C. Challenges and perspectives for large-scale temperature reconstructions of the past two millennia. Rev. Geophys. 55, 40–96 (2017).

Saenger, C., Cohen, A. L., Oppo, D. W., Halley, R. B. & Carilli, J. E. Surface-temperature trends and variability in the low-latitude North Atlantic since 1552. Nat. Geosci. 2, 492–495 (2009).

Masson-Delmotte, V. et al. in Climate Change 2013: The Physical Science Basis (eds Stocker, T. F. et al.) Ch. 5, 383–464 (IPCC, Cambridge Univ. Press, 2013).

Luterbacher, J. et al. European summer temperatures since Roman times. Environ. Res. Lett. 11, 024001 (2016).

Clement, A. et al. The Atlantic multidecadal oscillation without a role for ocean circulation. Science 350, 320–324 (2015).

Li, J., Sun, C. & Jin, F. NAO implicated as a predictor of Northern Hemisphere mean temperature multidecadal variability. Geophys. Res. Lett. 40, 5497–5502 (2013).

Delworth, T. L. et al. The North Atlantic oscillation as a driver of rapid climate change in the Northern Hemisphere. Nat. Geosci. 9, 509–512 (2016).

Rahmstorf, S. et al. Exceptional twentieth-century slowdown in Atlantic Ocean overturning circulation. Nat. Clim. Change 5, 475–480 (2015).

Stoffel, M. et al. Estimates of volcanic-induced cooling in the Northern Hemisphere over the past 1,500 years. Nat. Geosci. 8, 784–788 (2015).

Mann, M. E. et al. Predictability of the recent slowdown and subsequent recovery of large-scale surface warming using statistical methods. Geophys. Res. Lett. 43, 3459–3467 (2016).

Hegerl, G. & Zwiers, F. Use of models in detection and attribution of climate change. WIREs Clim. Change 2, 570–591 (2011).

Kaplan, A. et al. Analyses of global sea surface temperature 1856–1991. J. Geophys. Res. 103, 18567–18589 (1998).

PAGES 2k Consortium. Continental-scale temperature variability during the past two millennia. Nat. Geosci. 6, 339–346 (2013).

Melvin, T. M., Grudd, H. & Briffa, K. R. Potential bias in 'updating' tree-ring chronologies using regional curve standardisation: re-processing 1,500 years of Torneträsk density and ring-width data. Holocene 23, 364–373 (2013).

Zhang, P., Linderholm, H. W., Gunnarson, B. E., Björklund, J. & Chen, D. 1,200 years of warm-season temperature variability in central Fennoscandia inferred from tree-ring density. Clim. Past 12, 1297–1312 (2016).

Trouet, V. et al. A 1,500-year reconstruction of annual mean temperature for temperate North America on decadal-to-multidecadal time scales. Environ. Res. Lett. 8, 024008 (2013).

Ljungqvist, F. C. et al. Northern Hemisphere hydroclimate variability over the past twelve centuries. Nature 532, 94–98 (2016).

Schneider, L. et al. Revising mid-latitude summer-temperatures back to AD 600 based on a wood density network. Geophys. Res. Lett. 42, 4556–4562 (2015).

Wilson, R. et al. Last millennium northern hemisphere summer temperatures from tree rings: part I: the long term context. Quat. Sci. Rev. 134, 1–18 (2016).
Acknowledgements
B.Y. and J.W. are supported by the National Science Foundation of China (NSFC) (Grant No. 41325008, 41661144008, 41520104005 and 41602192) and the CAS 'Light of West China' Program. T.J.O. and K.R.B. are supported by the UK Natural Environment Research Council (NERC, grant NE/N006348/1 and NE/P006809/1). K.R.B. also thanks G. Kapur for ongoing medical support. J.L. and E.Z. acknowledge the German Science Foundation (DFG) project (Attribution of forced and internal Chinese climate variability in the common eras). B.Y., T.J.O. and J.L. are also supported by the Belmont Forum and JPI-Climate, Collaborative Research Action 'INTEGRATE, An integrated data-model study of interactions between tropical monsoons and extratropical climate variability and extremes'. F.C.L. is partly supported by a grant from the Royal Swedish Academy of Letters, History and Antiquities and the Bank of Sweden Tercentenary Foundation (Stiftelsen Riksbankens Jubileumsfond).
Ethics declarations
Competing interests
The authors declare no competing financial interests.
Supplementary information
About this article
Cite this article
Wang, J., Yang, B., Ljungqvist, F. et al. Internal and external forcing of multidecadal Atlantic climate variability over the past 1,200 years. Nature Geosci 10, 512–517 (2017). https://doi.org/10.1038/ngeo2962
Received:

Accepted:

Published:

Issue Date:

DOI: https://doi.org/10.1038/ngeo2962