Abstract
Slow slip events1 are accompanied by swarms of non-volcanic tremor2,3 along the subduction zone of the Philippine Sea plate in southwest Japan: the swarms often occur with a periodicity of about 12 or 24 h (refs 4, 5). These episodic events are considered to be a manifestation of stress relaxation at the subducting plate interface1,6,7. Here, we analyse seismic data to record the locations and durations of non-volcanic tremor swarms that occurred in May 2005 and February 2006. We evaluate the magnitude of stress changes produced by slow slip events as well as the effective normal stress on the plate interface where slow slip events occur. We find that the observed periodicity in tremor occurrence originates from a combined effect of the periodic stress due to Earth tides and the transient stress due to slow slip events. Our calculations show that non-volcanic tremor is sensitive to stress change. This phenomenon can therefore be effective in monitoring the process of stress relaxation at subducting plate interfaces.
Access options
Subscribe to Journal
Get full journal access for 1 year
$187.00
only $15.58 per issue
All prices are NET prices.
VAT will be added later in the checkout.
Rent or Buy article
Get time limited or full article access on ReadCube.
from$8.99
All prices are NET prices.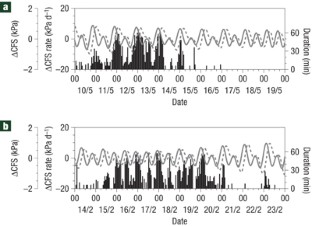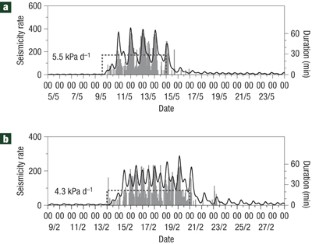 References
1

Obara, K., Hirose, H., Yamamizu, F. & Kasahara, K. Episodic slow slip events accompanied by non-volcanic tremors in southwest Japan subduction zone. Geophys. Res. Lett. 31, doi:10.1029/2004GL020848 (2004).

2

Obara, K. Nonvolcanic deep tremor associated with subduction in southwest Japan. Science 296, 1679–1681 (2002).

3

Katsumata, A. & Kamaya, N. Low-frequency continuous tremor around the Moho discontinuity away from volcanoes in the southwest Japan. Geophys. Res. Lett. 30, doi:10.1029/2002GL015981 (2003).

4

Shelly, D. R., Beroza, G. C. & Ide, S. Complex evolution of transient slip derived from precise tremor locations in western Shikoku, Japan. Geochem. Geophys. Geosyst. 8, Q10014 (2007).

5

Rubinstein, J. L., Rocca, M. L., Vidale, J. E., Creager, K. C. & Wech, A. G. Tidal modulation of nonvolcanic tremor. Science 319, 186–189 (2008).

6

Shelly, D. R., Beroza, G. C., Ide, S. & Nakamula, S. Low-frequency earthquakes in Shikoku, Japan, and their relationship to episodic tremor and slip. Nature 442, 188–191 (2006).

7

Shelly, D. R., Beroza, G. C. & Ide, S. Non-volcanic tremor and low-frequency earthquake swarms. Nature 446, 305–307 (2007).

8

Ito, Y., Obara, K., Shiomi, K., Sekine, S. & Hirose, H. Slow earthquakes coincident with episodic tremors and slow slip events. Science 315, 503–506 (2007).

9

Ide, S., Imanishi, K., Yoshida, Y., Beroza, G. C. & Shelly, D. R. Bridging the gap between seismically and geodetically detected slow earthquakes. Geophys. Res. Lett. 35, doi:10.1029/2008GL034014 (2008).

10

Ide, S., Beroza, G. C., Shelly, D. R. & Uchide, T. A scaling law for slow earthquakes. Nature 447, 76–79 (2007).

11

Obara, K. & Hirose, H. Non-volcanic deep low-frequency tremors accompanying slow slips in the southwest Japan subduction zone. Tectonophysics 417, 33–51 (2006).

12

Tsuruoka, H., Ohtake, M. & Sato, H. Statistical test of the tidal triggering of earthquakes: contribution of the ocean tide loading effect. Geophys. J. Int. 122, 183–194 (1995).

13

Dieterich, J. A constitutive law for rate of earthquake production and its application to earthquake clustering. J. Geophys. Res. 99, 2601–2618 (1994).

14

Dieterich, J., Cayol, V. & Okubo, P. The use of earthquake rate changes as a stress meter at Kilauea volcano. Nature 408, 457–460 (2000).

15

Toda, S., Stein, R. S. & Sagiya, T. Evidence from the AD 2000 Izu islands earthquake swarm that stressing rate governs seismicity. Nature 419, 58–61 (2002).

16

Chester, F. M. & Higgs, N. G. Multimechanism friction constitutive model for ultrafine quartz gouge at hypocentral conditions. J. Geophys. Res. 97, 1859–1870 (1992).

17

Blanpied, M. L., Marone, C. J., Lockner, D. A., Byerlee, J. D. & King, D. P. Quantitative measure of the variation in fault rheology due to fluid-rock interactions. J. Geophys. Res. 103, 9691–9712 (1998).

18

Kodaira, S. et al. High pore fluid pressure may cause silent slip in the Nankai trough. Science 304, 1295–1298 (2004).

19

Shibazaki, B. & Shimamoto, T. Modelling of short-interval silent slip events in deeper subduction interfaces considering the frictional properties at the unstable–stable transition regime. Geophys. J. Int.doi:10.1111/j.1365-246X.2007.03434.x (2007).

20

Sagiya, T., Miyazaki, S. & Tada, T. Continuous GPS array and present-day crustal deformation of Japan. Pure Appl. Geophys. 157, 2303–2322 (2000).

21

Miyazaki, S., Segall, P., Fukuda, J. & Kato, T. Space time distribution of afterslip following the 2003 Tokachi-oki earthquake: Implications for variations in fault zone frictional properties. Geophys. Res. Lett. 31doi:10.1029/2003GL019410 (2004).

22

Rubinstein, J. L. et al. Non-volcanic tremor driven by large transient shear stresses. Nature 448, 579–582 (2007).

23

Matsubara, M., Obara, K. & Kasahara, K. High-VP/VS zone accompanying non-volcanic tremors and slow slip events beneath southwestern Japan. Tectonophysicsdoi:10.1016/j.tecto.2008.06.013 (2008).
Acknowledgements
We thank Y. Fukao, K. Shimazaki, T. Shimamoto and J. E. Vidale for comments. This work was supported by a Grant-in-Aid for Scientific Research, the Ministry of Education, Sports, Science and Technology, Japan (to N.S.).
Supplementary information
About this article
Cite this article
Nakata, R., Suda, N. & Tsuruoka, H. Non-volcanic tremor resulting from the combined effect of Earth tides and slow slip events. Nature Geosci 1, 676–678 (2008) doi:10.1038/ngeo288
Received

Accepted

Published

Issue Date