Beneath the fresh and cold surface water in the Arctic Ocean resides more saline and warmer water of Atlantic origin. Pan-Arctic measurements of turbulent mixing suggest that tidal mixing is bringing up substantial amounts of heat in some areas.
Access options
Subscribe to Journal
Get full journal access for 1 year
$187.00
only $15.58 per issue
All prices are NET prices.
VAT will be added later in the checkout.
Rent or Buy article
Get time limited or full article access on ReadCube.
from$8.99
All prices are NET prices.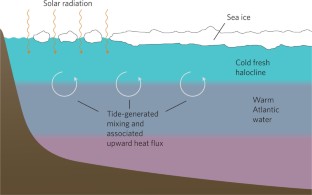 References
1

Perovich, D. K. & Richter-Menge, J. A. Annu. Rev. Mar. Sci. 1, 417–441 (2009).

2

Rippeth, T. P. et al. Nature Geosci. 8, 191–194 (2015).

3

Rainville, L. & Winsor, P. Geophys. Res. Lett. 35, L08606 (2008).

4

Rainville, L., Lee, C. M. & Woodgate, R. Oceanography 24, 136–145 (2011).

5

Guthrie, J. D., Morison, J. H. & Fer, I. J. Geophys. Res. Oceans 118, 3966–3977 (2013).

6

Timmermans, M-L., Toole, J., Krishfield, R. & Winsor, P. J. Geophys. Res. 113, C00A02 (2008).
About this article
Cite this article
Lique, C. Arctic sea ice heated from below. Nature Geosci 8, 172–173 (2015). https://doi.org/10.1038/ngeo2357