Abstract
The largest oceanic heat input to the Arctic Ocean results from inflowing Atlantic water. This inflowing water is warmer than it has been in the past 2,000 years1,2. Yet the fate of this heat remains uncertain3, partly because the water is relatively saline, and thus dense: it therefore enters the Arctic Ocean at intermediate depths and is separated from surface waters by stratification. Vertical mixing is generally weak within the Arctic Ocean basins, with very modest heat fluxes (0.05–0.3 W m−2) arising largely from double diffusion4,5,6,7,8. However, geographically limited observations have indicated substantially enhanced turbulent mixing rates over rough topography9,10,11,12,13,14. Here we present pan-Arctic microstructure measurements of turbulent kinetic energy dissipation. Our measurements further demonstrate that the enhanced continental slope dissipation rate, and by implication vertical mixing, varies significantly with both topographic steepness and longitude. Furthermore, our observations show that dissipation is insensitive to sea-ice conditions. We identify tides as the main energy source that supports the enhanced dissipation, which generates vertical heat fluxes of more than 50 W m−2. We suggest that the increased transfer of momentum from the atmosphere to the ocean as Arctic sea ice declines is likely to lead to an expansion of mixing hotspots in the future Arctic Ocean.
Relevant articles
Open Access articles citing this article.
Jiang Dong

,

Xuefa Shi

…

Gerrit Lohmann

Nature Communications Open Access 13 September 2022

Kirstin Schulz

,

Volker Mohrholz

…

Zoé Koenig

Scientific Data Open Access 03 August 2022

Shuya Wang

,

Anzhou Cao

…

Xu Chen

Scientific Reports Open Access 08 July 2022
Access options
Subscribe to this journal
Receive 12 print issues and online access
$259.00 per year
only $21.58 per issue
Rent or buy this article
Prices vary by article type
from$1.95
to$39.95
Prices may be subject to local taxes which are calculated during checkout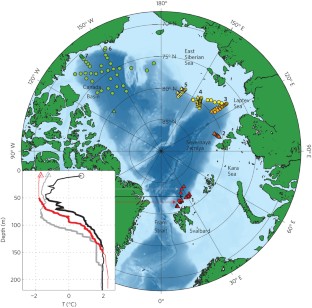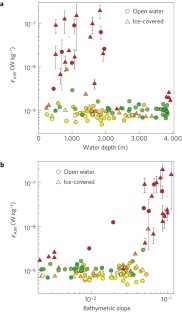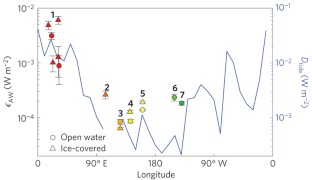 References
Polyakov, I. V. et al. Arctic Ocean warming contributes to reduced polar ice cap. J. Phys. Oceanogr. 40, 2743–2756 (2012).

Spielhage, R. et al. Enhanced modern heat transfer to the Arctic by warm Atlantic water. Science 331, 450–453 (2011).

Rudels, B. et al. Circulation and transformation of Atlantic water in the Eurasian Basin and the contribution of the Fram Strait inflow branch to the Arctic Ocean heat budget. Prog. Oceanogr. http://dx.doi.org/10.1016/j.pocean.2014.04.003 (2014).

Fer, I. Weak vertical diffusion allows maintenance of cold halocline in the central Arctic. Atmos. Oceanic Sci. Lett. 2, 148–152 (2009).

Timmermans, M-L., Toole, J., Krishfield, R. & Winsor, P. Ice-Tethered Profiler observations of double diffusive staircases in the Canada Basin thermocline. J. Geophys. Res. 113, C00A02 (2008).

Lenn, Y. D. et al. Vertical mixing at intermediate depths in the Arctic boundary current. Geophys. Res. Lett. 36, L05601 (2009).

Padman, L. & Dillon, T. M. Vertical heat fluxes through the Beaufort Sea thermohaline staircase. J. Geophys. Res. 92, 10799–10806 (1987).

Guthrie, J. D., Morison, J. H. & Fer, I. Revisiting internal waves and mixing in the Arctic Ocean. J. Geophys. Res. 118, 3966–3977 (2013).

Padman, L. & Dillion, T. Turbulent mixing near the Yamak Plateau during the Coordinated Eastern Arctic Experiment. J. Geophys. Res. 96, 4769–4782 (1991).

Steele, M. & Morison, J. D. Hydrography and vertical fluxes of heat and salt northeast of Svalbard in autumn. J. Geophys. Res. 98, 10013–10024 (1993).

D'Asaro, E. A. & Morison, J. D. Internal waves and mixing in the Arctic Ocean. Deep-Sea Res. 39, S459–S484 (1992).

Fer, I., Skogseth, R. & Geyer, F. Internal waves and mixing in the marginal ice zone near the Yermack Plateau. J. Phys. Oceanogr. 40, 1613–1630 (2010).

Shaw, W. & Stanton, T. Vertical diffusivity of the Western Arctic Ocean halocline. J. Geophys. Res. 119, 5017–5038 (2014).

Rainville, L. & Winsor, P. Mixing across the Arctic Ocean: Microstructure observations during the Beringa 2005 Expedition. Geophys. Res. Lett. 35, L08606 (2008).

Carmack, E. & Melling, H. Warmth from the deep. Nature Geosci. 4, 7–8 (2011).

Ledwell, J. R. et al. Evidence for enhanced mixing over rough topography in the abyssal ocean. Nature 403, 179–403 (2000).

Rudnick, D. L. et al. From tides to mixing along the Hawaiian Ridge. Science 301, 355–357 (2003).

Holloway, G. & Proshutinsky, A. Role of tides in Arctic Ocean/ice climate. J. Geophys. Res. 112, C04S06 (2007).

Mead Silvester, J., Lenn, Y. D., Polton, J., Rippeth, T. P. & Morales Maqueda, M. Observations of a diapycnal shortcut to adiabatic upwelling of Antarctic Circumpolar Deep Water. Geophys. Res. Lett. 41, 7950–7956 (2014).

Munk, W. & Wunsch, C. Abyssal recipes II: Energetics of tidal and wind mixing. Deep-Sea Res. I 45, 1977–2010 (1998).

Giles, K., Laxon, S., Ridout, A., Wingham, D. & Bacon, S. Western Arctic Ocean freshwater storage increased by wind driven spin-up of the Beaufort Gyre. Nature Geosci. 5, 194–197 (2012).

Martin, T., Steele, M. & Zhang, J. Seasonality and long-term trend of Arctic Ocean surface stress in a model. J. Geophys. Res. 119, 1723–1738 (2014).

Tsamados, M. et al. Impact of variable atmospheric and oceanic form drag on simulations of Arctic sea ice. J. Phys. Oceanogr. 44, 1329–1353 (2014).

Egbert, G. D. & Ray, R. D. Estimates of M2 tidal energy dissipation from Topex Poseidon altimeter data. J. Geophys. Res. 106, 22475–22502 (2001).

Egbert, G. D. & Erofeeva, S. Efficient inverse modeling of barotropic ocean tides. J. Atmos. Oceanic Technol. 19, 183–204 (2002).

Padman, L. & Erofeeva, S. A barotropic inverse tidal model for the Arctic Ocean. Geophys. Res. Lett. 31, L02303 (2005).

Vlansenko, V., Stashcuk, N., Hutter, K. & Sabinin, K. Nonlinear internal waves forced by tides near the critical latitude. Deep-Sea Res. 50, 317–338 (2003).

Watson, A. J. et al. Rapid cross-density ocean mixing at mid-depths in the Drake Passage measured by tracer release. Nature 501, 408–411 (2013).

Lenn, Y. D. et al. Intermittent intense turbulent mixing under ice in the Laptev Sea Continental Shelf. J. Phys. Oceanogr. 41, 531–547 (2011).

Rainville, L. & Woodgate, R. A. Observations of internal wave generation in the seasonally ice-free Arctic. Geophys. Res. Lett. 36, L23604 (2009).
Acknowledgements
Data collection and analysis by the Bangor team was funded through the UK Natural Environmental Research Council ASBO and TEA-COSI Consortia (PI SB). The Norwegian Polar Institute data collection was funded by the NPI Centre for Ice, Climate and Ecosystems (ICE). Y-D.L. was financially supported by a NERC Fellowship. VMP technical support was ably provided by B. Powell. The authors wish to thank the captain, crew, principal scientists and participating scientists of the Viktor Buynitsky, I/B Kapitan Dranitsyn, CCGS Louis S St-Laurent, RRS James Clark Ross and the RV Lance for their cooperation in the data collection. The authors gratefully acknowledge cruise funding from NERC, the US NABOS programme (http://nabos.iarc.uaf.edu), and the joint US-Canadian Beaufort Gyre Exploration Project (http://www.whoi.edu/beaufortgyre).
Ethics declarations
Competing interests
The authors declare no competing financial interests.
Supplementary information
About this article
Cite this article
Rippeth, T., Lincoln, B., Lenn, YD. et al. Tide-mediated warming of Arctic halocline by Atlantic heat fluxes over rough topography. Nature Geosci 8, 191–194 (2015). https://doi.org/10.1038/ngeo2350
Received:

Accepted:

Published:

Issue Date:

DOI: https://doi.org/10.1038/ngeo2350