Hitomi Nakamura, sometimes on her own, braved remote ravines and thick jungles in order to sample volcanic rocks that help reveal the complex geometry of two overlapping plates subducting into the mantle beneath central Japan.
Is there anything special about central Japan, the location for your fieldwork?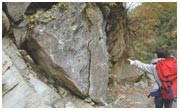 Two oceanic tectonic plates—the Philippine Sea plate and the Pacific plate—sink obliquely into the mantle near central Japan and overlap, leading to a unique tectonic setting. Fluids released by the dehydration of these plates modify the mantle and lead to extensive magmatic and volcanic activity to the west and north of Tokyo, threatening the megacity with potential volcanic hazards.
What were you seeking to understand?
Hikaru Iwamori had previously simulated flow in the mantle beneath central Japan, taking into account its thermal structure, mineral constituents, and influence of fluids on melting. He had a hypothesis regarding dehydration and melting that we wanted to check against field and laboratory evidence. We also wanted to understand how the overlap between the two subducting plates affects magmatic and volcanic activity in the region.
What sorts of data or samples were you after?
The composition of the fluids released by each of the subducting plates and the regional variations in the amount of fluid coming from each plate can be inferred from the chemical composition of volcanic rocks on the surface. I collected over 400 rock samples from about 30 out of the 60 Quaternary volcanoes scattered over a wide area in central Japan, sometimes on my own and sometimes with a colleague.
Were there any technical or physical challenges?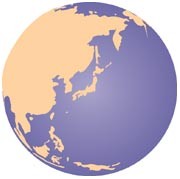 As mentioned earlier, the tectonic setting of central Japan is quite unique. In the beginning of the project, we weren't really sure if it was a good idea to work in such a complex area — it has definitely been a conceptual adventure! Central Japan has deep ravines, thick forests and dense fog. At least the volcanoes are not too high though. It took us five physically challenging years to cover the whole area. We encountered a lot of wildlife during that period, including deer, boar, monkeys and bears.
Any particularly memorable experience?
At the very beginning of this project (back in my undergraduate days), I did not have a driver's license and neither was I very well prepared to work in mountainous regions. I reached the base of Kyogatake Volcano of the Ryohaku volcanoes — a cluster of eleven volcanoes in the western part of central Japan — by hitchhiking from the closest local railway station. The field work and rock sampling took much longer than I had expected and I almost got lost in a dark and deep ravine. Just as I was beginning to rue my lack of careful planning I managed to find my way back to the base of the volcano and stumbled upon a woman quite unexpectedly. She was very surprised to see a young girl carrying a big rucksack full of rocks in the dark. I explained my situation and to my great relief she invited me to spend the night at her home. Her father had spent his whole life near the Kyogatake Volcano and knew a great deal about local geological events, such as landslides and mud flows. The following day, he kindly accompanied me to outcrops of the volcano and as I collected rocks, he collected various edible wild plants! His help and kindness allowed me to finish surveying the volcano and collecting samples earlier than I had anticipated. After returning to Tokyo I quickly obtained my driver's license!
Did the trip give you any ideas for future research projects?
Absolutely. It was fantastic how the volcanoes I was exploring and sampling told us about how fluids ascend from the deep subducting plates. It motivated me to focus on a much wider area to investigate the regional compositional variations of volcanoes and fluids derived from the complex configuration of sinking plates. Recent seismic studies suggest that movement of fluids generated by dehydration of plates may be detected as deep earthquakes, providing another means of studying this phenomenon.
This is the Backstory to the work by Hitomi Nakamura and colleagues, published on page 380 of this issue.
About this article
Cite this article
Tracking subduction fluids. Nature Geosci 1, 406 (2008). https://doi.org/10.1038/ngeo221
Published:

Issue Date:

DOI: https://doi.org/10.1038/ngeo221