Southwest Australia has become increasingly dry over the past century. Simulations with a high-resolution global climate model show that this trend is linked to greenhouse gas emissions and ozone depletion — and that it is likely to continue.
Access options
Subscribe to Journal
Get full journal access for 1 year
$169.00
only $14.08 per issue
All prices are NET prices.
VAT will be added later in the checkout.
Rent or Buy article
Get time limited or full article access on ReadCube.
from$8.99
All prices are NET prices.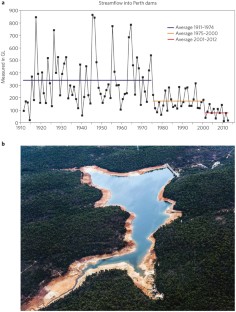 References
1

Delworth, T. L. & Zeng, F. Nature Geosci. 7, 583–587 (2014).

2

IPCC Summary for Policymakers in Climate Change 2013: The Physical Science Basis (eds Stocker, T. F. et al.) (Cambridge Univ. Press, 2013).

3

www.watercorporation.com.au/water-supply-and-services/rainfall-and-dams/streamflow/streamflowhistorical; accessed 9 June 2014

4

Jakob, D. in Indian Ocean Climate Initiative Western Australia's Weather and Climate (eds Bates, B., Frederiksen, C. & Wormworth, J.) 1–117 (CSIRO, 2012).

5

Karoly, D. J. Science 302, 236–237 (2003).

6

Arblaster, J. M. & Meehl, G. A. J. Clim. 19, 2896–2905 (2006).

7

Thompson, D. W. J. et al. Nature Geosci. 4, 741–749 (2011).
About this article
Cite this article
Karoly, D. Human-induced rainfall changes. Nature Geosci 7, 551–552 (2014). https://doi.org/10.1038/ngeo2207