Uncertainty over tropical tropospheric temperature change has loomed large over the last two decades. Use of wind data to infer temperature change offers a new avenue of investigation.
Access options
Subscribe to Journal
Get full journal access for 1 year
$187.00
only $15.58 per issue
All prices are NET prices.
VAT will be added later in the checkout.
Rent or Buy article
Get time limited or full article access on ReadCube.
from$8.99
All prices are NET prices.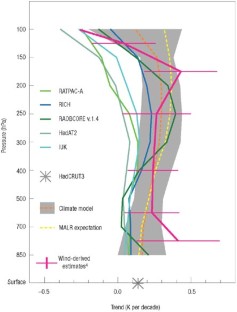 References
1

Spencer, R. W., Christy, J. R. Science 247, 1558–1562 (1990).

2

National Research Council Reconciling Observations of Global Temperature Change (National Academy Press, Washington DC, 2000).

3

Karl, T. R., Hassol, S. J., Miller, C. D. & Murray, W. L. (eds) Temperature Trends in the Lower Atmosphere: Steps for Understanding and Reconciling Differences (US Climate Change Science Program, Washington DC, 2006).

4

Allen, R. J. & Sherwood, S. C. Nature Geosci. 1, 399–403 (2008).

5

Santer, B. D. et al. Int. J. Clim. (submitted).

6

Gruber, C. & Haimberger, L. Meteorol. Z. (in the press).

7

Allen, R. J. & Sherwood, S. C. J. Clim. 20, 5229–5243 (2007).

8

Santer, B. D. et al. Science 309, 1551–1556 (2005).

9

GCOS Reference Upper-Air Network (GRUAN): Justification, requirements, siting and instrumentation options (World Meteorological Organization, 2007); http://www.wmo.int/pages/prog/gcos/Publications/gcos-112.pdf

10

Schiermeier, Q. Nature 447, 358–359 (2007).

11

Brohan, P., Kennedy, J. J., Harris, I., Tett, S. F. B. & Jones, P. D. J. Geophys. Res 111, 10.1029/2005JD006548 (2006).
About this article
Cite this article
Thorne, P. The answer is blowing in the wind. Nature Geosci 1, 347–348 (2008). https://doi.org/10.1038/ngeo209