Abstract
A large part of the Earth's magnetic field is generated by fluid motion in the molten outer core1. As a result of continuous satellite measurements since 1999, the core magnetic field and its recent variations can now be described with a high resolution in space and time2. These data have recently been used to investigate small-scale core flow3,4, but no advantage has yet been taken of the improved temporal resolution, partly because the filtering effect of the electrically conducting mantle was assumed to mask short-period magnetic variations5. Here we show that changes in the magnetic field occurring over only a few months, indicative of fluid flow at the top of the core, can in fact be resolved. Using nine years of magnetic field data obtained by satellites as well as Earth-based observatories, we determine the temporal changes in the core magnetic field and flow in the core. We find that the core flow is spatially localized and involves rapid variations over a few months, with surprisingly large local accelerations. Our results suggest that short-term fluctuations of the core magnetic field are robust features of rapid core dynamics and should be considered in the development of future numerical models of the geodynamo.
Access options
Subscribe to Journal
Get full journal access for 1 year
$187.00
only $15.58 per issue
All prices are NET prices.
VAT will be added later in the checkout.
Rent or Buy article
Get time limited or full article access on ReadCube.
from$8.99
All prices are NET prices.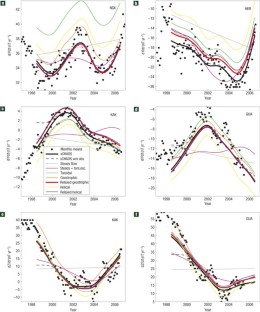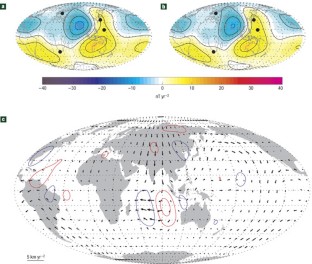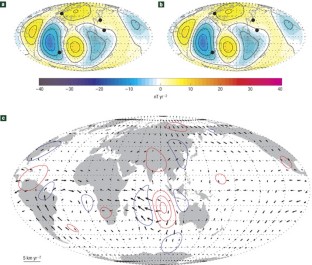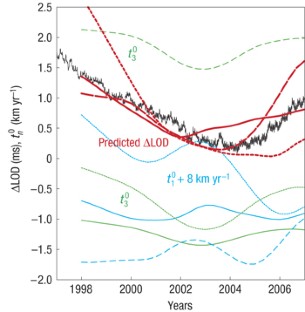 References
1

Merrill, R., McFadden, P. & McElhinny, M. The Magnetic Field of the Earth: Paleomagnetism, the Core, and the Deep Mantle (Academic, San Diego, 1998).

2

Olsen, N. et al. CHAOS—a model of Earth's magnetic field derived from CHAMP, Ørsted, and SAC-C magnetic satellite data. Geophys. J. Int. 166, 67–75 (2006).

3

Hulot, G., Eymin, C., Langlais, B., Mandea, M. & Olsen, N. Small-scale structure of the geodynamo inferred from Ørsted and Magsat satellite data. Nature 416, 620–623 (2002).

4

Holme, R. & Olsen, N. Core–surface flow modelling from high resolution secular variation. Geophys. J. Int. 518–528 (2006).

5

Backus, G. E. Application of mantle filter theory to the magnetic jerk of 1969. Geophys. J. R. Astron. Soc. 74, 713–746 (1983).

6

Olsen, N. & Mandea, M. Investigation of a secular variation impulse using satellite data: The 2003 geomagnetic jerk. Earth Planet. Sci. Lett. 255, 94–105 (2007).

7

Holme, R. in Treatise on Geophysics Vol. 8 (ed. Olson, P.) (Elsevier, Amsterdam, 2007).

8

Shankland, T. J., Peyronneau, J. & Poirier, J.-P. Electrical conductivity of the earth's lower mantle. Nature 366, 453–455 (1993).

9

Xu, Y., McCammon, C. & Poe, B. The effect of alumina on the electrical conductivity of silicate perovskite. Science 282, 922 (1998).

10

Medin, A., Parker, R. & Constable, S. Making sound inferences from geomagnetic sounding. Phys. Earth Planet. Int. 160, 51–59 (2007).

11

Bullard, E. C. & Gellmann, H. Homogeneous dynamos and terrestrial magnetism. Phil. Trans. R. Soc. Lond. A 247, 213–255 (1954).

12

Roberts, P. & Scott, S. On the analysis of the secular variation, 1, A hydromagnetic constraint: Theory. J. Geomagn. Geoelectr. 17, 137–151 (1965).

13

Gubbins, D. Finding core motions from magnetic observations. Phil. Trans. R. Soc. Lond. A 306, 247–254 (1982).

14

Bloxham, J. & Jackson, A. Time-dependent mapping of the magnetic field at the core–mantle boundary. J. Geophys. Res. 97, 19537–19563 (1992).

15

Waddington, R., Gubbins, D. & Barber, N. Geomagnetic field analysis-V. Determining steady core–surface flows directly from geomagnetic observations. Geophys. J. Int. 122, 326–350 (1995).

16

Bloxham, J., Zatman, S. & Dumberry, M. The origin of geomagnetic jerks. Nature 420, 65–68 (2002).

17

Whaler, K. A. Does the whole of the Earth's core convect? Nature 287, 528–530 (1980).

18

Hills, R. Convection in the Earth's Mantle Due to Viscous Shear at the Core–Mantle Interface and Due to Large Scale Buoyancy. PhD Thesis, New Mexico State Univ. (1979).

19

Le Mouël, J.-L. Outer-core geostrophic flow and secular variation of Earth's geomagnetic field. Nature 311, 734–735 (1984).

20

Amit, H. & Olson, P. Helical core flow from geomagnetic secular variation. Phys. Earth Planet. Int. 147, 1–25 (2004).

21

Pais, M., Oliveira, O. & Nogueira, F. Nonuniqueness of inverted core–mantle boundary flows and deviations from tangential geostrophy. J. Geophys. Res. 109, 8105–8200 (2004).

22

Jault, D., Gire, C. & Le Mouël, J.-L. Westward drift, core motions and exchanges of angular momentum between core and mantle. Nature 333, 353–356 (1988).

23

Jackson, A., Bloxham, J. & Gubbins, D. Dynamics of the Earth's Deep Interior and Earth Rotation Vol. 72, 97–107 (AGU, Washington, 1993).

24

Holme, R. & de Viron, O. Geomagnetic jerks and a high-resolution length-of-day profile for core studies. Geophys. J. Int. 160, 435–439 (2005).

25

Gubbins, D. in Encyclopedia of Geomagnetism and Paleomagnetism (eds Gubbins, D. & Herrero-Bervera, E.) (Springer, Heidelberg, 2007).

26

Finlay, C. & Jackson, A. Equatorially dominated magnetic field change at the surface of Earth's core. Science 300, 2084–2086 (2003).

27

Jault, D. Axial invariance of rapidly varying diffusionless motions in the Earth's core interior. Phys. Earth Planet. Int. 166, 67–76 (2008).
Acknowledgements
We thank Chris Finlay and Dominique Jault for comments and discussion.
Supplementary information
About this article
Cite this article
Olsen, N., Mandea, M. Rapidly changing flows in the Earth's core. Nature Geosci 1, 390–394 (2008). https://doi.org/10.1038/ngeo203
Received:

Accepted:

Published:

Issue Date: