Episodes of excessive magmatism have repeatedly formed large volcanic provinces on Earth. Seismic data from the Shatsky Rise in the northwestern Pacific Ocean reveal that such oceanic plateaux can be built from individual, giant volcanoes.
Access options
Subscribe to Journal
Get full journal access for 1 year
$119.00
only $9.92 per issue
All prices are NET prices.
VAT will be added later in the checkout.
Tax calculation will be finalised during checkout.
Buy article
Get time limited or full article access on ReadCube.
$32.00
All prices are NET prices.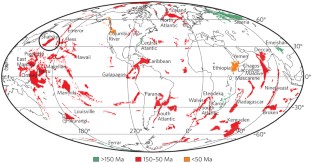 References
Sleep, N. H. Annu. Rev. Earth Planet. Sci. 20, 19–43 (1992).

Coffin, M. F. & Eldholm, O. Rev. Geophys. 32, 1–36 (1994).

Frey, F. A., Coffin, M. F., Wallace, P. J. & Weis, D. in Proceedings of the Ocean Drilling Program, Scientific Results Vol. 183 (eds F. A. Frey, M. F. Coffin, P. J. Wallace & P. G. Quilty) (2003).

Svensen, H. et al. Nature 429, 542–545 (2004).

Sager, W. W. et al. Nature Geosci. 6, 976–981 (2013).

Campbell, I. H. Elements 1, 265–269 (2005).

Richards, M. A., Duncan, R. A. & Courtillot, V. E. Science 246, 103–107 (1989).

Saunders, A. D. et al. Chem. Geol. 241, 282–318 (2007).

Korenaga, J. Earth Planet. Sci. Lett. 234, 385–399 (2005).

Foulger, G. L., Natland, J., Presnall, D. & Anderson, D. L. Plates, Plumes, and Paradigms (Special paper 388, Geological Society of America, 2005).

Sager, W. W., Sano, T., Geldmacher, J. & Expedition 324 Scientists. Expedition 324 (Proceedings IODP, 2010).

Wignall, P. B. ELEMENTS 1, 293–297 (2005).
About this article
Cite this article
Uenzelmann-Neben, G. Magma giant. Nature Geosci 6, 902–903 (2013). https://doi.org/10.1038/ngeo1958
Published:

Issue Date:

DOI: https://doi.org/10.1038/ngeo1958