The generally warm and ice-free conditions of the Eocene epoch rapidly declined to the cold and glaciated state of the Oligocene epoch. Geochemical evidence from deep-sea sediments resolves in detail the climatic events surrounding this transition.
Access options
Subscribe to Journal
Get full journal access for 1 year
$187.00
only $15.58 per issue
All prices are NET prices.
VAT will be added later in the checkout.
Rent or Buy article
Get time limited or full article access on ReadCube.
from$8.99
All prices are NET prices.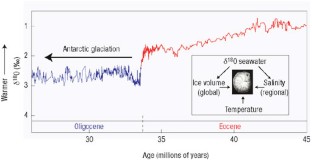 References
1

Zachos, J. Pagani, M., Sloan, L., Thomas, E. & Billups, K. Science 292, 686–693 (2001).

2

Coxall, H. K. & Pearson, P. N. Geol. Soc. London (2007).

3

Katz, M. E. et al. Nature Geosci. 1, 329–334 (2008).

4

Kennett, J. P. & Shackleton, N. J. Nature 260, 513–515 (1976).

5

Lear, C. H, Bailey, R., Pearson, P. N., Coxall, H. K. & Rosenthal, Y. Geology 36, 251–254 (2008).

6

Fairbanks, R. Nature 342, 637–642 (1989).

7

Miller, K. et al. Science 310, 1293–1298 (2005).

8

DeConto, R. M. & Pollard, D. Nature 421, 245–249 (2003).

9

Bolli, H. M., Beckmann, J. P. & Saunders, J. B. Benthic Foraminiferal Biostratigraphy of the South Caribbean Region (Cambridge Univ. Press, 1994).
About this article
Cite this article
Billups, K. A tale of two climates. Nature Geosci 1, 294–295 (2008). https://doi.org/10.1038/ngeo191