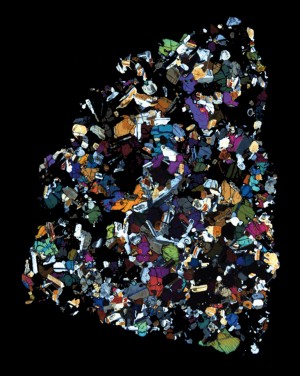 A suite of meteorites found on Earth are widely considered to be samples of the upper and lower crust of the differentiated asteroid Vesta. A chemical model of Vesta's igneous history simulates an internal structure of the asteroid that is consistent with the diversity of meteorite compositions and spacecraft observations.
Ben Mandler at the Massachusetts Institute of Technology and Linda Elkins-Tanton at the Carnegie Institution for Science, Washington, DC, used the range of known compositions of meteorites from Vesta to model the chemical evolution of the asteroid as it solidified from an early molten state. The observed meteorite lithologies are best explained by a scenario in which an early magma ocean mostly crystallizes, and then the remaining melt crystallizes in shallower magma chambers. The model also predicts the composition of the deeper interior of the asteroid — the mantle — from which there are no confirmed meteorite samples.
The crustal thickness simulated by the model suggests that all of the known Vesta-borne meteorites could have been ejected during the formation of the Rheasilvia impact basin, without exposing the mantle — in agreement with remote observations of the Dawn spacecraft.
About this article
Cite this article
Goldin, T. Magmatic Vesta. Nature Geosci 6, 590 (2013). https://doi.org/10.1038/ngeo1912
Published:

Issue Date:

DOI: https://doi.org/10.1038/ngeo1912