Abstract
During the Pleistocene glaciations, Arctic ice sheets on western Eurasia, Greenland and North America terminated at their continental margins1,2,3,4. In contrast, the exposed continental shelves in the Beringian region of Siberia are thought to have been covered by a tundra landscape5,6,7. Evidence of grounded ice on seafloor ridges and plateaux off the coast of the Beringian margin, at depths of up to 1,000 m, have generally been attributed to ice shelves or giant icebergs that spread oceanwards during glacial maxima8,9,10,11,12. Here we identify marine glaciogenic landforms visible in seismic profiles and detailed bathymetric maps along the East Siberian continental margin. We interpret these features, which occur in present water depths of up to 1,200 m, as traces from grounding events of ice sheets and ice shelves. We conclude that the Siberian Shelf edge and parts of the Arctic Ocean were covered by ice sheets of about 1 km in thickness during several Pleistocene glaciations before the most recent glacial period, which must have had a significant influence on albedo and oceanic and atmospheric circulation.
Relevant articles
Open Access articles citing this article.
Pierre-Olivier Couette

,

Patrick Lajeunesse

…

Etienne Brouard

Communications Earth & Environment Open Access 03 October 2022

Carsten Lehmann

,

Wilfried Jokat

&

Bernard Coakley

Marine Geophysical Research Open Access 18 August 2022

Edward G. W. Gasson

,

Robert M. DeConto

…

Chris D. Clark

Nature Communications Open Access 17 April 2018
Access options
Subscribe to this journal
Receive 12 print issues and online access
$259.00 per year
only $21.58 per issue
Rent or buy this article
Get just this article for as long as you need it
$39.95
Prices may be subject to local taxes which are calculated during checkout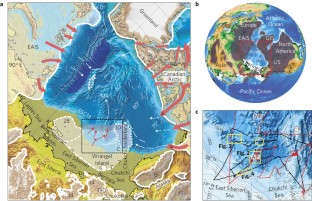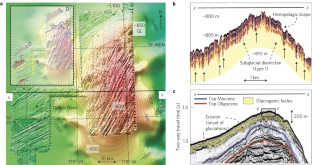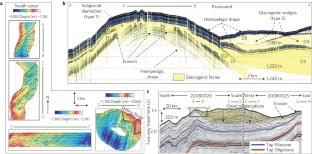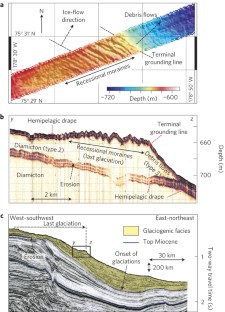 References
Ehlers, J. & Gibbard, P. L. The extent and chronology of Cenozoicglobal glaciation. Quat. Internat. 164–165, 6–20 (2007).

Svendsen, J. I. et al. Late Quaternary ice sheet history of Northern Eurasia. Quat. Sci. Rev. 23, 1229–1272 (2004).

England, J. H., Furze, M. F. A. & Doupé, J. P. Revision of the NW Laurentide Ice Sheet: implications for paleoclimate, the northeast extremity of Beringia, and Arctic Ocean sedimentation. Quat. Sci. Rev. 28, 1573–1596 (2009).

Batchelor, C. L., Dowdeswell, J. A. & Pietras, J. T. Variable history of Quaternary ice-sheet advance across the Beaufort Sea margin, Arctic Ocean. Geology 41, 131–134 (2013).

Alekseev, M. N. Paleogeography and geochronology in the Russian Eastern Arctic during the second half of the Quaternary. Quat. Intern. 41/42, 11–15 (1997).

Gualtieri, L., Vartanyan, S. L., Brigham-Grette, J. & Anderson, P. M. Evidence for an ice-free Wrangel Island, northeast Siberia during the Last Glacial Maximum. Boreas 34, 264–273 (2005).

Brigham-Grette, J. & Gualtieri, L. Letter to the Editor. Quat. Sci. Rev. 62, 227–232 (2004).

Polyak, L., Edwards, M. H., Coakley, B. J. & Jakobsson, M. Ice shelves in the Pleistocene Arctic Ocean inferred from glaciogenic deep-sea bedforms. Nature 410, 453–459 (2001).

Polyak, L. V., Darby, D. A., Bischoff, J. F. & Jakobsson, M. Stratigraphic constraints on late Pleistocene glacial erosion and deglaciation of the Chukchi margin, Arctic Ocean. Quat. Res. 67, 234–245 (2007).

Jakobsson, M. et al. Glacial geomorphology of the Central Arctic Ocean: The Chukchi Borderland and the Lomonosov Ridge. Earth Surf. Proc. Landf. 33, 526–545 (2008).

Jakobsson, M. et al. An Arctic Ocean ice shelf during MIS 6 constrained by new geophysical and geological data. Quat. Sci. Rev. 29, 3505–3517 (2010).

Kristoffersen, Y. et al. Seabed erosion on the Lomonosov Ridge, central Arctic Ocean: A tale of deep draft icebergs in the Eurasia Basin and the influence of Atlantic water inflow on iceberg motion? Paleoceanography 19, PA3006 (2004).

Stauch, G. & Gualtieri, L. Late Quaternary glaciations in northeastern Russia. J. Quat. Sci. 23, 545–558 (2008).

Glushkova, O. Yu. Late Pleistocene Glaciations in North-East Asia. Dev. Quat. Sci. 15, 865–875 (2011).

Hu, A. et al. Influence of Bering Strait flow and North Atlantic circulation on glacial sea-level changes. Nature Geosci. 3, 118–121 (2010).

Rohling, E. J. et al. Antarctic temperature and global sea level closely coupled over the past five glacial cycles. Nature Geosci. 557, 500–504 (2009).

Stein, R. et al. Towards a better (litho-) stratigraphy and reconstruction of quaternary paleoenvironment in the Amerasian Basin (Arctic Ocean). Polarforschung 79, 97–121 (2010).

Dowdeswell, J. A., Ottesen, D., Rise, L. & Craig, J. Identification and preservation of landforms diagnostic of past ice-sheet activity on continental shelves from three-dimensional seismic evidence. Geology 35, 359–362 (2007).

Davies, T. A. et al. (eds) Glaciated Continental Margins. An Atlas of Acoustic Images (Chapman/Hall, 1997).

Dowdeswell, J. A. et al. Submarine glacial landforms and rates of ice-stream collapse. Geology 36, 819–822 (2008).

Hegewald, A. & Jokat, W. Relative sea level variations in the Chukchi region - Arctic Ocean - since the late Eocene. Geophys. Res. Lett. 40, 803–807 (2013).

Tulaczyk, S., Kamp, W. B. & Engelhardt, H. F. Basal mechanics of Ice Stream B, West Antarctica. 1. Till mechanics. J. Geophis. Res. 105, 463–481 (2000).

Lindén, M. & Möller, P. Marginal formation of De Geer moraines and their implications to the dynamics of grounding-line recession. J. Quat. Sci. 20, 113–133 (2005).

O'Regan, M. et al. Constraints on the Pleistocene chronology of sediments from the Lomonosov Ridge. Paleoceanography 23, PA1S19 (2008).

Grosswald, M. G. & Hughes, T. J. The Russian component of an Arctic Ice Sheet during the Last Glacial Maximum. Quat. Sci. Rev. 21, 121–146 (2002).

Greve, R., Wyrwoll, K-H. & Eisenhauer, A. Deglaciation of the Northern Hemisphere at the onset of the Eemian and Holocene. Ann. Glaciol. 28, 1–8 (1999).

Basilian, A. C., Nikol'skyi, P. A. & Anisimov, M. A. Pleistocene glaciation of the New Siberian Islands - no more doubt. IPY News 12, 7–9 (2008) AARI.

Polyak, L. & Jakobsson, M. Quaternary sedimentation in the Arctic Ocean: Recent advances and further challenges. Oceanography 24, 52–64 (2011).

Peltier, W. R. Rapid climate change and Arctic Ocean freshening. Geology 35, 1147–1148 (2007).
Acknowledgements
We are grateful for the support of the captains and crews of the RV Polarstern and RV Araon during the cruises ARK-XXIII/3 and ARA03B, respectively. We thank S. Hanisch, O. Thomas and J. Collins for improvement of text and figures. This publication is a contribution to the research programme PACES, topic 3 (Lessons from the Past) of the Alfred Wegener Institute, Helmholtz Centre for Polar und Marine Research (AWI) and the projects K-PORT (PM11080) and K-Polar (PP13030) of the Korea Polar Research Institute (KOPRI). This research was financially supported by AWI, KOPRI and MOF of Korea.
Ethics declarations
Competing interests
The authors declare no competing financial interests.
About this article
Cite this article
Niessen, F., Hong, J., Hegewald, A. et al. Repeated Pleistocene glaciation of the East Siberian continental margin. Nature Geosci 6, 842–846 (2013). https://doi.org/10.1038/ngeo1904
Received:

Accepted:

Published:

Issue Date:

DOI: https://doi.org/10.1038/ngeo1904