Abstract
At the Earth's surface, heat fluxes from the interior1 are generally insignificant compared with those from the Sun and atmosphere2, except in areas permanently blanketed by ice. Modelling studies show that geothermal heat flux influences the internal thermal structure of ice sheets and the distribution of basal melt water3, and it should be taken into account in planning deep ice drilling campaigns and climate reconstructions4. Here we use a coupled ice–lithosphere model driven by climate and show that the oldest and thickest part of the Greenland Ice Sheet is strongly influenced by heat flow from the deep Earth. We find that the geothermal heat flux in central Greenland increases from west to east due to thinning of the lithosphere, which is only about 25–66% as thick as is typical for terrains of early Proterozoic age5. Complex interactions between geothermal heat flow and glaciation-induced thermal perturbations in the upper crust over glacial cycles lead to strong regional variations in basal ice conditions, with areas of rapid basal melting adjoining areas of extremely cold basal ice. Our findings demonstrate the role that the structure of the solid Earth plays in the dynamics of surface processes.
Relevant articles
Open Access articles citing this article.
Søren Rysgaard

,

Jørgen Bendtsen

…

Mikael K. Sejr

Scientific Reports Open Access 22 January 2018
Access options
Subscribe to this journal
Receive 12 print issues and online access
$259.00 per year
only $21.58 per issue
Rent or buy this article
Prices vary by article type
from$1.95
to$39.95
Prices may be subject to local taxes which are calculated during checkout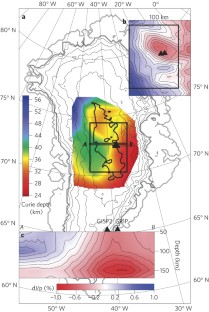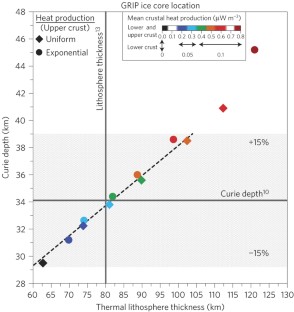 References
Davies, J. H. & Davies, D. R. Earth's surface heat flux. Solid Earth 1, 5–24 (2010).

Kiehl, J. T. & Trenberth, K. E. Earth's annual global mean energy budget. Bull. Am. Meteorol. Soc. 78, 197–208 (1997).

Pollard, D., DeConto, R. M. & Nyblade, A. A. Sensitivity of Cenozoic Antarctic ice sheet variations to geothermal heat flux. Glob. Planet. Change 49, 63–74 (2005).

Dahl-Jensen, D. et al. Past temperatures directly from the Greenland Ice Sheet. Science 282, 268–271 (1998).

Artemieva, I. M. & Mooney, W. D. Thermal thickness and evolution of Precambrian lithosphere: A global study. J. Geophys. Res. 106, 16387–16414 (2001).

Cuffey, K. M. & Paterson, W. S. B. The Physics of Glaciers (Butterworth-Heinemann, 2010).

Peters, L. E., Anandakrishnan, S., Alley, R. B. & Voigt, D. E. Seismic attenuation in glacial ice: A proxy for englacial temperature. J. Geophys. Res. 117, F02008 (2012).

Sass, J. H., Nielsen, B. L., Wollenberg, H. A. & Munroe, R. J. Heat flow and surface radioactivity at two sites in South Greenland. J. Geophys. Res. 77, 6435–6444 (1972).

Fahnestock, M., Abdalati, W., Joughin, I., Brozena, J. & Gogineni, P. High geothermal heat flow, basal melt, and the origin of rapid ice flow in central Greenland. Science 294, 2338–2342 (2001).

Fox Maule, C., Purucker, M. E. & Olsen, N. Inferring Magnetic Crustal Thickness and Geothermal Heat Flux from Crustal Magnetic Field Models (Copenhagen, 2009); available at http://www.dmi.dk/dmi/dkc09-09.pdf.

Shapiro, N. M. & Ritzwoller, M. H. Inferring surface heat flux distributions guided by a global seismic model: Particular application to Antarctica. Earth Planet. Sci. Lett. 223, 213–224 (2004).

Rogozhina, I. et al. Effects of uncertainties in the geothermal heat flux distribution on the Greenland Ice Sheet: An assessment of existing heat flow models. J. Geophys. Res. 117, F02025 (2012).

Kumar, P. et al. The lithosphere–asthenosphere boundary in the North–West Atlantic region. Earth Planet. Sci. Lett. 236, 249–257 (2005).

Jakovlev, A. V., Bushenkova, N. A., Koulakov, I. Y. & Dobretsov, N. L. Structure of the upper mantle in the Circum-Arctic region from regional seismic tomography. Russ. Geol. Geophys. 53, 963–971 (2012).

Dahl-Jensen, et al. Depth to Moho in Greenland: Receiver-function analysis suggests two Proterozoic blocks in Greenland. Earth Planet. Sci. Lett. 205, 379–393 (2003).

Cuffey, K. M. Palaeoclimate: Into an ice age. Nature 431, 133–134 (2004).

Rogozhina, I., Martinec, Z., Hagedoorn, J. M., Thomas, M. & Fleming, K. On the long-term memory of the Greenland Ice Sheet. J. Geophys. Res. 116, F01011 (2011).

Johnsen, S. J., Dahl-Jensen, D., Dansgaard, W. & Gundestrup, N. Greenland palaeotemperatures derived from GRIP bore hole temperature and ice core isotope profiles. Tellus B 47, 624 (1995).

Artemieva, I. M. The continental lithosphere: Reconciling thermal, seismic, and petrologic data. Lithos 109, 23–46 (2009).

Harper, J. et al. The Greenland Analogue Project report (Olkiluoto, 2012); available at http://www.posiva.fi/files/2826/WR_2012-16web.pdf.

Fox Maule, C., Purucker, M. E., Olsen, N. & Mosegaard, K. Heat flux anomalies in Antarctica revealed by satellite magnetic data. Science 309, 464–467 (2005).

Bamber, J. L., Layberry, R. L. & Gogineni, S. P. A new ice thickness and bed data set for the Greenland ice sheet: 1. Measurement, data reduction, and errors. J. Geophys. Res. 106, 33773 (2001).

Greve, R. A continuum-mechanical formulation for shallow polythermal ice sheets. Philos. Trans. R. Soc. Lond. Ser. A 355, 921–974 (1997).

Lawver, L. A. & Muller, R. D. Iceland hotspot track. Geology 22, 311–314 (1994).

Legendre, C. P., Meier, T., Lebedev, S., Friederich, W. & Viereck-Götte, L. A shear wave velocity model of the European upper mantle from automated inversion of seismic shear and surface waveforms. Geophys. J. Int. 191, 282–304 (2012).

Brouwers, E. M., Jørgensen, N. O. & Cronin, T. M. Climatic significance of the ostracode fauna from the Pliocene Kap København Formation, north Greenland. Micropaleontology 37, 245–267 (1991).

Augustin, L. et al. Eight glacial cycles from an Antarctic ice core. Nature 429, 623–628 (2004).

Clark, P. U. et al. The middle Pleistocene transition: Characteristics, mechanisms, and implications for long-term changes in atmospheric CO2 . Quat. Sci. Rev. 25, 3150–3184 (2006).

Petrunin, A. G., Meneses Rioseco, E., Sobolev, S. V. & Weber, M. Thermomechanical model reconciles contradictory geophysical observations at the Dead Sea Basin. Geochem. Geophys. Geosyst. 13, Q04011 (2012).
Acknowledgements
This study is a part of the multinational research initiative IceGeoHeat (I. Rogozhina, A. Petrunin, B. Steinberger, M. K. Kaban, I. Artemieva, J. V. Johnson, L. Tarasov, A. P. M. Vaughan, I. Kukkonen, I. Koulakov, W. Stolk, Z. Martinec, A. Shulgin and A. Tassara). The IceGeoHeat members are grateful to DynaQlim and COSC for financial support. Special thanks to C. Fox Maule for sharing the map of Curie depths with us.
Ethics declarations
Competing interests
The authors declare no competing financial interests.
Supplementary information
About this article
Cite this article
Petrunin, A., Rogozhina, I., Vaughan, A. et al. Heat flux variations beneath central Greenland's ice due to anomalously thin lithosphere. Nature Geosci 6, 746–750 (2013). https://doi.org/10.1038/ngeo1898
Received:

Accepted:

Published:

Issue Date:

DOI: https://doi.org/10.1038/ngeo1898