Abstract
Most of the marine biotic crises that occurred during the hot Mesozoic era have been linked to episodes of extreme warmth1,2. Others, however, may have occurred during cooler intervals that interrupted Cretaceous greenhouse warmth3,4,5. There are some indications of cooling in the late Aptian6,7,8 (116–114 Myr ago), but it has not been definitively linked to biotic crisis. Here we assess the timing and magnitude of late Aptian cooling and its association with biotic crises using a suite of geochemical and micropalaeontological assessments from a marine sediment core from the North Atlantic Ocean as well as global biogeochemical modelling. Sea surface temperatures derived from the TEX86 proxy suggest that surface waters cooled by about 5 °C during the two million years, coincident with a positive δ13C excursion of approximately 2‰ in carbonates and organic carbon. Surface productivity was enhanced during this period, but the abundance of planktonic foraminifera and nannoconid phytoplankton declined. Our simulations with a biogeochemical model indicate that the δ13C excursion associated with the cooling could be explained by the burial of about 812,000 gigatons of carbon over 2.5 million years. About 50% of the this carbon burial occurred in the Atlantic, Southern and Tethys ocean basins. We conclude that global cooling during greenhouse conditions can cause perturbations to marine ecosystems and biogeochemical cycles at scales comparable to those associated with global warming.
This is a preview of subscription content
Access options
Subscribe to Journal
Get full journal access for 1 year
$99.00
only $8.25 per issue
All prices are NET prices.
VAT will be added later in the checkout.
Tax calculation will be finalised during checkout.
Buy article
Get time limited or full article access on ReadCube.
$32.00
All prices are NET prices.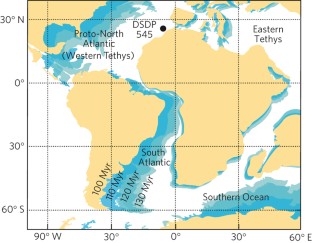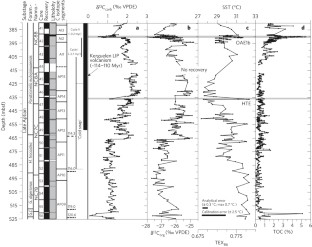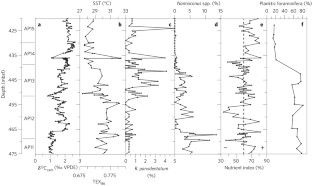 References
Hallam, A. The Pliensbachian and Tithonian extinction events. Nature 319, 765–768 (1986).

Leckie, R. M., Bralower, T. J. & Cashman, R. Oceanic anoxic events and plankton evolution: Biotic response to tectonic forcing during the mid-Cretaceous. Paleoceanography 17, 1–29 (2002).

Herrle, J. O. & Mutterlose, J. Calcareous nannofossils from the Aptian–Lower Albian of southeast France: Palaeoecological and biostratigraphic implications. Cretac. Res. 24, 1–22 (2003).

Mutterlose, J., Bornemann, A. & Herrle, J. O. The Aptian–Albian cold snap: Evidence for mid Cretaceous icehouse interludes. Neues Jahrbuch für Geologie und Paläontologie Abhandlungen 232, 217–225 (2009).

Iba, Y. et al. Belemnite extinction and the origin of modern cephalopods 35 m.y. prior to the Cretaceous–Paleogene event. Geology 39, 483–486 (2011).

Forster, A., Schouten, S., Bass, M. & Sinninghe Damsté, J. S. Mid-Cretaceous (Albian-Santonian) sea surface temperature record of the tropical Atlantic Ocean. Geology 35, 919–922 (2007).

Wagner, T. et al. Rapid warming and salinity changes of Cretaceous surface waters in the subtropical North Atlantic. Geology 36, 203–206 (2008).

Jenkyns, H. C., Schouten-Huibers, L., Schouten, S. & Sinninghe Damsté, J. S. Warm Middle Jurassic–Early Cretaceous high-latitude sea-surface temperatures from the Southern Ocean. Clim. Past 8, 215–226 (2012).

Gradstein, F. M., Ogg, J. G. & Smith, A. G. A Geologic Time Scale 2004 (Cambridge Univ. Press, 2004).

Kemper, E. Das Klima der Kreidezeit. Geologisches Jahrbuch A 96, 5–185 (1987).

Weissert, H. & Lini, A. in Controversies in Modern Geology (eds Müller, W., McKenzie, J.A. & Weissert, H.) 173–191 (Academic, 1991).

Hong, S. K. & Lee, Y. I. Evaluation of atmospheric carbon dioxide concentrations during the Cretaceous. Earth Planet. Sci. Lett. 327–328, 23–28 (2012).

Wagner, T. & Pletsch, T. in The Oil and Gas Habitats of the South Atlantic Vol. 153 (eds Cameron, N. R., Bate, R. H. & Clure, V. S.) 241–265 (Geol. Soc. Spec. Publ., Geological Society, 1999).

Föllmi, K. B., Godet, A., Bodin, S. & Linder, P. Interactions between environmental change and shallow water carbonate buildup along the northern Tethyan margin and their impact on the Early Cretaceous carbon isotope record. Paleoceanography 21, PA4211 (2006).

Kim, J-K. et al. New indices and calibrations derived from the distribution of crenarchaeal isoprenoid tetraether lipids: Implications for past sea surface temperature reconstructions. Geochim. Cosmochim. Acta 74, 4639–4654 (2010).

Flögel, S. et al. Simulating the biogeochemical effects of volcanic CO2 degassing on the oxygen-state of the deep ocean during the Cenomanian/Turonian Anoxic Event (OAE2). Earth Planet. Sci. Lett. 305, 371–384 (2011).

Herrle, J. O., Pross, J., Friedrich, O., Kößler, P. & Hemleben, C. Forcing mechanisms for mid-Cretaceous black shale formation: Evidence from the Upper Aptian and Lower Albian of the Vocontian Basin (SE France). Palaeogeogr. Palaeoclim. Palaeoecol. 190, 399–426 (2003).

Huber, B. T. & Leckie, M. Planktonic foraminiferal species turnover across deep-sea Aptian/Albian boundary sections. J. Foraminiferal Res. 41, 53–95 (2011).

Erba, E. Fossils and superplumes; the early Aptian 'nannoconid crisis'. Paleoceanography 9, 483–501 (1994).

Harwood, D. M., Nikolaev, V. A. & Winter, D. M. in Pond Scum to Carbon Sink: Geological and Environmental Applications of the Diatoms Vol. 13 (ed. Starratt, S.) 33–59 (Paleontol. Soc. Papers, 2007).

Weissert, H., Lini, A., Föllmi, K. B. & Kuhn, O. Correlation of Early Cretaceous carbon isotope stratigraphy and platform drowning events: A possible link? Palaeogeogr. Palaeoclimat. Palaeoecol. 137, 189–203 (1998).

Tucholke, B. E. & Vogt, R. R. in Initial Reports of the Deep Sea Drilling Program Vol. 43 (eds Tucholke, B. E. & Vogt, P. R.) 791–825 (US Gov. Printing Office, 1979).

Arthur, M. A. & Natland, J. H. in Deep Drilling Results in the Atlantic Ocean, Continental Margins and Paleoenvironment (eds Talwani, M., Hay, W. & Ryan, W. B. F.) 375–401 (Maurice Ewing Series, Vol. 3, AGU, 1979).

Stein, R., Rullkötter, J. & Welte, D. H. Accumulation of organic-carbon-rich sediments in the Late Jurassic and Cretaceous Atlantic Ocean—A synthesis. Chem. Geol. 56, 1–32 (1986).

Poulsen, C. J., Barron, E. J., Arthur, M. A. & Peterson, W. H. Response of the Mid-Cretaceous global oceanic circulation to tectonic and CO2 forcings. Paleoceanography 16, 576–592 (2001).

Peters, S. E., Kelly, D. C. & Fraass, A. J. Oceanic controls on the diversity and extinction of planktic foraminifera. Nature 493, 398–401 (2013).

Boyden, J. A. et al. in Geoinformatics: Cyberinfrastructure for the Solid Earth Sciences (eds Keller, G. R. & Baru, C.) 95–114 (Cambridge Univ. Press, 2011).

Williams, S., Müller, R. D., Landgrebe, T. C. W. & Whittaker, J. M. An open-source software environment for visualizing and refining plate tectonic reconstructions using high resolution geological and geophysical data sets. GSA Today 22, 4–9 (2012).

Herrle, J. O., Koessler, P., Friedrich, O., Erlenkeuser, H. & Hemleben, C. High resolution carbon isotope records of the Aptian to Lower Albian from SE France and the Mazagan plateau (DSDP Site 545); a stratigraphic tool for paleoceanographic and paleobiologic reconstruction. Earth Planet. Sci. Lett. 218, 149–161 (2004).

Wagner, T., Wallmann, K., Stüsser, I., Herrle, J. O. & Hofmann, P. Consequences of moderate 25,000 yr lasting emission of light CO2 into the mid-Cretaceous ocean. Earth Planet. Sci. Lett. 259, 200–211 (2007).
Acknowledgements
We thank K. Littler, K. Föllmi and M. Leckie for their constructive comments on an earlier version of this manuscript. This work was supported by the Deutsche Forschungsgemeinschaft (DFG) by a grant to P.H., J.O.H. and J.P., SF (SFB 754/A7 at GEOMAR-Kiel) and by the Biodiversity and Climate Research Centre Frankfurt (BIK-F). T.W. acknowledges support from the Royal Society Wolfson Research Merit Award. We thank F. Dunn and N. Mantke for technical assistance and the Science Research Infrastructure Fund (SRIF) from HEFCE for funding the purchase of the ThermoFinnigan LCQ ion trap mass spectrometer (Newcastle University).
Ethics declarations
Competing interests
The authors declare no competing financial interests.
Supplementary information
About this article
Cite this article
McAnena, A., Flögel, S., Hofmann, P. et al. Atlantic cooling associated with a marine biotic crisis during the mid-Cretaceous period. Nature Geosci 6, 558–561 (2013). https://doi.org/10.1038/ngeo1850
Received:

Accepted:

Published:

Issue Date:

DOI: https://doi.org/10.1038/ngeo1850