Abstract
The eastern equatorial Atlantic Ocean is subject to interannual fluctuations of sea surface temperatures, with climatic impacts on the surrounding continents1,2,3. The dynamic mechanism underlying Atlantic temperature variability is thought to be similar to that of the El Niño/Southern Oscillation (ENSO) in the equatorial Pacific4,5, where air–sea coupling leads to a positive feedback between surface winds in the western basin, sea surface temperature in the eastern basin, and equatorial oceanic heat content. Here we use a suite of observational data, climate reanalysis products, and general circulation model simulations to reassess the factors driving the interannual variability. We show that some of the warm events can not be explained by previously identified equatorial wind stress forcing and ENSO-like dynamics. Instead, these events are driven by a mechanism in which surface wind forcing just north of the equator induces warm ocean temperature anomalies that are subsequently advected toward the equator. We find the surface wind patterns are associated with long-lived subtropical sea surface temperature anomalies and suggest they therefore reflect a link between equatorial and subtropical Atlantic variability.
Relevant articles
Open Access articles citing this article.
Lander R. Crespo

,

Arthur Prigent

…

Emilia Sánchez-Gómez

Nature Climate Change Open Access 01 September 2022

Kyle J. Turner

,

Natalie J. Burls

…

Martin Claus

Climate Dynamics Open Access 14 January 2022

Nature Communications Open Access 12 October 2021
Access options
Subscribe to Journal
Get full journal access for 1 year
$119.00
only $9.92 per issue
All prices are NET prices.
VAT will be added later in the checkout.
Tax calculation will be finalised during checkout.
Buy article
Get time limited or full article access on ReadCube.
$32.00
All prices are NET prices.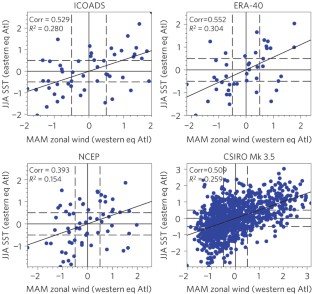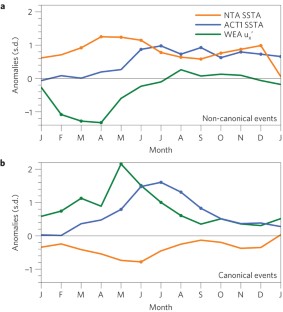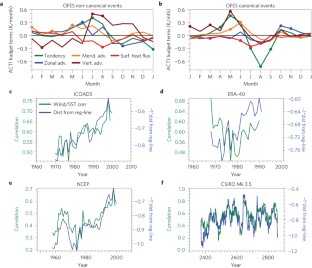 References
Carton, J. A. & Huang, B. Warm events in the tropical Atlantic. J. Phys. Oceanogr. 24, 888–903 (1994).

Carton, J. A., Cao, X., Giese, B. S. & da Silva, A. M. Decadal and interannual SST variability in the tropical Atlantic Ocean. J. Phys. Oceanogr. 26, 1165–1175 (1996).

Folland, C. K., Colman, A. W., Powell, D. P. & Davey, M. K. Predictability of northeast Brazil rainfall and real-time forecast skill, 1987–98. J. Clim. 14, 1937–1958 (2001).

Zebiak, S. E. Air–sea interaction in the equatorial Atlantic region. J. Clim. 6, 1567–1586 (1993).

Keenlyside, N. S. & Latif, M. Understanding equatorial Atlantic interannual variability. J. Clim. 20, 131–142 (2007).

Wyrtki, K. El Niño—the dynamic response of the equatorial Pacific ocean to atmospheric forcing. J. Phys. Oceanogr. 5, 572–584 (1975).

Rasmusson, E. M. & Carpenter, T. H. Variations in tropical sea surface temperature and surface wind fields associated with the southern oscillation/El Niño. Mon. Wea. Rev. 110, 354–384 (1982).

Philander, S. G. H. Unusual conditions in the tropical Atlantic Ocean in 1984. Nature 322, 236–238 (1986).

Servain, J., Picaut, J. & Merle, J. Evidence of remote forcing in the equatorial Atlantic Ocean. J. Phys. Oceanogr. 12, 457–463 (1982).

Vauclair, F. & du Penhoat, Y. Interannual variability of the upper layer of the tropical Atlantic from in situ data between 1979 and 1999. Clim. Dynam. 17, 527–546 (2001).

Richter, I., Xie, S-P., Wittenberg, A. T. & Masumoto, Y. Tropical Atlantic biases and their relation to surface wind stress and terrestrial precipitation. Clim. Dynam. 38, 985–1001 (2012).

Servain, J. Simple climate indices for the tropical Atlantic Ocean and some applications. J. Geophys. Res. 96, 15,137–15,146 (1991).

Nobre, P. & Shukla, J. Variations of Sea Surface Temperature, Wind Stress, and Rainfall over the tropical Atlantic and South America. J. Clim. 9, 2464–2479 (1996).

Servain, J., Wainer, I., McCreary, J. P. & Dessier, A. Relationship between the equatorial and meridional modes of climate variability in the tropical Atlantic. Geophys. Res. Lett. 26, 458–488 (1999).

Foltz, G. R. & McPhaden, M. J. Interaction between the Atlantic meridional and Niño modes. Geophys. Res. Lett. 37, L18604 (2010).

Luebbecke, J. & McPhaden, M. J. On the inconsistent relationship between Pacific and Atlantic Niños. J. Clim. 25, 4294–4303 (2012).

Woodruff, S. D. et al. ICOADS Release 2.5: Extensions and enhancements to the surface marine meteorological archive. Int. J. Climatol. 31, 951–967 (2011).

Kalnay, E. et al. The NCEP/NCAR 40-year reanalysis project. Bull. Am. Meteorol. Soc. 77, 437–471 (1996).

Uppala, S. M. et al. The ERA-40 re-analysis. Quart. J. Roy. Meteor. Soc. 131, 2961–3012 (2005).

Richter, I. & Xie, S-P. On the origin of equatorial Atlantic biases in coupled general circulation models. Clim. Dynam. 31, 587–598 (2008).

Sasaki, H. et al. in High Resolution Numerical Modeling of the Atmosphere and Ocean (eds Hamilton, K. & Ohfuchi, W.) Ch. 10, 157–185 (Springer, 2008).

Masumoto, Y. Sharing the results of a high-resolution ocean general circulation model under a multi-discipline framework: A review of OFES activities. Ocean Dyn. 60, 633–652 (2010).

Tokinaga, H. & Xie, S-P. Weakening of the equatorial Atlantic cold tongue over the past six decades. Nature Geosci. 4, 222–226 (2011).
Acknowledgements
The authors would like to thank S-P. Xie, A. Timmermann and F-F. Jin for their comments on this work. OFES integrations were carried out at the Earth Simulator Center, Yokohama, Japan. We acknowledge the modelling groups, the Program for Climate Model Diagnosis and Intercomparison (PCMDI) and the WCRP's Working Group on Coupled Modelling (WGCM) for their roles in making available the WCRP CMIP3 multi-model data set. Support of this data set is provided by the Office of Science, US Department of Energy.
Ethics declarations
Competing interests
The authors declare no competing financial interests.
Supplementary information
About this article
Cite this article
Richter, I., Behera, S., Masumoto, Y. et al. Multiple causes of interannual sea surface temperature variability in the equatorial Atlantic Ocean. Nature Geosci 6, 43–47 (2013). https://doi.org/10.1038/ngeo1660
Received:

Accepted:

Published:

Issue Date:

DOI: https://doi.org/10.1038/ngeo1660