Multiple factors determine how much water is and will be available in the river basins of Asia. To expose hotspots and help adaptation, these factors must be assessed together at the basin level.
Access options
Subscribe to Journal
Get full journal access for 1 year
$187.00
only $15.58 per issue
All prices are NET prices.
VAT will be added later in the checkout.
Rent or Buy article
Get time limited or full article access on ReadCube.
from$8.99
All prices are NET prices.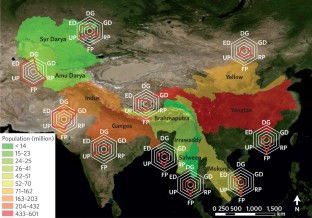 References
1

Gleeson, T., Wada, Y., Bierkens, M. F. P. & van Beek, L. P. H. Nature 488, 197–200 (2012).

2

Rodell, M., Velicogna, I. & Famiglietti, J. S. Nature 460, 999–1002 (2009).

3

Vörösmarty, C. J., Green, P., Salisbury, J. & Lammers, R. B. Science 289, 284–288 (2000).

4

Immerzeel, W. W., van Beek, L. P. H. & Bierkens, M. F. P. Science 328, 1382–1385 (2010).

5

Bolch, T. et al. Science 336, 310–314 (2012).

6

Wada, Y., van Beek, L. P. H. & Bierkens, M. F. P. Wat. Resour. Res. 48, W00L06 (2012).

7

Lehner, B. et al. Front. Ecol. Environ. 9, 494–502 (2011).

8

Turner, A. G. & Annamalai, H. Nature Clim. Change 2, 587–595 (2012).

9

Droogers, P. et al. Hydrol. Earth Syst. Sci. 16, 3101–3114 (2012).

10

Wada, Y. et al. Geophys. Res. Lett. 37, 1–5 (2010).

11

International Monetary Fund World Economic Outlook Database (IMF, October 2012); available at http://www.imf.org/external/pubs/ft/weo/2012/02/weodata/index.aspx.

12

Center for International Earth Science Information Network/Columbia University, and Centro Internacional de Agricultura Tropical (CIAT) Gridded Population of the World, Version 3 (GPWv3): Population Density Grid, Future Estimates (NASA Socioeconomic Data and Applications Center, 2005); available at http://sedac.ciesin.columbia.edu/data/set/gpw-v3-population-density-future-estimates.
About this article
Cite this article
Immerzeel, W., Bierkens, M. Asia's water balance. Nature Geosci 5, 841–842 (2012). https://doi.org/10.1038/ngeo1643