Abstract
Weather and climate in the Northern Hemisphere is profoundly affected by the Arctic Oscillation, a quasi-periodic fluctuation in atmospheric pressure that occurs on interannual to interdecadal timescales1. Reconstructions of the Arctic Oscillation over longer timescales have suggested additional centennial- to millennial-scale variations in the phase of the oscillation, but often with conflicting results2. Here we assess patterns of sea-ice drift in the Arctic Ocean over the past 8,000 years by geochemically determining the source of ice-rafted iron grains in a sediment core off the coast of Alaska. We identify pulses of sediment carried by sea ice from the Kara Sea3, which can reach the coast of Alaska only during a strongly positive Arctic Oscillation4,5. On the basis of these observations, we construct a record of the Arctic Oscillation phase, and identify a 1,500-year periodicity similar to that found in Holocene records of ice-rafted debris6,7 in the North Atlantic, distinct from a 1,000-year cycle that has been found in total solar irradiance8. We conclude that the 1,500-year cycle in the Arctic Oscillation arises from either internal variability of the climate system or as an indirect response to low-latitude solar forcing.
Relevant articles
Open Access articles citing this article.
Jiang Dong

,

Xuefa Shi

…

Gerrit Lohmann

Nature Communications Open Access 13 September 2022

Sofia Ribeiro

,

Audrey Limoges

…

Thomas A. Davidson

Nature Communications Open Access 22 July 2021

Jungjae Park

,

Jinheum Park

…

Jieun Choi

Scientific Reports Open Access 25 July 2019
Access options
Subscribe to Journal
Get full journal access for 1 year
$119.00
only $9.92 per issue
All prices are NET prices.
VAT will be added later in the checkout.
Tax calculation will be finalised during checkout.
Buy article
Get time limited or full article access on ReadCube.
$32.00
All prices are NET prices.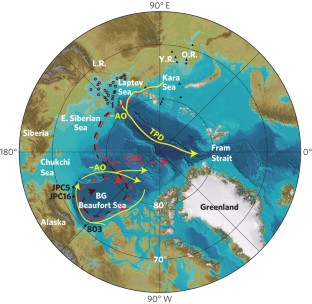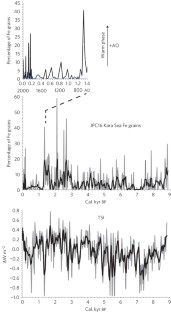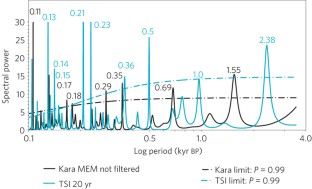 References
Hurrell, J. W., Kushnir, Y., Ottersen, G. & Visbeck, M. (eds) The North Atlantic Oscillation: Climatic Significance and Environmental Impact (Geophys. Monogr. Ser., Vol. 134, 1–279, AGU, 2003).

Luterbacher, J. et al. Extending the North Atlantic Oscillation reconstructions back to 1500. Atmos. Sci. Lett. 2, 114–124 (2002).

Darby, D. A. Sources of sediment found in sea ice from the western Arctic Ocean, new insights into processes of entrainment and drift patterns. J. Geophys. Res. 108, 3257 (2003).

Mysak, L. A. Patterns of arctic circulation. Science 293, 1269–1270 (2001).

Rigor, I. G., Wallace, J. M. & Colony, R. L. On the response of sea ice to the Arctic Oscillation. J. Clim. 15, 2648–2668 (2002).

Bond, G. et al. A pervasive millennial-scale cycle in North Atlantic Holocene and glacial climates. Science 278, 1257–1266 (1997).

Dansgaard, W. et al. Evidence for general instability of past climate from a 250-kyr ice core record. Nature 364, 218–220 (1993).

Vonmoos, M., Beer, J. & Muscheler, R. Large variations in Holocene solar activity: Constraints from 10Be in the Greenland Ice Core Project ice core. J. Geophys. Res. 111, A10105 (2006).

Alley, R. B., Anandakrishnan, S. & Jung, P. Stochastic resonance in the North Atlantic. Paleoceanography 16, 190–198 (2001).

Steinhilber, F., Beer, J. & Frohlich, C. Total solar irradiance during the Holocene. Geophys. Res. Lett. 36, L19704 (2009).

Jones, P. D., Jonsson, T. & Wheeler, D. Extension to the North Atlantic Oscillation using early instrumental pressure observations from Gibraltar and south-west Iceland. Int. J. Climatol. 17, 1433–1450 (1997).

Olsen, J., Anderson, N. J. & Knudsen, M. F. Variability of the North Atlantic Oscillation over the past 5,200 years. Nature Geo. 5, 808–812 (2012).

Kim, J-H. et al. North Pacific and North Atlantic sea-surface temperature variability during the Holocene. Quat. Sci. Rev. 23, 2141–2154 (2004).

Lamy, F., Arz, H. W., Bond, G. C., Bahr, A. & Pätzold, J. Multicentennial-scale hydrological changes in the Black Sea and northern Red Sea during the Holocene and the Arctic/North Atlantic Oscillation. Paleoceanography 21, PA1008 (2006).

Darby, D. A. et al. The role of currents and sea ice in both slowly deposited central Arctic and rapidly deposited Chukchi-Alaskan margin sediments. Glob. Planet. Change 68, 58–72 (2009).

Darby, D. et al. New record of pronounced changes in Arctic Ocean circulation and climate. EOS 82, 603–607 (2001).

Rennermalm, A. K., Wood, E. F., Weaver, A. J., Eby, M. & Déry, S. J. Relative sensitivity of the Atlantic meridional overturning circulation to river discharge into Hudson Bay and the Arctic Ocean. J. Geophys. Res. 112, G04S48 (2007).

Bond, G. et al. Persistent solar influence on North Atlantic climate during the Holocene. Science 294, 2130–2133 (2001).

Wagner, G. et al. Presence of the sola deVries cycle (∼ 205 years) during the last ice age. Geophys. Res. Lett. 28, 303–306 (2001).

Shindell, D. T., Schmidt, G. A., Mann, M. E., Rind, D. & Waple, A. Solar forcing of regional climate change during the Maunder Minimum. Science 294, 2149–2152 (2001).

Braun, H., Ditlevsen, P., Kurths, J. & Mudelsee, M. A two-parameter stochastic process for Dansgaard-Oeschger events. Paleoceanography 26, PA3214 (2011).

Marchitto, T. M., Muscheler, R., Ortiz, J. D., Carriquiry, J. D. & van Geen, A. Dynamical response of the tropical Pacific Ocean to solar forcing during the early Holocene. Science 330, 1378–1381 (2010).

Emile-Geay, J., Cane, M. A., Seager, R. A., Kaplan, R. & Almasi, P. El Niño as a mediator of the solar influence on climate. Paleoceanography 22, PA3210 (2007).

Clement, A. C., Cane, M. A. & Seager, R. An orbitally driven tropical source for abrupt climate change. J. Clim. 14, 2369–2375 (2001).

Cohen, J., Foster, J., Barlow, M., Saito, K. & Jones, J. Winter 2009–2010: A case study of an extreme Arctic Oscillation event. Geophys. Res. Lett. 37, L17707 (2010).

Zhao, Y. & Liu, A. K. Arctic sea-ice motion and its relation to pressure field. J. Oceanogr. 63, 505–515 (2007).

Kempema, E. W., Reimnitz, E. & Barnes, P. W. Sea ice sediment entrainment and rafting in the Arctic. J. Sedim. Petrol. 59, 308–317 (1989).

Grigsby, J. D. Chemical fingerprinting in detrital ilmenite: a viable alternative in provenance research? J. Sed. Res. 62, 331–337 (1992).

Stuiver, M. & Reimer, P. J. Extended 14C database and revised CALIB radiocarbon calibration program. Radiocarbon 35, 215–230 (1993).

Baskaran, M. & Naidu, A. S. 210Pb-derived chronology and the fluxes of 210Pb and 137Cs isotopes into continental shelf sediments, east Chukchi Sea, Alaskan Arctic. Geochim. Cosmochim. Acta 59, 4435–4448 (1995).

Krantz, H. & Schreiber, T. Nonlinear Time Series Analysis 304 (Cambridge Univ. Press, 1997).
Acknowledgements
We thank R. B. Alley, T. Cronin, L. A. Mysak, L. Polyak and J. T. Andrews for helpful suggestions. L. Keigwin and N. Driscoll obtained core JPC16 and L. Keigwin provided us access for sampling it. This research was supported by NSF-OPP grants ARC-0612493 (D.A.D.) and ARC-0612384 (J.D.O.).
Ethics declarations
Competing interests
The authors declare no competing financial interests.
Supplementary information
About this article
Cite this article
Darby, D., Ortiz, J., Grosch, C. et al. 1,500-year cycle in the Arctic Oscillation identified in Holocene Arctic sea-ice drift. Nature Geosci 5, 897–900 (2012). https://doi.org/10.1038/ngeo1629
Received:

Accepted:

Published:

Issue Date:

DOI: https://doi.org/10.1038/ngeo1629