The southeastern US coastline is under threat as land subsides and sea level rises. Measurements of the 2011 Mississippi River flood suggest that the river carries enough sandy sediment to offset some of this coastal drowning.
Access options
Subscribe to Journal
Get full journal access for 1 year
$187.00
only $15.58 per issue
All prices are NET prices.
VAT will be added later in the checkout.
Rent or Buy article
Get time limited or full article access on ReadCube.
from$8.99
All prices are NET prices.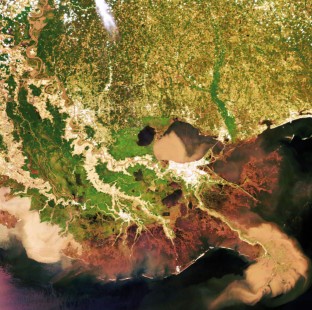 References
1

Nittrouer. et al. Nature Geosci. http://dx.doi.org/10.1038/ngeo1525 (2012).

2

Blum, M. D. & Roberts, H. H. Nature Geosci. 2, 488–491 (2009).

3

Fischetti, M. Sci. Am. 285, 77–85 (October, 2001).

4

Törnqvist, T. E. et al. Science 316, 201b (2007).

5

Kim, W., Mohrig, D., Twilley, R. R., Paola, C. & Parker, G. Eos Trans. 90, 373–374 (2009).

6

Paola, C. et al. Annu. Rev. Mar. Sci. 3, 67–91 (2011).

7

Majersky, S., Roberts, H. H., Cunningham, R., Kemp, G. P. & John, C. J. Basin Res. Inst. Bull. 7, 50–66 (1997).

8

Morton, R. A., Bernier, J. C., Barras, J. A. & Ferina, N. F. Gulf Coast Assoc. Geol. Soc. Trans. 55, 555–571 (2005).
About this article
Cite this article
Kim, W. Flood-built land. Nature Geosci 5, 521–522 (2012). https://doi.org/10.1038/ngeo1535