Methane emissions from natural gas reservoirs have long been largely overlooked. The discovery of abundant geological gas seeps in areas of cryosphere degradation highlights the relevance of these emissions to the greenhouse gas budget.
Access options
Subscribe to Journal
Get full journal access for 1 year
$99.00
only $8.25 per issue
All prices are NET prices.
VAT will be added later in the checkout.
Tax calculation will be finalised during checkout.
Rent or Buy article
Get time limited or full article access on ReadCube.
from$8.99
All prices are NET prices.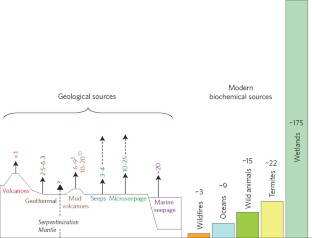 References
1

Anderson, B. et al. Methane and Nitrous Oxide Emissions from Natural Sources (US Environmental Protection Agency, 2010).

2

Reay, D., Smith, P. & van Amstel, A. Methane and Climate Change (Earthscan, 2010).

3

Walter Anthony, K. M., Anthony, P., Grosse, G. & Chanton, J. Nature Geosci. http://dx.doi.org/10.1038/ngeo1480 (2012).

4

Etiope, G., Fayzullayev, A. & Baciu C. L. Mar. Petrol. Geol. 26, 333–344 (2009).

5

Etiope, G., Lassey, K. R., Klusman, R. W. & Boschi, E. Geophys. Res. Lett. 35, L09307 (2008).

6

Lerche, I., Yu, Z., Torudbakken, B. & Thomsen, R. O. Mar. Petrol. Geol. 14, 277–338 (1997).

7

Sauber, J. M. & Molnia, B. F. Global Planet. Change 42, 279–293 (2004).

8

Yamamoto, A., Yamanaka, Y. & Tajika, E. Earth Plan. Sci. Lett. 284, 590–598 (2009).

9

Denman, K. L. et al. in Climate Change 2007: The Physical Science Basis (eds Solomon, S. et al.) Ch. 7, 499–587 (Cambridge Univ. Press, 2007).

10

Etiope, G., Nakada, R., Tanaka, K. & Yoshida, N. Appl. Geochem. 26, 348–359 (2011).
About this article
Cite this article
Etiope, G. Methane uncovered. Nature Geosci 5, 373–374 (2012). https://doi.org/10.1038/ngeo1483