A giant impact on the young proto-Earth is thought to explain the formation of the Moon. High-precision analysis of titanium isotopes in lunar rocks suggests that the Moon and Earth's mantle are more similar than existing models permit.
This is a preview of subscription content
Access options
Subscribe to Journal
Get full journal access for 1 year
$99.00
only $8.25 per issue
All prices are NET prices.
VAT will be added later in the checkout.
Tax calculation will be finalised during checkout.
Buy article
Get time limited or full article access on ReadCube.
$32.00
All prices are NET prices.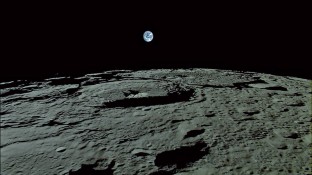 References
Zhang, J., Dauphas, N., Davis, A. M., Leya, I. & Fedkin, A. Nature Geosci. http://dx.doi.org/10.1038/ngeo1429 (2012).

Canup, R. M. Icarus 168, 433–456 (2004).

Pahlevan, K. & Stevenson, D. J. Earth Planet. Sci. Lett. 262, 438–449 (2007).

Takeda, T. & Shigeru, I. Astrophys. J. 560, 514–533 (2001).

Reufer, A., Meier, M. M. M., Benz, W. & Wieler, R. 42nd Lunar and Planetary Science Conference abstr. 1136 (2011).

Wiechert, U. et al. Science 294, 345–348 (2001).

Georg, B., Halliday, A. N., Schauble, E. A. & Reynolds, B. C. Nature 447, 1102–1106 (2007).

Shukolyukov, A. & Lugmair, G. W. Space Sci. Rev. 92, 225–236 (2000).

Touboul, M., Kleine, T., Bourdon, B., Palme, H. & Wieler, R. Nature 450, 1206–1209 (2007).

Dauphas, N. & Pourmand, A. Nature 473, 489–492 (2011).

Melosh, H. J. Meteorit. Planet. Sci. Suppl. 44, abstr. A139 (2009).
About this article
Cite this article
Meier, M. Earth's titanium twin. Nature Geosci 5, 240–241 (2012). https://doi.org/10.1038/ngeo1434
Published:

Issue Date:

DOI: https://doi.org/10.1038/ngeo1434
Further reading
Bryant M. Wyatt
Jonathan M. Petz
Shaukat N. Goderya

Journal of Astrophysics and Astronomy (2018)

Matija Ćuk
Douglas P. Hamilton
Sarah T. Stewart

Nature (2016)

J. C. Eiland
T. C. Salzillo
B. M. Wyatt

Journal of Astrophysics and Astronomy (2014)