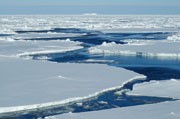 The organic compound dimethylsulphide is generated by marine algae in the surface ocean and escapes to the atmosphere, where it influences clouds and climate. An analysis of Antarctic sea ice suggests that algae embedded in the brines also generate a significant amount of dimethylsulphide.
Elizabeth Asher of the University of British Columbia and colleagues measured the concentration of dimethylsulphide and two precursor compounds in brines at various locations in the Antarctic sea-ice zone during the austral summer of 2010–11. The sea-ice brines contained large quantities of dimethylsulphide, with concentrations exceeding 200 nmol in some cases, together with significant quantities of microbial biomass. Using a multi-tracer approach to measure the turnover rates, the researchers show that dimethylsulphide is rapidly recycled. In many cases, the reduction of one of the precursor compounds — dimethylsulphoxide — dominates the production of dimethylsulphide in sea ice.
The findings suggest that microbial activity in sea ice leads to the accumulation of large quantities of dimethylsulphide, and could represent a significant source of this compound in marine systems.
About this article
Cite this article
Armstrong, A. Ice and algae. Nature Geosci 4, 819 (2011). https://doi.org/10.1038/ngeo1344