Abstract
The possibility that the oceanic general circulation is undergoing changes as part, or the cause, of major climate shifts is being intensely discussed1, with some published results relying on data from moorings spanning the North Atlantic Ocean2,3. The circulation is, however, extremely noisy. Here, I use existing estimates of the frequency and wavenumber content of geostrophic eddies in the ocean4 to show that variations in ocean-wide integrated transport must appear even in the absence of a true long-term trend. Expected fluctuations exceed ±20×109 kg s−1 (or ±20×106 m3 s−1) and exhibit multi-year timescales. Existing knowledge of the eddy field allows predictions of observed variability and produces lower bounds on the (multi-decadal) timescale required to detect true trends of a large magnitude. Detecting and understanding the effect of climate change on the ocean circulation requires observations in three dimensions over long periods of time.
Access options
Subscribe to Journal
Get full journal access for 1 year
$119.00
only $9.92 per issue
All prices are NET prices.
VAT will be added later in the checkout.
Tax calculation will be finalised during checkout.
Buy article
Get time limited or full article access on ReadCube.
$32.00
All prices are NET prices.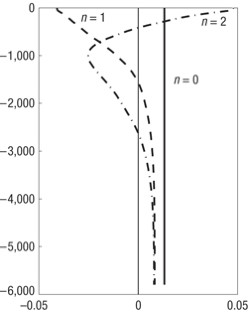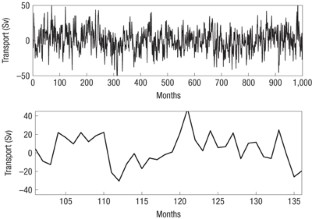 References
Schiermeier, Q. Gulf Stream probed for early warnings of system failure. Nature 427, 769 (2004).

Cunningham, S. A. et al. Temporal variability of the Atlantic meridional overturning circulation at 26.5∘ N. Science 317, 935–938 (2007).

Kanzow, T. et al. Observed flow compensation associated with the MOC at 26.5∘ N in the Atlantic. Science 317, 938–941 (2007).

Zang, X. & Wunsch, C. Spectral description of low frequency oceanic variability. J. Phys. Oceanogr. 31, 3073–3095 (2001).

MODE Group.The mid-ocean dynamics experiment. Deep-Sea Res. 25, 859–910 (1978).

Rayner, D. (ed.) RRS Discovery Cruises D277/D278, RAPID Mooring Cruise Report, February–March 2004 (SOC Cruise Report 53, Southampton UK, 2005).

Fu, L.-L. & Cazenave, A. (eds) Satellite Altimetry and Earth Sciences. A Handbook of Techniques and Applications (Academic, San Diego, 2001).

Wunsch, C. & Stammer, D. Satellite altimetry, the marine geoid and the oceanic general circulation. Ann. Rev. Earth Planet. Sci. 26, 219–254 (1998).

Wunsch, C. The vertical partition of oceanic horizontal kinetic energy. J. Phys. Oceanogr. 27, 1770–1794 (1997).

Wunsch, C. & Heimbach, P. Decadal changes in the North Atlantic meridional overturning and heat flux 1993–2004. J. Phys. Oceanogr. 36, 2012–2024 (2006).

Richman, J., Wunsch, C. & Hogg, N. Space and timescales of meso-scale motion in the western North Atlantic. Rev. Geophys. Space Phys. 15, 385–420 (1977).

Stammer, D. On eddy characteristics, eddy mixing and mean flow properties. J. Phys. Oceanogr. 28, 727–739 (1997).

Scott, R. B. & Arbic, B. K. Spectral energy fluxes in geostrophic turbulence: Implications for ocean energetics. J. Phys. Oceanogr. 37, 673–688 (2007).

Ganachaud, A. Error budget of inverse box models: The North Atlantic. J. Atmos. Ocean. Technol. 20, 1641–1655 (2003).

Garrett, C. J. R. & Munk, W. H. Space–timescales of internal waves. Geophys. Fluid. Dyn. 3, 225–264 (1972).

Percival, D. B. Simulating Gaussian random processes with specified spectra. Comput. Sci. Statist. 24, 534–538 (1992).

Wunsch, C. The interpretation of short climate records, with comments on the North Atlantic and Southern Oscillations. Bull. Am. Met. Soc. 80, 245–255 (1999).
Acknowledgements
Supported by the National Ocean Partnership Program (NOAA and NASA) with further funding from NASA.
Supplementary information
About this article
Cite this article
Wunsch, C. Mass and volume transport variability in an eddy-filled ocean. Nature Geosci 1, 165–168 (2008). https://doi.org/10.1038/ngeo126
Received:

Accepted:

Published:

Issue Date:

DOI: https://doi.org/10.1038/ngeo126
This article is cited by
Gerard D. McCarthy
Ivan D. Haigh
David A. Smeed

Nature (2015)

A. Biastoch
C. W. Böning
J. R. E. Lutjeharms

Nature (2008)