The southern San Andreas fault is due for a large earthquake. Seismic images of sediments deposited in an ancient lake overlying the southern end of the fault indicate that episodic flooding may have triggered earthquakes in the past.
Access options
Subscribe to Journal
Get full journal access for 1 year
$119.00
only $9.92 per issue
All prices are NET prices.
VAT will be added later in the checkout.
Tax calculation will be finalised during checkout.
Buy article
Get time limited or full article access on ReadCube.
$32.00
All prices are NET prices.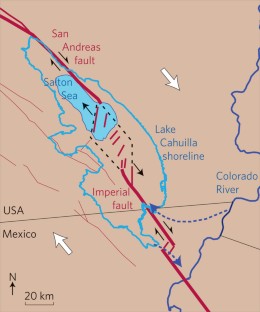 References
Weldon, W. J., Fumal, T. E., Biasi, G. P & Scharer, M. Science 308, 966–967 (2005).

Field, E. H. et al. Bull. Seismol. Soc. Am. 99, 2053–2107 (2009).

Olsen, K. B. et al. Geophys. Res. Lett. 33, L07305 (2006).

Philibosian, B., Fumal, T. & Weldon, R. Bull. Seismol. Soc. Am. 101, 13–38 (2011).

Brothers, D., Kilb, D., Luttrell, K., Driscoll, N. & Kent, G. Nature Geosci. 4, 486–492 (2011).

Waters, M. R. Quat. Res. 19, 373–387 (1983).

Simpson, D. W., Leith, W. S. & Scholz, C. H. Bull. Seismol. Soc. Am. 78, 2025–2040 (1988).
About this article
Cite this article
Hole, J. Rivers, rifts and ruptures. Nature Geosci 4, 428–429 (2011). https://doi.org/10.1038/ngeo1198
Published:

Issue Date:

DOI: https://doi.org/10.1038/ngeo1198