Abstract
We have assembled arrays of approximately 2,400 BAC clones for measurement of DNA copy number across the human genome. The arrays provide precise measurement (s.d. of log2 ratios=0.05–0.10) in cell lines and clinical material, so that we can reliably detect and quantify high-level amplifications and single-copy alterations in diploid, polyploid and heterogeneous backgrounds.
Access options
Subscribe to Journal
Get full journal access for 1 year
$59.00
only $4.92 per issue
All prices are NET prices.
VAT will be added later in the checkout.
Tax calculation will be finalised during checkout.
Rent or Buy article
Get time limited or full article access on ReadCube.
from$8.99
All prices are NET prices.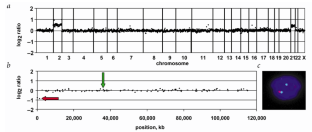 References
1

Pinkel, D. et al. Nature Genet. 20, 207–211 (1998).

2

Albertson, D.G. et al. Nature Genet. 25, 144–146 (2000).

3

Klein, C.A., Schmidt-Kittler, O., Schardt, J.A., Pantel, K., Speicher, M.R. & Riethmuller, G. Proc. Natl Acad. Sci. USA 96, 4494–4499 (1999).

4

Cheung, V.G. et al. Nature 409, 953–958 (2001).

5

Knight, S.J.L. et al. Am. J. Hum. Genet. 67, 320–332 (2000).

6

Geschwind, D.H. et al. Dev. Genet. 23, 215–29 (1998).

7

Lucito, R. et al. Genome Res. 10, 1726–1736 (2000).
Acknowledgements
We thank J. Flint, D. Ledbetter, C. Lese and Vysis, Inc. for telomere clones and clones containing certain named genes. This work was supported by NIH grants CA80314, CA83040, CA84118, HD17665 and CA58207, by California BCRP grant 2RB-0225 and by Vysis, Inc.
Supplementary information
About this article
Cite this article
Snijders, A., Nowak, N., Segraves, R. et al. Assembly of microarrays for genome-wide measurement of DNA copy number. Nat Genet 29, 263–264 (2001). https://doi.org/10.1038/ng754
Received:

Accepted:

Published:

Issue Date: