Abstract
F cells measure the presence of fetal hemoglobin, a heritable quantitative trait in adults that accounts for substantial phenotypic diversity of sickle cell disease and β thalassemia. We applied a genome-wide association mapping strategy to individuals with contrasting extreme trait values and mapped a new F cell quantitative trait locus to BCL11A, which encodes a zinc-finger protein, on chromosome 2p15. The 2p15 BCL11A quantitative trait locus accounts for 15.1% of the trait variance.
Access options
Subscribe to Journal
Get full journal access for 1 year
$209.00
only $17.42 per issue
All prices are NET prices.
VAT will be added later in the checkout.
Rent or Buy article
Get time limited or full article access on ReadCube.
from$8.99
All prices are NET prices.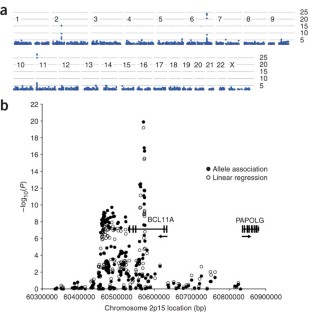 References
1

Thein, S.L. & Craig, J.E. Hemoglobin 22, 401–414 (1998).

2

Steinberg, M.H., Forget, B.G., Higgs, D.R. & Nagel, R.L. (eds.). Disorders of Hemoglobin: Genetics, Pathophysiology, and Clinical Management (Cambridge Univ. Press, Cambridge, 2001).

3

Bank, A. Blood 107, 435–443 (2006).

4

Garner, C. et al. Blood 95, 342–346 (2000).

5

Garner, C. et al. GeneScreen 1, 9–14 (2000).

6

Thein, S.L. et al. Proc. Natl. Acad. Sci. USA 104, 11346–11351 (2007).

7

Spector, T.D. & MacGregor, A.J. Twin Res. 5, 440–443 (2002).

8

Tenesa, A., Visscher, P.M., Carothers, A.D. & Knott, S.A. Behav. Genet. 35, 219–228 (2005).

9

Devlin, B. & Roeder, K. Biometrics 55, 997–1004 (1999).

10

Patterson, N., Price, A.L. & Reich, D. PLoS Genet. 2, e190 (2006) (doi:10.1371/journal.pgen.0020190).

11

Craig, J.E. et al. Nat. Genet. 12, 58–64 (1996).

12

Liu, P. et al. Nat. Immunol. 4, 525–532 (2003).

13

International HapMap Consortium. Nature 437, 1299–1320 (2005).

14

Abecasis, G.R., Cardon, L.R. & Cookson, W.O. Am. J. Hum. Genet. 66, 279–292 (2000).

15

Senawong, T., Peterson, V.J. & Leid, M. Arch. Biochem. Biophys. 434, 316–325 (2005).
Acknowledgements
We thank C. Steward for help in preparation of the manuscript. This work was supported by a grant from the UK Medical Research Council (MRC; G0000111 and ID 51640) to S.L.T. and by the French Ministry of Higher Education and Research (M.L.). Twins UK is supported by the Wellcome Trust and Framework V EU (European Union) grant 'Genome EU Twin'.
Supplementary information
Supplementary Methods, Supplementary Tables 1–4, Supplementary Figures 1–3 (PDF 900 kb)
About this article
Cite this article
Menzel, S., Garner, C., Gut, I. et al. A QTL influencing F cell production maps to a gene encoding a zinc-finger protein on chromosome 2p15. Nat Genet 39, 1197–1199 (2007). https://doi.org/10.1038/ng2108
Received:

Accepted:

Published:

Issue Date: