Abstract
Osteoarthritis (MIM 165720), characterized by degeneration of articular cartilage, is the most common form of human arthritis and a major concern for aging societies worldwide1,2,3. Epidemiological and genetic studies have shown that osteoarthritis is a polygenic disease1,4,5. Here, we report that the gene encoding growth differentiation factor 5 (GDF5) is associated with osteoarthritis in Asian populations. A SNP in the 5′ UTR of GDF5 (+104T/C; rs143383) showed significant association (P = 1.8 × 10−13) with hip osteoarthritis in two independent Japanese populations. This association was replicated for knee osteoarthritis in Japanese (P = 0.0021) and Han Chinese (P = 0.00028) populations. This SNP, located in the GDF5 core promoter, exerts allelic differences on transcriptional activity in chondrogenic cells, with the susceptibility allele showing reduced activity. Our findings implicate GDF5 as a susceptibility gene for osteoarthritis and suggest that decreased GDF5 expression is involved in the pathogenesis of osteoarthritis.
Relevant articles
Open Access articles citing this article.
Karol Nowosad

,

Rutger W. W. Brouwer

…

Przemko Tylzanowski

Scientific Reports Open Access 27 July 2022

Yun Zhang

,

Shuaijun Li

…

Lei Cui

Nature Communications Open Access 04 May 2022

Yuqing Wang

,

Fanqiang Meng

…

Dongxing Xie

BMC Musculoskeletal Disorders Open Access 22 February 2022
Access options
Subscribe to Journal
Get full journal access for 1 year
$99.00
only $8.25 per issue
All prices are NET prices.
VAT will be added later in the checkout.
Tax calculation will be finalised during checkout.
Buy article
Get time limited or full article access on ReadCube.
$32.00
All prices are NET prices.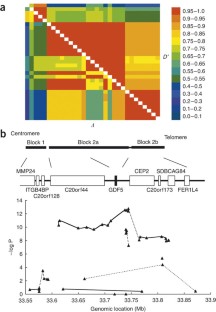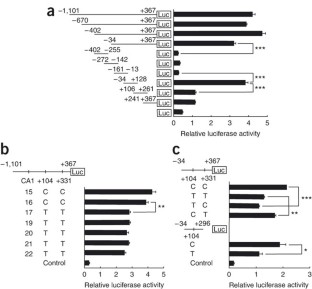 Accession codes
Accessions
GenBank/EMBL/DDBJ
References
Kellgren, J.H. & Moore, R. Generalized osteoarthritis and Heberden's nodes. Br. Med. J. 1, 181–187 (1952).

Oliveria, S.A., Felson, D.T., Reed, J.I., Cirillo, P.A. & Walker, A.M. Incidence of symptomatic hand, hip, and knee osteoarthritis among patients in a health maintenance organization. Arthritis Rheum. 38, 1134–1141 (1995).

Felson, D.T. & Zhang, Y. An update on the epidemiology of knee and hip osteoarthritis with a view to prevention. Arthritis Rheum. 41, 1343–1355 (1998).

Stecher, R.M. Heberden's nodes: heredity in hypertrophic arthritis of the finger joints. Am. J. Med. Sci. 201, 801–809 (1941).

Kellgren, J.H., Lawrence, J.S. & Bier, F. Genetic factors in generalized osteo-arthrosis. Ann. Rheum. Dis. 22, 237–255 (1963).

Francis-West, P.H. et al. Mechanisms of GDF-5 action during skeletal development. Development 126, 1305–1315 (1999).

Merino, R. et al. Expression and function of Gdf-5 during digit skeletogenesis in the embryonic chick leg bud. Dev. Biol. 206, 33–45 (1999).

Storm, E.E. et al. Limb alterations in brachypodism mice due to mutations in a new member of the TGFβ-superfamily. Nature 368, 639–643 (1994).

Thomas, J.T. et al. A human chondrodysplasia due to a mutation in a TGF-β superfamily member. Nat. Genet. 12, 315–317 (1996).

Erlacher, L. et al. Cartilage-derived morphogenetic proteins and osteogenic protein-1 differentially regulate osteogenesis. J. Bone Miner. Res. 13, 383–392 (1998).

Wolfman, N.M. et al. Ectopic induction of tendon and ligament in rats by growth and differentiation factors 5, 6, and 7, members of the TGF-β gene family. J. Clin. Invest. 100, 321–330 (1997).

Tsumaki, N. et al. Role of CDMP-1 in skeletal morphogenesis: promotion of mesenchymal cell recruitment and chondrocyte differentiation. J. Cell Biol. 144, 161–173 (1999).

Faiyaz-Ul-Haque, M. et al. Frameshift mutation in the cartilage-derived morphogenetic protein 1 (CDMP1) gene and severe acromesomelic chondrodysplasia resembling Grebe-type chondrodysplasia. Am. J. Med. Genet. 111, 31–37 (2002).

Savarirayan, R. et al. Broad phenotypic spectrum caused by an identical heterozygous CDMP-1 mutation in three unrelated families. Am. J. Med. Genet. A 117, 136–142 (2003).

Sugiura, T., Hotten, G. & Kawai, S. Minimal promoter components of the human growth/differentiation factor-5 gene. Biochem. Biophys. Res. Commun. 263, 707–713 (1999).

Freedman, M.L. et al. Assessing the impact of population stratification on genetic association studies. Nat. Genet. 36, 388–393 (2004).

Chang, S.C. et al. Cartilage-derived morphogenetic proteins. New members of the transforming growth factor-beta superfamily predominantly expressed in long bones during human embryonic development. J. Biol. Chem. 269, 28227–28234 (1994).

Storm, E.E. & Kingsley, D.M. GDF5 coordinates bone and joint formation during digit development. Dev. Biol. 209, 11–27 (1999).

Hotten, G.C. et al. Recombinant human growth/differentiation factor 5 stimulates mesenchyme aggregation and chondrogenesis responsible for the skeletal development of limbs. Growth Factors 13, 65–74 (1996).

Bobacz, K. et al. Cartilage-derived morphogenetic protein-1 and -2 are endogenously expressed in healthy and osteoarthritic human articular chondrocytes and stimulate matrix synthesis. Osteoarthritis Cartilage 10, 394–401 (2002).

Kizawa, H. et al. An aspartic acid repeat polymorphism in asporin inhibits chondrogenesis and increases susceptibility to osteoarthritis. Nat. Genet. 37, 138–144 (2005).

Mabuchi, A. et al. Identification of sequence polymorphisms of the COMP (cartilage oligomeric matrix protein) gene and association study in osteoarthrosis of the knee and hip joints. J. Hum. Genet. 46, 456–462 (2001).

Mototani, H. et al. A functional single nucleotide polymorphism in the core promoter region of CALM1 is associated with hip osteoarthritis in Japanese. Hum. Mol. Genet. 14, 1009–1017 (2005).

Ikeda, T. et al. Identification of sequence polymorphisms in two sulfation-related genes, PAPSS2 and SLC26A2, and an association analysis with knee osteoarthritis. J. Hum. Genet. 46, 538–543 (2001).

Jiang, Q. et al. Replication of the association of the aspartic acid repeat polymorphism in the asporin gene with knee-osteoarthritis susceptibility in Han Chinese. J. Hum. Genet. 51, 1068–1072 (2006).

Ohnishi, Y. et al. A high-throughput SNP typing system for genome-wide association studies. J. Hum. Genet. 46, 471–477 (2001).

Kunisada, T. et al. A new human chondrosarcoma cell line (OUMS-27) that maintains chondrocytic differentiation. Int. J. Cancer 77, 854–859 (1998).

Takigawa, M. et al. Establishment of a clonal human chondrosarcoma cell line with cartilage phenotypes. Cancer Res. 49, 3996–4002 (1989).

Chano, T. et al. Characterization of a newly established human chondrosarcoma cell line, CS-OKB. Virchows Arch. 432, 529–534 (1998).

Ott, J. Counting methods (EM algorithm) in human pedigree analysis: linkage and segregation analysis. Ann. Hum. Genet. 40, 443–454 (1977).
Acknowledgements
We thank individuals for participating the study. We also thank K. Toyoshima, A. Kotani, K. Nakamura, A. Fukuda, A. Kawakami, H. Mototani and E. Nakashima for help in collecting samples and performing the experimental study and Y. Takanashi and T. Kusadokoro for technical assistance.
Ethics declarations
Competing interests
The authors declare no competing financial interests.
Supplementary information
About this article
Cite this article
Miyamoto, Y., Mabuchi, A., Shi, D. et al. A functional polymorphism in the 5′ UTR of GDF5 is associated with susceptibility to osteoarthritis. Nat Genet 39, 529–533 (2007). https://doi.org/10.1038/2005
Received:

Accepted:

Published:

Issue Date:

DOI: https://doi.org/10.1038/2005