Abstract
Studies have shown that DNA (cytosine-5-)-methyltransferase 1 (DNMT1) is the principal enzyme responsible for maintaining CpG methylation and is required for embryonic development and survival of somatic cells in mice1,2,3. The role of DNMT1 in human cancer cells, however, remains highly controversial4,5,6,7. Using homologous recombination, here we have generated a DNMT1 conditional allele in the human colorectal carcinoma cell line HCT116 in which several exons encoding the catalytic domain are flanked by loxP sites. Cre recombinase–mediated disruption of this allele results in hemimethylation of ∼20% of CpG-CpG dyads in the genome, coupled with activation of the G2/M checkpoint, leading to arrest in the G2 phase of the cell cycle. Although cells gradually escape from this arrest, they show severe mitotic defects and undergo cell death either during mitosis or after arresting in a tetraploid G1 state. Our results thus show that DNMT1 is required for faithfully maintaining DNA methylation patterns in human cancer cells and is essential for their proliferation and survival.
Relevant articles
Open Access articles citing this article.
Nathalia Azevedo Portilho

,

Deepak Saini

…

William A. Pastor

Epigenetics & Chromatin Open Access 15 December 2021

Xiaoya Duan

,

Yuanyong Huang

…

Jiemin Wong

Oncogenesis Open Access 04 May 2021

Krista M. Angileri

&

Jeffrey M. Gross

Scientific Reports Open Access 09 July 2020
Access options
Subscribe to Journal
Get full journal access for 1 year
$99.00
only $8.25 per issue
All prices are NET prices.
VAT will be added later in the checkout.
Tax calculation will be finalised during checkout.
Buy article
Get time limited or full article access on ReadCube.
$32.00
All prices are NET prices.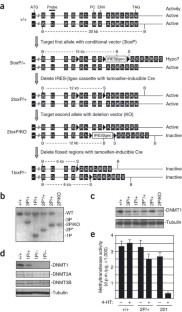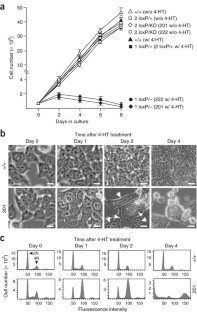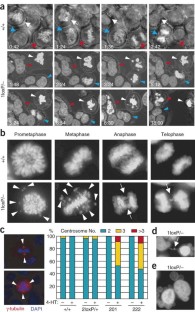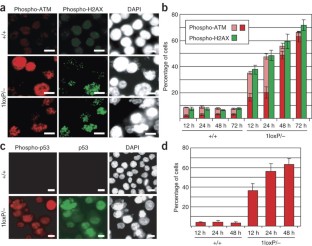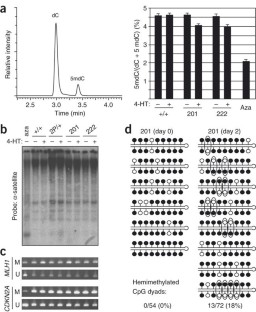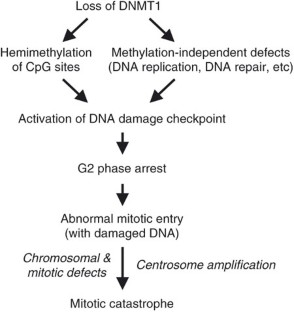 References
Li, E., Bestor, T.H. & Jaenisch, R. Targeted mutation of the DNA methyltransferase gene results in embryonic lethality. Cell 69, 915–926 (1992).

Lei, H. et al. De novo DNA cytosine methyltransferase activities in mouse embryonic stem cells. Development 122, 3195–3205 (1996).

Jackson-Grusby, L. et al. Loss of genomic methylation causes p53-dependent apoptosis and epigenetic deregulation. Nat. Genet. 27, 31–39 (2001).

Rhee, I. et al. DNMT1 and DNMT3b cooperate to silence genes in human cancer cells. Nature 416, 552–556 (2002).

Rhee, I. et al. CpG methylation is maintained in human cancer cells lacking DNMT1. Nature 404, 1003–1007 (2000).

Robert, M.F. et al. DNMT1 is required to maintain CpG methylation and aberrant gene silencing in human cancer cells. Nat. Genet. 33, 61–65 (2003).

Ting, A.H. et al. CpG island hypermethylation is maintained in human colorectal cancer cells after RNAi-mediated depletion of DNMT1. Nat. Genet. 36, 582–584 (2004).

Feil, R., Wagner, J., Metzger, D. & Chambon, P. Regulation of Cre recombinase activity by mutated estrogen receptor ligand-binding domains. Biochem. Biophys. Res. Commun. 237, 752–757 (1997).

Kanda, T., Sullivan, K.F. & Wahl, G.M. Histone-GFP fusion protein enables sensitive analysis of chromosome dynamics in living mammalian cells. Curr. Biol. 8, 377–385 (1998).

Castedo, M. et al. Cell death by mitotic catastrophe: a molecular definition. Oncogene 23, 2825–2837 (2004).

Fenech, M. Chromosomal biomarkers of genomic instability relevant to cancer. Drug Discov. Today 7, 1128–1137 (2002).

Canman, C.E. et al. Activation of the ATM kinase by ionizing radiation and phosphorylation of p53. Science 281, 1677–1679 (1998).

Siliciano, J.D. et al. DNA damage induces phosphorylation of the amino terminus of p53. Genes Dev. 11, 3471–3481 (1997).

Minn, A.J., Boise, L.H. & Thompson, C.B. Expression of Bcl-xL and loss of p53 can cooperate to overcome a cell cycle checkpoint induced by mitotic spindle damage. Genes Dev. 10, 2621–2631 (1996).

Lanni, J.S. & Jacks, T. Characterization of the p53-dependent postmitotic checkpoint following spindle disruption. Mol. Cell. Biol. 18, 1055–1064 (1998).

Andreassen, P.R., Lohez, O.D., Lacroix, F.B. & Margolis, R.L. Tetraploid state induces p53-dependent arrest of nontransformed mammalian cells in G1. Mol. Biol. Cell 12, 1315–1328 (2001).

Laird, C.D. et al. Hairpin-bisulfite PCR: assessing epigenetic methylation patterns on complementary strands of individual DNA molecules. Proc. Natl. Acad. Sci. USA 101, 204–209 (2004).

Egger, G. et al. Identification of DNMT1 (DNA methyltransferase 1) hypomorphs in somatic knockouts suggests an essential role for DNMT1 in cell survival. Proc. Natl. Acad. Sci. USA 103, 14080–14085 (2006).

Chen, T., Ueda, Y., Dodge, J.E., Wang, Z. & Li, E. Establishment and maintenance of genomic methylation patterns in mouse embryonic stem cells by Dnmt3a and Dnmt3b. Mol. Cell. Biol. 23, 5594–5605 (2003).

Ueda, Y. et al. Roles for Dnmt3b in mammalian development: a mouse model for the ICF syndrome. Development 133, 1183–1192 (2006).

Chen, T., Ueda, Y., Xie, S. & Li, E. A novel Dnmt3a isoform produced from an alternative promoter localizes to euchromatin and its expression correlates with active de novo methylation. J. Biol. Chem. 277, 38746–38754 (2002).

Herman, J.G., Graff, J.R., Myohanen, S., Nelkin, B.D. & Baylin, S.B. Methylation-specific PCR: a novel PCR assay for methylation status of CpG islands. Proc. Natl. Acad. Sci. USA 93, 9821–9826 (1996).

Crain, P.F. Preparation and enzymatic hydrolysis of DNA and RNA for mass spectrometry. Methods Enzymol. 193, 782–790 (1990).
Acknowledgements
We thank colleagues at Novartis Institutes for Biomedical Research, particularly Y. Kurash, C. Timmers, F. Gaudet, S. Kadam, K. Wang and Y.-N.P. Chen for discussions; W. Marston, A. Ho and A. Szilvasi for technical assistance with flow cytometric analyses; and Y. Liu for statistical analysis. We also thank T. Kanda, G. Wahl and H. Kimura for the human H2B-GFP plasmid; and P. Chambon for the Cre-ERT2 plasmid.
Ethics declarations
Competing interests
All authors except Y.U. are employees of Novartis Institutes for Biomedical Research.
Supplementary information
About this article
Cite this article
Chen, T., Hevi, S., Gay, F. et al. Complete inactivation of DNMT1 leads to mitotic catastrophe in human cancer cells. Nat Genet 39, 391–396 (2007). https://doi.org/10.1038/ng1982
Received:

Accepted:

Published:

Issue Date:

DOI: https://doi.org/10.1038/ng1982