Abstract
We performed a genome-wide association study of 19,779 nonsynonymous SNPs in 735 individuals with Crohn disease and 368 controls. A total of 7,159 of these SNPs were informative. We followed up on all 72 SNPs with P ≤ 0.01 with an allele-based disease association test in 380 independent Crohn disease trios, 498 Crohn disease singleton cases and 1,032 controls. Disease association of rs2241880 in the autophagy-related 16-like 1 gene (ATG16L1) was replicated in these samples (P = 4.0 × 10−8) and confirmed in a UK case-control sample (P = 0.0004). By haplotype and regression analysis, we found that marker rs2241880, a coding SNP (T300A), carries virtually all the disease risk exerted by the ATG16L1 locus. The ATG16L1 gene encodes a protein in the autophagosome pathway that processes intracellular bacteria. We found a statistically significant interaction with respect to Crohn disease risk between rs2241880 and the established CARD15 susceptibility variants (P = 0.039). Together with the lack of association between rs2241880 and ulcerative colitis (P > 0.4), these data suggest that the underlying biological process may be specific to Crohn disease.
Relevant articles
Open Access articles citing this article.
Nashwa Eltantawy

,

Islam Abd El-Hamid El-Zayyadi

…

Amira B. Kassem

Beni-Suef University Journal of Basic and Applied Sciences Open Access 30 March 2023

Sara Nemati

,

Hanieh Mohammad Rahimi

…

Hamed Mirjalali

BMC Microbiology Open Access 21 March 2023

Shiwu Li

,

Changguo Ma

…

Xiong-Jian Luo

Translational Psychiatry Open Access 02 September 2022
Access options
Subscribe to this journal
Receive 12 print issues and online access
$189.00 per year
only $15.75 per issue
Rent or buy this article
Get just this article for as long as you need it
$39.95
Prices may be subject to local taxes which are calculated during checkout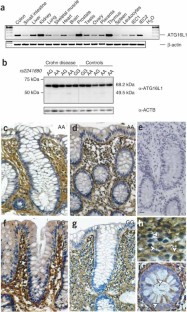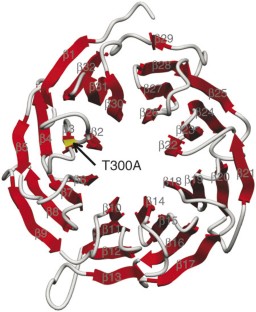 References
Hugot, J.P. et al. Association of NOD2 leucine-rich repeat variants with susceptibility to Crohn's disease. Nature 411, 599–603 (2001).

Ogura, Y. et al. A frameshift mutation in NOD2 associated with susceptibility to Crohn's disease. Nature 411, 603–606 (2001).

Rioux, J.D. et al. Genetic variation in the 5q31 cytokine gene cluster confers susceptibility to Crohn disease. Nat. Genet. 29, 223–228 (2001).

Peltekova, V.D. et al. Functional variants of OCTN cation transporter genes are associated with Crohn disease. Nat. Genet. 36, 471–475 (2004).

Stoll, M. et al. Genetic variation in DLG5 is associated with inflammatory bowel disease. Nat. Genet. 36, 476–480 (2004).

Brant, S.R. et al. MDR1 Ala893 polymorphism is associated with inflammatory bowel disease. Am. J. Hum. Genet. 73, 1282–1292 (2003).

Ho, G.T. et al. ABCB1/MDR1 gene determines susceptibility and phenotype in ulcerative colitis: discrimination of critical variants using a gene-wide haplotype tagging approach. Hum. Mol. Genet. 15, 797–805 (2006).

Schwab, M. et al. Association between the C3435T MDR1 gene polymorphism and susceptibility for ulcerative colitis. Gastroenterology 124, 26–33 (2003).

McGovern, D.P. et al. Association between a complex insertion/deletion polymorphism in NOD1 (CARD4) and susceptibility to inflammatory bowel disease. Hum. Mol. Genet. 14, 1245–1250 (2005).

Yamazaki, K. et al. Single nucleotide polymorphisms in TNFSF15 confer susceptibility to Crohn's disease. Hum. Mol. Genet. 14, 3499–3506 (2005).

Duerr, R.H. et al. A genome-wide association study identifies IL23R as an inflammatory bowel disease gene. Science 314, 1461–1463 (2006).

Maeda, S. et al. Nod2 mutation in Crohn's disease potentiates NF-kappaB activity and IL-1beta processing. Science 307, 734–738 (2005).

Kobayashi, K.S. et al. Nod2-dependent regulation of innate and adaptive immunity in the intestinal tract. Science 307, 731–734 (2005).

Girardin, S.E. et al. Nod2 is a general sensor of peptidoglycan through muramyl dipeptide (MDP) detection. J. Biol. Chem. 278, 8869–8872 (2003).

Hampe, J. et al. Association between insertion mutation in NOD2 gene and Crohn's disease in German and British populations. Lancet 357, 1925–1928 (2001).

Watanabe, T., Kitani, A., Murray, P.J. & Strober, W. NOD2 is a negative regulator of Toll-like receptor 2-mediated T helper type 1 responses. Nat. Immunol. 5, 800–808 (2004).

Smyth, D.J. et al. A genome-wide association study of nonsynonymous SNPs identifies a type 1 diabetes locus in the interferon-induced helicase (IFIH1) region. Nat. Genet. 38, 617–619 (2006).

Duerr, R.H., Barmada, M.M., Zhang, L., Pfutzer, R. & Weeks, D.E. High-density genome scan in Crohn disease shows confirmed linkage to chromosome 14q11–12. Am. J. Hum. Genet. 66, 1857–1862 (2000).

Hampe, J. et al. A genome-wide analysis provides evidence for novel linkages in inflammatory bowel disease in a large European cohort. Am. J. Hum. Genet. 64, 808–816 (1999).

Shaw, S.H. et al. Stratification by CARD15 variant genotype in a genome-wide search for inflammatory bowel disease susceptibility loci. Hum. Genet. 113, 514–521 (2003).

Croucher, P.J.P. et al. Haplotype structure and association to Crohn's disease of CARD15 mutations in two ethnically divergent populations. Eur. J. Hum. Genet. 11, 6–16 (2003).

Zheng, H. et al. Cloning and analysis of human Apg16L. DNA Seq. 15, 303–305 (2004).

Mizushima, N. et al. Mouse Apg16L, a novel WD-repeat protein, targets to the autophagic isolation membrane with the Apg12-Apg5 conjugate. J. Cell Sci. 116, 1679–1688 (2003).

Hampe, J. et al. An integrated system for high throughput TaqMan based SNP genotyping. Bioinformatics 17, 654–655 (2001).

Hampe, J. et al. Evidence for a NOD2-independent susceptibility locus for inflammatory bowel disease on chromosome 16p. Proc. Natl. Acad. Sci. USA 99, 321–326 (2002).

Venter, J.C. et al. The sequence of the human genome. Science 291, 1304–1351 (2001).

Manaster, C. et al. InSNP: a tool for automated detection and visualization of SNPs and InDels. Hum. Mutat. 26, 11–19 (2005).

Barrett, J.C., Fry, B., Maller, J. & Daly, M.J. Haploview: analysis and visualization of LD and haplotype maps. Bioinformatics 21, 263–265 (2005).

Franke, A. et al. GENOMIZER: an integrated analysis system for genome-wide association data. Hum. Mutat. 27, 583–588 (2006).

Dudbridge, F. Pedigree disequilibrium tests for multilocus haplotypes. Genet. Epidemiol. 25, 115–121 (2003).
Acknowledgements
We thank all affected individuals, families and physicians for their cooperation. We acknowledge the cooperation of the German Crohn and Colitis Patient Association (Deutsche Morbus Crohn und Colitis Vereinigung) and the contributing gastroenterologists. The authors thank T. Wesse, B. Petersen, L. Bossen, T. Henke, S. Ehlers, A. Dietsch, T. Kaacksteen and D. Soars for technical help. The ongoing technical and logistic support and helpful discussions with A. Toeppel, C.R. Scafe, A. Kejariwal, H.M. Wenz, M. Rhodes, S. Short, T. Woodage and D.A. Gilbert from Applied Biosystems is especially acknowledged. We thank C.-C. Chiang for preparing the submission of new SNPs to dbSNP. T.H. Karlsen (Rikshospitalet) is acknowledged for helpful discussions. We thank A. Forbes, J. Sanderson and S. Fisher for case ascertainment and establishment of the UK Crohn disease database. We acknowledge use of genotype data from the British 1958 Birth Cohort DNA collection, funded by Medical Research Council grant G0000934 and Wellcome Trust grant 068545/Z/02. This study was supported by the German Ministry of Education and Research (BMBF) through the National Genome Research Network (environmental diseases network and SMP-GEM), the POPGEN biobank, the analysis infrastructure and methods of the MediGrid project and the German Research Council (Ha 3091/1-1, 2-1), Applied Biosystems, TECAN, the Wellcome Trust and CORE (UK).
Ethics declarations
Competing interests
A patent application has been filed regarding ATG16L1 as a susceptibility gene for Crohn disease.
Supplementary information
About this article
Cite this article
Hampe, J., Franke, A., Rosenstiel, P. et al. A genome-wide association scan of nonsynonymous SNPs identifies a susceptibility variant for Crohn disease in ATG16L1. Nat Genet 39, 207–211 (2007). https://doi.org/10.1038/ng1954
Received:

Accepted:

Published:

Issue Date:

DOI: https://doi.org/10.1038/ng1954