Abstract
We describe a new autosomal recessive white matter disorder ('hypomyelination and congenital cataract') characterized by hypomyelination of the central and peripheral nervous system, progressive neurological impairment and congenital cataract. We identified mutations in five affected families, resulting in a deficiency of hyccin, a newly identified 521–amino acid membrane protein. Our study highlights the essential role of hyccin in central and peripheral myelination.
Access options
Subscribe to Journal
Get full journal access for 1 year
$59.00
only $4.92 per issue
All prices are NET prices.
VAT will be added later in the checkout.
Tax calculation will be finalised during checkout.
Rent or Buy article
Get time limited or full article access on ReadCube.
from$8.99
All prices are NET prices.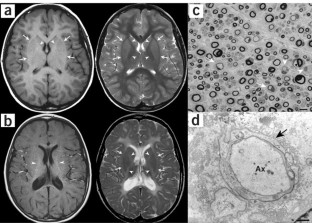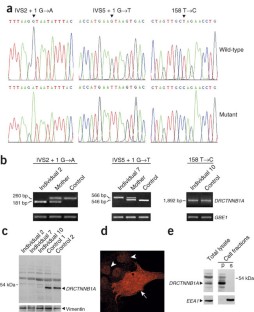 References
1

Schiffmann, R. & van der Knaap, M.S. Curr. Opin. Neurol. 17, 187–192 (2004).

2

van der Knaap, M.S. et al. Radiology 213, 121–133 (1999).

3

van der Knaap, M.S. et al. AJNR Am. J. Neuroradiol. 23, 1466–1474 (2002).

4

Kawasoe, T. et al. Cancer Res. 60, 3354–3358 (2000).

5

Mu, F.T. et al. J. Biol. Chem. 270, 13503–13511 (1995).

6

Uhlenberg, B. et al. Am. J. Hum. Genet. 75, 251–260 (2004).

7

Mackay, D. et al. Am. J. Hum. Genet. 64, 1357–1364 (1999).

8

Shiels, A. et al. Am. J. Hum. Genet. 62, 526–532 (1998).

9

Bergoffen, J. et al. Science 262, 2039–2042 (1993).

10

Shimizu, T. et al. Dev. Biol. 282, 397–410 (2005).

11

Kasai, M. et al. Genes Cells 10, 777–783 (2005).

12

Stump, R.J. et al. Dev. Biol. 259, 48–61 (2003).

13

Lyu, J. & Joo, C.K. Development 131, 1813–1824 (2004).
Acknowledgements
We thank R. Gatti, P. Palazzolo, V. Costa and the families of the affected individuals for their collaborative efforts and P. Broda for technical assistance. This work has been supported by the Pierfranco and Luisa Mariani Foundation ONLUS (grant R-04-37), the Telethon Italy Foundation (grant GGP05156), the Istituto Superiore della Sanità (grant 526/A32) and a donation from R. Bulgarelli. F.S. and M.P.L. were supported by grants from the US National Institutes of Health and the American Heart Association. The samples were obtained from the 'Cell Line and DNA Bank from Patients Affected by Genetic Diseases' collection (http://www.gaslini.org/labdppm.htm) supported by Italian Telethon grants (project number GTF04002).
Ethics declarations
Competing interests
The authors declare no competing financial interests.
Supplementary information
About this article
Cite this article
Zara, F., Biancheri, R., Bruno, C. et al. Deficiency of hyccin, a newly identified membrane protein, causes hypomyelination and congenital cataract. Nat Genet 38, 1111–1113 (2006). https://doi.org/10.1038/ng1870
Received:

Accepted:

Published:

Issue Date: