Abstract
With the increasing incidence of prostate cancer, identifying common genetic variants that confer risk of the disease is important. Here we report such a variant on chromosome 8q24, a region initially identified through a study of Icelandic families. Allele −8 of the microsatellite DG8S737 was associated with prostate cancer in three case-control series of European ancestry from Iceland, Sweden and the US. The estimated odds ratio (OR) of the allele is 1.62 (P = 2.7 × 10−11). About 19% of affected men and 13% of the general population carry at least one copy, yielding a population attributable risk (PAR) of ∼8%. The association was also replicated in an African American case-control group with a similar OR, in which 41% of affected individuals and 30% of the population are carriers. This leads to a greater estimated PAR (16%) that may contribute to higher incidence of prostate cancer in African American men than in men of European ancestry.
Relevant articles
Open Access articles citing this article.
Nicole M. Sodir

,

Luca Pellegrinet

…

Gerard I. Evan

Nature Communications Open Access 09 November 2022

Serena Barilla

,

Annika Lindblom

&

Hafdis T. Helgadottir

Hereditary Cancer in Clinical Practice Open Access 23 July 2022

Chia-Yang Li

,

Shu-Pin Huang

…

Bo-Ying Bao

Cancer Cell International Open Access 06 May 2022
Access options
Subscribe to this journal
Receive 12 print issues and online access
$189.00 per year
only $15.75 per issue
Rent or buy this article
Get just this article for as long as you need it
$39.95
Prices may be subject to local taxes which are calculated during checkout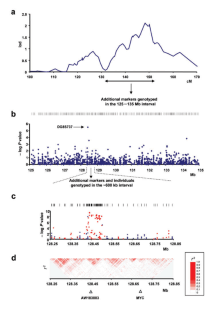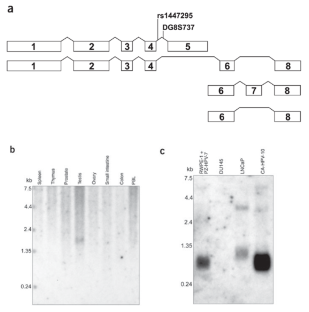 References
Parkin, D.M., Bray, F., Ferlay, J. & Pisani, P. Global cancer statistics, 2002. CA Cancer J. Clin. 55, 74–108 (2005).

Amundadottir, L.T. et al. Cancer as a complex phenotype: pattern of cancer distribution within and beyond the nuclear family. PLoS Med 1, e65 (2004).

Crawford, E.D. Epidemiology of prostate cancer. Urology 62, 3–12 (2003).

NIH Pub. No. 99–4649. Cancer incidence and survival among children and adolescents: United States SEER program 1975–1995 (US National Cancer Institute, SEER Program, Bethesda, Maryland, 1999).

Lichtenstein, P. et al. Environmental and heritable factors in the causation of cancer–analyses of cohorts of twins from Sweden, Denmark, and Finland. N. Engl. J. Med. 343, 78–85 (2000).

Schaid, D.J. The complex genetic epidemiology of prostate cancer. Hum. Mol. Genet. 13, R103–R121 (2004).

Falk, C.T. & Rubinstein, P. Haplotype relative risks: an easy reliable way to construct a proper control sample for risk calculations. Ann. Hum. Genet. 51, 227–233 (1987).

Gretarsdottir, S. et al. The gene encoding phosphodiesterase 4D confers risk of ischemic stroke. Nat. Genet. 35, 131–138 (2003).

Helgadottir, A. et al. A variant of the gene encoding leukotriene A4 hydrolase confers ethnicity-specific risk of myocardial infarction. Nat. Genet. 38, 68–74 (2006).

Pritchard, J.K., Stephens, M. & Donnelly, P. Inference of population structure using multilocus genotype data. Genetics 155, 945–959 (2000).

Pritchard, J.K., Stephens, M., Rosenberg, N.A. & Donnelly, P. Association mapping in structured populations. Am. J. Hum. Genet. 67, 170–181 (2000).

Kent, W.J. et al. The human genome browser at UCSC. Genome Res. 12, 996–1006 (2002).

Griffiths-Jones, S. The microRNA registry. Nucleic Acids Res. 32, D109–D111 (2004).

Baudis, M. & Cleary, M.L. Progenetix.net: an online repository for molecular cytogenetic aberration data. Bioinformatics 17, 1228–1229 (2001).

El Gedaily, A. et al. Discovery of new DNA amplification loci in prostate cancer by comparative genomic hybridization. Prostate 46, 184–190 (2001).

Gulcher, J., Kong, A. & Stefansson, K. The genealogic approach to human genetics of disease. Cancer J. 7, 61–68 (2001).

Gulcher, J.R., Kristjansson, K., Gudbjartsson, H. & Stefansson, K. Protection of privacy by third-party encryption in genetic research in Iceland. Eur. J. Hum. Genet. 8, 739–742 (2000).

Lindmark, F. et al. H6D polymorphism in macrophage-inhibitory cytokine-1 gene associated with prostate cancer. J. Natl. Cancer Inst. 96, 1248–1254 (2004).

Beebe-Dimmer, J.L. et al. Polymorphisms in the prostate-specific antigen gene promoter do not predict serum prostate-specific antigen levels in African-American men. Prostate Cancer Prostatic Dis. 9, 50–55 (2006).

Douglas, J.A. et al. Identifying susceptibility genes for prostate cancer–a family-based association study of polymorphisms in CYP17, CYP19, CYP11A1, and LH-beta. Cancer Epidemiol. Biomarkers Prev. 14, 2035–2039 (2005).

Kong, A. & Cox, N.J. Allele-sharing models: LOD scores and accurate linkage tests. Am. J. Hum. Genet. 61, 1179–1188 (1997).

Gudbjartsson, D.F., Jonasson, K., Frigge, M.L. & Kong, A. Allegro, a new computer program for multipoint linkage analysis. Nat. Genet. 25, 12–13 (2000).

Gretarsdottir, S. et al. Localization of a susceptibility gene for common forms of stroke to 5q12. Am. J. Hum. Genet. 70, 593–603 (2002).

Kong, A. et al. A high-resolution recombination map of the human genome. Nat. Genet. 31, 241–247 (2002).

Mantel, N. & Haenszel, W. Statistical aspects of the analysis of data from retrospective studies of disease. J. Natl. Cancer Inst. 22, 719–748 (1959).

Grant, S.F. et al. Variant of transcription factor 7-like 2 (TCF7L2) gene confers risk of type 2 diabetes. Nat. Genet. 38, 320–323 (2006).

Boehnke, M. & Cox, N.J. Accurate inference of relationships in sib-pair linkage studies. Am. J. Hum. Genet. 61, 423–429 (1997).

Epstein, M.P., Duren, W.L. & Boehnke, M. Improved inference of relationship for pairs of individuals. Am. J. Hum. Genet. 67, 1219–1231 (2000).
Acknowledgements
We thank the men with cancer and their family members whose contribution made this work possible. We also thank the nurses at Noatun and personnel at the deCODE core facilities for their hard work and enthusiasm. In addition, we thank the following individuals at the Department of Pathology at Landspitali University-Hospital for their contributions: A. Arason, G. Johannesdottir, K. Olafsdottir and S. Kristjansdottir. We also thank the staff at the Icelandic Cancer Registry for providing patient lists. We thank Regional Cancer Registries in Umeå, Uppsala, Stockholm-Gotland and Lindköping and all urologists who recruited their patients to this study and provided clinical data to the national registry of prostate cancer. We also thank P. Stattin, J. Adolfsson and E. Varenhorst as regional coordinators in CAPS and the personnel at the Medical Biobank in Umeå. The CAPS study has been supported by grants from the Swedish Cancer Foundation and partially funded by a US National Cancer Institute grant (CA 1R01CA105055-01A1). We also thank participants and clinicians at Northwestern University, the University of Chicago and the University of Michigan for their contribution to the collection of samples and clinical data used in this study.
Ethics declarations
Competing interests
L.T.A., P.S., J.G., A.H., A.S., A.B., J.B.C., J.S., M.J., J.K., D.N.M., S.G., K.A., B.B., L.L.R., A.O., T.B., M.A., O.S.A., J.T.B., D.G., A.G., G.T., A.M., K.K., J.R.G., A.K., U.T. and K.S. own stock or stock options in deCODE genetics.
Supplementary information
About this article
Cite this article
Amundadottir, L., Sulem, P., Gudmundsson, J. et al. A common variant associated with prostate cancer in European and African populations. Nat Genet 38, 652–658 (2006). https://doi.org/10.1038/ng1808
Received:

Accepted:

Published:

Issue Date:

DOI: https://doi.org/10.1038/ng1808