Abstract
The molecular basis of nephronophthisis1, the most frequent genetic cause of renal failure in children and young adults, and its association with retinal degeneration and cerebellar vermis aplasia in Joubert syndrome2 are poorly understood. Using positional cloning, we here identify mutations in the gene CEP290 as causing nephronophthisis. It encodes a protein with several domains also present in CENPF, a protein involved in chromosome segregation. CEP290 (also known as NPHP6) interacts with and modulates the activity of ATF4, a transcription factor implicated in cAMP-dependent renal cyst formation. NPHP6 is found at centrosomes and in the nucleus of renal epithelial cells in a cell cycle–dependent manner and in connecting cilia of photoreceptors. Abrogation of its function in zebrafish recapitulates the renal, retinal and cerebellar phenotypes of Joubert syndrome. Our findings help establish the link between centrosome function, tissue architecture and transcriptional control in the pathogenesis of cystic kidney disease, retinal degeneration, and central nervous system development.
Access options
Subscribe to Journal
Get full journal access for 1 year
$225.00
only $18.75 per issue
All prices are NET prices.
VAT will be added later in the checkout.
Rent or Buy article
Get time limited or full article access on ReadCube.
from$8.99
All prices are NET prices.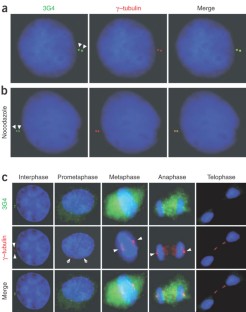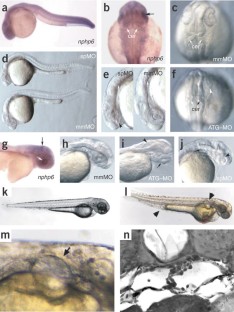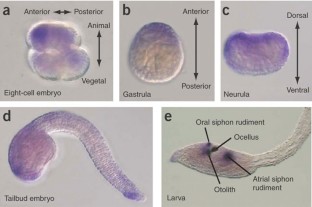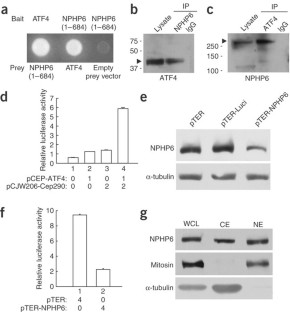 References
1

Hildebrandt, F., Jungers, P., Robino, C. & Grundfeld, J.-P. Nephronophthisis, medullary cystic kidney disease and medullary sponge kidney disease. in Diseases of the Kidney and Urinary Tract (ed. Schrier, R.W.) (Lippincott Williams & Wilkins, Philadelphia, 2001).

2

Saraiva, J.M. & Baraitser, M. Joubert syndrome: a review. Am. J. Med. Genet. 43, 726–731 (1992).

3

Hildebrandt, F. et al. A novel gene encoding an SH3 domain protein is mutated in nephronophthisis type 1. Nat. Genet. 17, 149–153 (1997).

4

Olbrich, H. et al. Mutations in a novel gene, NPHP3, cause adolescent nephronophthisis, tapeto-retinal degeneration and hepatic fibrosis. Nat. Genet. 34, 455–459 (2003).

5

Otto, E.A. et al. Mutations in INVS encoding inversin cause nephronophthisis type 2, linking renal cystic disease to the function of primary cilia and left-right axis determination. Nat. Genet. 34, 413–420 (2003).

6

Otto, E. et al. A gene mutated in nephronophthisis and retinitis pigmentosa encodes a novel protein, nephroretinin, conserved in evolution. Am. J. Hum. Genet. 71, 1161–1167 (2002).

7

Otto, E.A. et al. Nephrocystin-5, a ciliary IQ domain protein, is mutated in Senior-Loken syndrome and interacts with RPGR and calmodulin. Nat. Genet. 37, 282–288 (2005).

8

Watnick, T. & Germino, G. From cilia to cyst. Nat. Genet. 34, 355–356 (2003).

9

Simons, M. et al. Inversin, the gene product mutated in nephronophthisis type II, functions as a molecular switch between Wnt signaling pathways. Nat. Genet. 37, 537–543 (2005).

10

Germino, G.G. Linking cilia to Wnts. Nat. Genet. 37, 455–457 (2005).

11

Hildebrandt, F. & Otto, E. Cilia and centrosomes: a unifying pathogenic concept for cystic kidney disease? Nat. Rev. Genet. 6, 928–940 (2005).

12

Utsch, B. et al. Identification of the first AHI1 gene mutations in families with Joubert syndrome and nephronophthisis. Pediatr. Nephrol. 21, 32–35 (2005).

13

Andersen, J.S. et al. Proteomic characterization of the human centrosome by protein correlation profiling. Nature 426, 570–574 (2003).

14

Nasmyth, K. & Haering, C.H. The structure and function of smc and kleisin complexes. Annu. Rev. Biochem. 74, 595–648 (2005).

15

Zhou, X. et al. Mitosin/CENP-F as a negative regulator of activating transcription factor-4. J. Biol. Chem. 280, 13973–13977 (2005).

16

Khanna, H. et al. RPGR-ORF15, which is mutated in retinitis pigmentosa, associates with SMC1, SMC3, and microtubule transport proteins. J. Biol. Chem. 280, 33580–33587 (2005).

17

Morgan, D. et al. Expression analyses and interaction with the anaphase promoting complex protein Apc2 suggest a role for inversin in primary cilia and involvement in the cell cycle. Hum. Mol. Genet. 11, 3345–3350 (2002).

18

Mollet, G. et al. The gene mutated in juvenile nephronophthisis type 4 encodes a novel protein that interacts with nephrocystin. Nat. Genet. 32, 300–305 (2002).

19

Chen, D. & Shou, C. Molecular cloning of a tumor-associated antigen recognized by monoclonal antibody 3H11. Biochem. Biophys. Res. Commun. 280, 99–103 (2001).

20

Vaughan, K.T. & Vallee, R.B. Cytoplasmic dynein binds dynactin through a direct interaction between the intermediate chains and p150Glued. J. Cell Biol. 131, 1507–1516 (1995).

21

Kim, J.C. et al. MKKS/BBS6, a divergent chaperonin-like protein linked to the obesity disorder Bardet-Biedl syndrome, is a novel centrosomal component required for cytokinesis. J. Cell Sci. 118, 1007–1020 (2005).

22

Mollet, G. et al. Characterization of the nephrocystin/nephrocystin-4 complex and subcellular localization of nephrocystin-4 to primary cilia and centrosomes. Hum. Mol. Genet. 14, 645–656 (2005).

23

Pazour, G.J. & Witman, G.B. The vertebrate primary cilium is a sensory organelle. Curr. Opin. Cell Biol. 15, 105–110 (2003).

24

Kramer-Zucker, A.G. et al. Cilia-driven fluid flow in the zebrafish pronephros, brain and Kupffer's vesicle is required for normal organogenesis. Development 132, 1907–1921 (2005).

25

Mazet, F. et al. Molecular evidence from Ciona intestinalis for the evolutionary origin of vertebrate sensory placodes. Dev. Biol. 282, 494–508 (2005).

26

Nakashima, Y. et al. Origin of the vertebrate visual cycle: genes encoding retinal photoisomerase and two putative visual cycle proteins are expressed in whole brain of a primitive chordate. J. Comp. Neurol. 460, 180–190 (2003).

27

Barthel, L.K. & Raymond, P.A. In situ hybridization studies of retinal neurons. Methods Enzymol. 316, 579–590 (2000).

28

Westerfield, M. The Zebrafish Book (University of Oregon Press, Portland, Oregon, 1995).

29

Piperno, G. & Fuller, M.T. Monoclonal antibodies specific for an acetylated form of alpha-tubulin recognize the antigen in cilia and flagella from a variety of organisms. J. Cell Biol. 101, 2085–2094 (1985).

30

Khanna, H. et al. Early-onset retinal degeneration in the rd16 mouse is associated with an in-frame deletion in the novel centrosomal protein CEP290 (NPHP6) that interacts with retinitis pigmentosa GTPase regulator (RPGR). Hum. Mol. Genet. (in the press).
Acknowledgements
We sincerely thank the affected individuals and their families for participation. We acknowledge R.H. Lyons for excellent large-scale sequencing. We are grateful to the following physicians for contribution of materials and clinical data from patients: J. Kuehr (Karlsruhe, Germany), B. Polak (University of Rotterdam, The Netherlands), D. Doherty (University of Washington, Seattle) and N. Illum (Odense, Denmark). This research was supported by grants from the US National Institutes of Health to F.H. (DK1069274, DK1068306, DK064614), to A.S. (EY07961 and EY07003), to D.S.W. (EY13408) and to I.D. (DK53093), and by grants to A.S. from the Foundation Fighting Blindness and Research to Prevent Blindness (RPB). F.H. is the Frederick G. L. Huetwell Professor. A.S. is the Harold F. Falls Collegiate Professor and recipient of RPB Senior Scientific Investigator Award. M.R.L. holds Michael Smith Foundation for Health Research (MSFHR) and Canadian Institutes of Health Research (CIHR) scholar awards. The work was further supported by the German Federal Ministry of Science and Education through the National Genome Research Network (G.N., C.B., H.C.H. and P.N.); by grants from the German Research Foundation (A.K.); by the National Science Foundation of China (X.Z., grant numbers 30330330 and 30421005); by the March of Dimes and CIHR (grant CBM134736) (M.R.L.); by a grant from the Michigan Economic Development Corporation, Life Sciences Corridor, to D.G. (MEDC38) and a Vision Research Pre-doctoral Training Grant (B.F.); by a grant from the N.K.F. (N004727) (J.F.O.); by grants from the Japanese Ministry of Education, Culture, Sports, Science and Technology (MEXT) to T.K. (17018018) and to M.T. (16370075) and by a grant from Japan Space Forum to M.T. (h160179). We thank D. Slusarski for providing maternal pipetail mutant embryos.
Ethics declarations
Competing interests
The authors declare no competing financial interests.
Supplementary information