Abstract
Fibrodysplasia ossificans progressiva (FOP) is a rare autosomal dominant disorder of skeletal malformations and progressive extraskeletal ossification. We mapped FOP to chromosome 2q23-24 by linkage analysis and identified an identical heterozygous mutation (617G → A; R206H) in the glycine-serine (GS) activation domain of ACVR1, a BMP type I receptor, in all affected individuals examined. Protein modeling predicts destabilization of the GS domain, consistent with constitutive activation of ACVR1 as the underlying cause of the ectopic chondrogenesis, osteogenesis and joint fusions seen in FOP.
NOTE: In the version of this article initially published, several contributing authors were listed collectively under the name The International FOP Research Consortium. In order to facilitate the electronic citation of author contributions, the authors have chosen to delete the Consortium name and replace it with the names of the individual consortium authors in alphabetical order. This error has been corrected in the HTML and PDF versions of the article.
Relevant articles
Open Access articles citing this article.
Alexander Farid

,

Emma Golden

…

Jaymin Upadhyay

Scientific Reports Open Access 03 December 2022

Yeon-Suk Yang

,

Jung-Min Kim

…

Jae-Hyuck Shim

Nature Communications Open Access 19 October 2022

Hirotsugu Maekawa

,

Yonghui Jin

…

Junya Toguchida

Orphanet Journal of Rare Diseases Open Access 21 September 2022
Access options
Subscribe to Journal
Get full journal access for 1 year
$79.00
only $6.58 per issue
All prices are NET prices.
VAT will be added later in the checkout.
Tax calculation will be finalised during checkout.
Buy article
Get time limited or full article access on ReadCube.
$32.00
All prices are NET prices.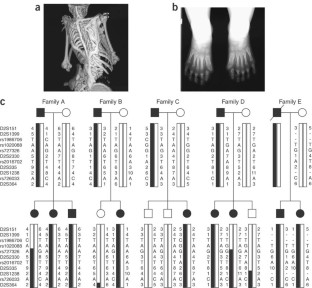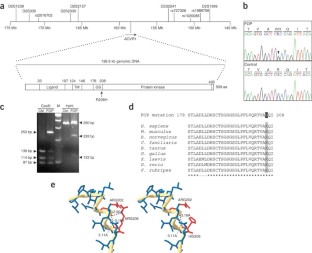 References
Kaplan, F.S. et al. in Connective Tissue and Its Heritable Disorders (eds Royce, P. & Steinmann, B.) 827–840 (Wiley-Liss, New York, 2002).

Shore, E.M. et al. Clin. Rev. Bone Miner. Metab. 3, 201–204 (2005).

Feldman, G. et al. Am. J. Hum. Genet. 66, 128–135 (2000).

Attisano, L. et al. Cell 75, 671–680 (1993).

Payne, T.L. et al. Mech. Dev. 100, 275–289 (2001).

Zhang, D. et al. J. Bone Miner. Res. 18, 1593–1604 (2003).

Shafritz, A.B. et al. N. Engl. J. Med. 335, 555–561 (1996).

Ahn, J. et al. J. Bone Joint Surg. Am. 85-A, 667–674 (2003).

Serrano de la Peña, L. et al. J. Bone Miner. Res. 20, 1168–1176 (2005).

Fiori, J.L. et al. J. Bone Miner. Res. published online 27 February 2006 (doi:10.1359/jbmr.060215).

Xu, M. et al. Clin. Genet. 58, 291–298 (2000).

Xu, M.Q. et al. Am. J. Med. Genet. 109, 161 (2002).

Huse, M. et al. Mol. Cell 8, 671–682 (2001).

Wang, T. et al. Cell 86, 435–444 (1996).

Massagué, J. et al. Cell 103, 295–309 (2000).
Acknowledgements
We thank the individuals and families with FOP for providing tissue samples for these studies and for their courage and faith; J. Peeper and A. Cali for their inspiration and leadership of the international FOP community; many colleagues for discussions over the course of these investigations and many physicians worldwide who referred patients and helped in sending tissue samples. We acknowledge the contributions of R. Pignolo, University of Pennsylvania School of Medicine; M. Fardeau, Institut de Myologie, Hôpital de la Salpetriere; D. Baldwin, University of Pennsylvania Microarray Core Facility; G. Abecasis, University of Michigan, for linkage data analysis advice; C. Street, University of Pennsylvania Biomedical Informatics Facility; University of Pennsylvania School of Medicine DNA Sequencing Facility and the University of Utah School of Medicine Genomics Core Facility. We thank V. Cheung for discussion of the manuscript, M. Liljesthröm for her observations and the people of Santa Maria and many other communities around the globe for their faith and generosity over many years. We also thank the many present and past members of our laboratory for their dedication and technical support, particularly those who have participated in candidate gene screening, especially A. Strong, H. Yang and P. Chen. This work was supported by endowments from the Cali and Weldon families and their associates and friends, the Isaac and Rose Nassau Professorship of Orthopaedic Molecular Medicine, the Roemex and Grampian Fellowships, the Stephen Roach-Whitney Weldon Fellowship and grants from the International Fibrodysplasia Ossificans Progressiva Association (http://www.ifopa.org), Association Pierre-Yves, FOPe.v., University of Oxford FOP Research Fund, the Sarah Cameron Fund, and the US National Institutes of Health (NIH R01-AR41916).
Ethics declarations
Competing interests
F.S.K. and E.M.S. have submitted a patent application for the information contained in this manuscript. However, they have waived all their rights to shares of any net royalty income and will derive no personal financial gain from this patent. The other authors declare that they have no financial conflicts of interest.
Supplementary information
About this article
Cite this article
Shore, E., Xu, M., Feldman, G. et al. A recurrent mutation in the BMP type I receptor ACVR1 causes inherited and sporadic fibrodysplasia ossificans progressiva. Nat Genet 38, 525–527 (2006). https://doi.org/10.1038/ng1783
Received:

Accepted:

Published:

Issue Date:

DOI: https://doi.org/10.1038/ng1783