Abstract
Here we show that in substantia nigra neurons from both aged controls and individuals with Parkinson disease, there is a high level of deleted mitochondrial DNA (mtDNA) (controls, 43.3% ± 9.3%; individuals with Parkinson disease, 52.3% ± 9.3%). These mtDNA mutations are somatic, with different clonally expanded deletions in individual cells, and high levels of these mutations are associated with respiratory chain deficiency. Our studies suggest that somatic mtDNA deletions are important in the selective neuronal loss observed in brain aging and in Parkinson disease.
This is a preview of subscription content
Access options
Subscribe to Journal
Get full journal access for 1 year
$59.00
only $4.92 per issue
All prices are NET prices.
VAT will be added later in the checkout.
Tax calculation will be finalised during checkout.
Buy article
Get time limited or full article access on ReadCube.
$32.00
All prices are NET prices.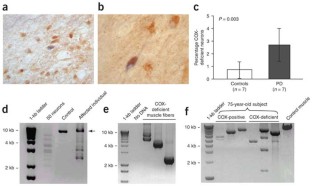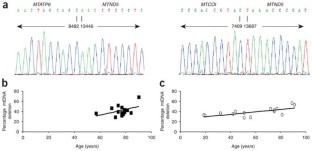 References
Taylor, R.W. & Turnbull, D.M. Nat. Rev. Genet. 6, 389–402 (2005).

Johnson, M.A., Turnbull, D.M., Dick, D.J. & Sherratt, H.S. J. Neurol. Sci. 60, 31–53 (1983).

Sciacco, M., Bonilla, E., Schon, E.A., DiMauro, S. & Moraes, C.T. Hum. Mol. Genet. 3, 13–19 (1994).

Cortopassi, G.A. & Arnheim, N. Nucleic Acids Res. 18, 6927–6933 (1990).

Müller-Höcker, J. Am. J. Pathol. 134, 1167–1173 (1989).

Taylor, R.W. et al. J. Clin. Invest. 112, 1351–1360 (2003).

Fearnley, J.M. & Lees, A.J. Brain 114, 2283–2301 (1991).

Greene, J.G., Dingledine, R. & Greenamyre, J.T. Neurobiol. Dis. 18, 19–31 (2005).

Smeyne, R.J. & Jackson-Lewis, V. Brain Res. Mol. Brain Res. 134, 57–66 (2005).

Itoh, K., Weis, S., Mehraein, P. & Muller-Hocker, J. Neurobiol. Aging 17, 843–848 (1996).

Cottrell, D.A. et al. Neurobiol. Aging 22, 265–272 (2001).

He, L. et al. Nucleic Acids Res. 30, e68 (2002).

Trifunovic, A. et al. Nature 429, 417–423 (2004).

Kraytsberg, Y. et al. Nat. Genet., advance online publication 2 April 2006 (doi: 10.1038/ng1778).

Luoma, P. et al. Lancet 364, 875–882 (2004).
Acknowledgements
This work has been supported by Alzheimer's Research Trust, Wellcome Trust, Medical Research Council UK and European Neurological Society.
Ethics declarations
Competing interests
The authors declare no competing financial interests.
Supplementary information
Characterization of real-time PCR assay. (PDF 54 kb)
Primers used. (PDF 73 kb)
About this article
Cite this article
Bender, A., Krishnan, K., Morris, C. et al. High levels of mitochondrial DNA deletions in substantia nigra neurons in aging and Parkinson disease. Nat Genet 38, 515–517 (2006). https://doi.org/10.1038/ng1769
Received:

Accepted:

Published:

Issue Date:

DOI: https://doi.org/10.1038/ng1769