Abstract
Human earwax consists of wet and dry types. Dry earwax is frequent in East Asians, whereas wet earwax is common in other populations. Here we show that a SNP, 538G → A (rs17822931), in the ABCC11 gene is responsible for determination of earwax type. The AA genotype corresponds to dry earwax, and GA and GG to wet type. A 27-bp deletion in ABCC11 exon 29 was also found in a few individuals of Asian ancestry. A functional assay demonstrated that cells with allele A show a lower excretory activity for cGMP than those with allele G. The allele A frequency shows a north-south and east-west downward geographical gradient; worldwide, it is highest in Chinese and Koreans, and a common dry-type haplotype is retained among various ethnic populations. These suggest that the allele A arose in northeast Asia and thereafter spread through the world. The 538G → A SNP is the first example of DNA polymorphism determining a visible genetic trait.
Relevant articles
Open Access articles citing this article.
Biologia Futura Open Access 01 December 2022

Kazuhiro Ogai

,

Benderli Christine Nana

…

Takayuki Kuraishi

Scientific Reports Open Access 25 January 2022

Mariko Isshiki

,

Izumi Naka

…

Jun Ohashi

BMC Ecology and Evolution Open Access 22 September 2021
Access options
Subscribe to this journal
Receive 12 print issues and online access
$209.00 per year
only $17.42 per issue
Rent or buy this article
Prices vary by article type
from$1.95
to$39.95
Prices may be subject to local taxes which are calculated during checkout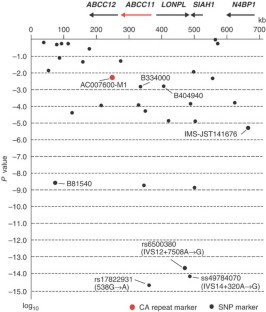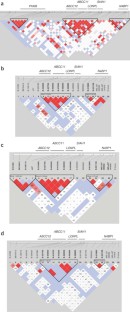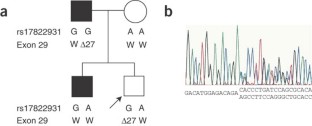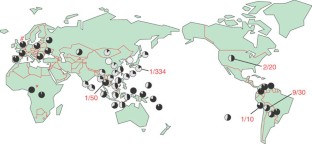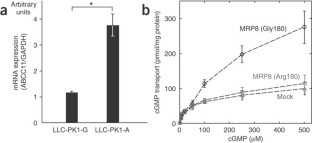 References
Adachi, B. Das Ohrenschmalz als Rassenmerkmal und der Rassengeruch ('Achselgeruch') nebst dem Rassenunterschied der Schweissdrüsen. Z Rassenk 6, 273–307 (1937).

Matsunaga, E. The dimorphism in human normal cerumen. Ann. Hum. Genet. 25, 273–286 (1962).

Petrakis, N.L., Molohon, K.T. & Tepper, D.J. Cerumen in American Indians: Genetic implications of sticky and dry types. Science 158, 1992–1993 (1967).

Omoto, K. Polymorphic traits in peoples of eastern Asia and the Pacific. Isr. J. Med. Sci. 9, 1195–1215 (1973).

Petrakis, N.L., Pingke, U., Petrakis, S.J. & Petrakis, S.L. Evidence for a genetic cline in earwax type in the Middle East and Southeast Asia. Am. J. Phys. Anthropol. 35, 141–144 (1971).

Petrakis, N.L. Cerumen genetics and human breast cancer. Science 173, 347–349 (1971).

Ing, R., Petrakis, L. & Ho, H.C. Evidence against association between wet cerumen and breast cancer. Lancet 1, 41 (1973).

Tomita, H.-a. et al. Mapping of the wet/dry earwax locus to the pericentromeric region of chromosome 16. Lancet 359, 2000–2002 (2002).

Yabuuchi, H., Shimizu, H., Takayanagi, S. & Ishikawa, T. Multiple splicing variants of two new human ATP-binding cassette transporters, ABCC11 and ABCC12. Biochem. Biophys. Res. Commun. 288, 933–939 (2001).

Tammur, J. et al. Two new genes from the human ATP-binding cassette transporter superfamily, ABCC11 and ABCC12, tandemly duplicated on chromosome 16q12. Gene 273, 89–96 (2001).

Bera, T.K., Lee, S., Salvatore, G., Lee, B. & Pastan, I. MRP8, a new member of ABC transporter superfamily, identified by EST database mining and gene prediction program, is highly expressed in breast cancer. Mol. Med. 7, 509–516 (2001).

Guo, Y. et al. MRP8, ATP-binding cassette C11 (ABCC11), is a cyclic nucleotide efflux pump and a resistance factor for fluoropyrimidines 2′,3′-dideoxycytidine and 9′-(2′-phosphonylmethoxyethyl) adenine. J. Biol. Chem. 278, 29509–29514 (2003).

Chen, Z.S., Guo, Y., Belinsky, M.G., Kotova, E. & Kruh, G.D. Transport of bile acids, sulfated steroids, estradiol 17-beta-D-glucuronide, and leukotriene C4 by human multidrug resistance protein 8 (ABCC11). Mol. Pharmacol. 67, 545–557 (2005).

Burkhart, C.N., Kruge, M.A., Burkhart, C.G. & Black, C. Cerumen composition by flash pyrolysis-gas chromatography/mass spectrometry. Otol. Neurotol. 22, 715–722 (2001).

Shugyo, Y. et al. Morphological differences between secretory cells of wet and dry type of human ceruminous glands. Am. J. Anat. 181, 377–384 (1988).

Shulenin, S., Nogee, L.M., Annilo, T., Wert, S.E., Whitsett, J.A. & Dean, M. ABCA3 gene mutations in newborns with fatal surfactant deficiency. N. Engl. J. Med. 350, 1296–1303 (2005).

Diller, K.C., Gilbert, W.A. & Kocher, T.D. Selective sweeps in the human genome: A starting point for identifying genetic differences between modern human and chimpanzees. Mol. Biol. Evol. 19, 2342–2345 (2002).

The International HapMap Consortium. A haplotype map of the human genome. Nature 437, 1299–1320 (2005).

Bonatto, S.L. & Salzano, F.M. A single and early migration for the peopling of the Americas supported by mitochondrial DNA sequence data. Proc. Natl. Acad. Sci. USA 94, 1866–1871 (1997).

Tokunaga, K., Ohashi, J., Bannai, M. & Juji, T. Genetic link between Asians and native Americans: Evidence from HLA genes and haplotypes. Hum. Immunol. 62, 1001–1008 (2001).

Dillehay, T.D. Tracking the first Americans. Nature 425, 23–24 (2003).

Bang, Y.H. et al. Histopathology of apocrine bromhidrosis. Plast. Reconstr. Surg. 98, 288–292 (1996).

Shimizu, H. et al. Characterization of the mouse Abcc12 gene and its transcript encoding an ATP-binding cassette transporter, an orthologue of human ABCC12. Gene 310, 17–28 (2003).

Yamasaki, K., Singer, A. & Beauchamp, G.K. Origin, functions and chemistry of H-2 regulated odorants. Genetica 104, 235–240 (1999).

Barrett, J.C., Fry, B., Maller, J. & Daly, M.J. Haploview: analysis and visualization of LD and haplotype maps. Bioinformatics 21, 263–265 (2005).

Masuzaki, H. et al. Detection of cell free placental DNA in maternal plasma: direct evidence from three cases of confined placental mosaicism. J. Med. Genet. 41, 289–292 (2004).

Mitomo, H. et al. A functional study on polymorphism of the ATP-binding cassette transporter ABCG12: Critical role of arginine-482 in methotrexate transport. Biochem. J. 373, 767–774 (2003).

Ishikawa, T. et al. High-speed screening of human ABC transporter function and genetic polymorphisms: New strategies in pharmacogenomics. Methods Enzymol. 400, 485–510 (2005).
Acknowledgements
We are grateful to all volunteers, especially to Nagasaki University Administration Officers, for their participation in this study and are grateful to S. Horai, P. Duanchang, S. Pookajorn, A. Soemantri, W. Settheetham-Ishida, P.G. Babu, R. Kimura, P.N. Tongol-Rivera, K. Tajim, L.H. Sulaiman and K. Na-Bangchang for assistance in collecting samples. We also thank N. Yanai and Y. Noguchi for their technical assistance and S.M. Kennedy for correction of the manuscript. This study was supported in part by CREST from the Japan Science and Technology Agency (JST) and Grants-in-Aid for Scientific Research (Category S, No. 13854024; Priority Area 'Applied Genomics' No. 17019055; Category C, No. 17590288) from the Ministry of Education, Culture, Sports, Science and Technology of Japan.
Ethics declarations
Competing interests
The authors declare no competing financial interests.
Supplementary information
About this article
Cite this article
Yoshiura, Ki., Kinoshita, A., Ishida, T. et al. A SNP in the ABCC11 gene is the determinant of human earwax type. Nat Genet 38, 324–330 (2006). https://doi.org/10.1038/ng1733
Received:

Accepted:

Published:

Issue Date:

DOI: https://doi.org/10.1038/ng1733