Abstract
Monosomy of the X chromosome owing to divergence between the sex chromosomes leads to dosage compensation mechanisms to restore balanced expression between the X and the autosomes. In Drosophila melanogaster, upregulation of the male X leads to dosage compensation. It has been hypothesized that mammals likewise upregulate their active X chromosome. Together with X inactivation, this mechanism would maintain balanced expression between the X chromosome and autosomes and between the sexes. Here, we show that doubling of the global expression level of the X chromosome leads to dosage compensation in somatic tissues from several mammalian species. X-linked genes are highly expressed in brain tissues, consistent with a role in cognitive functions. Furthermore, the X chromosome is expressed but not upregulated in spermatids and secondary oocytes, preserving balanced expression of the genome in these haploid cells. Upon fertilization, upregulation of the active X must occur to achieve the observed dosage compensation in early embryos.
This is a preview of subscription content
Access options
Subscribe to Journal
Get full journal access for 1 year
$59.00
only $4.92 per issue
All prices are NET prices.
VAT will be added later in the checkout.
Tax calculation will be finalised during checkout.
Rent or Buy article
Get time limited or full article access on ReadCube.
from$8.99
All prices are NET prices.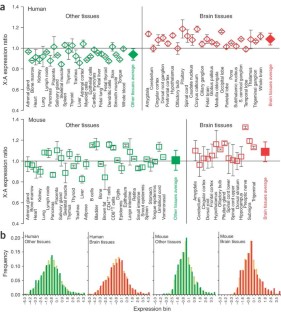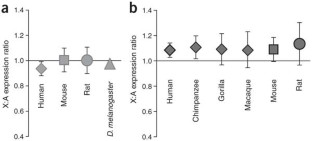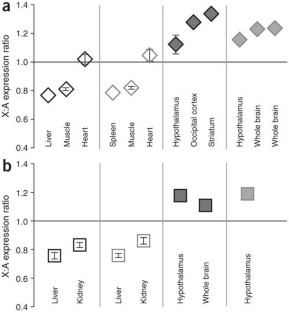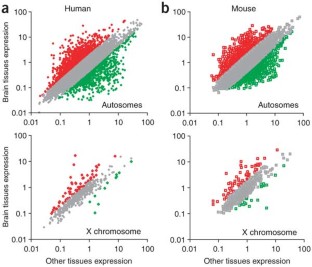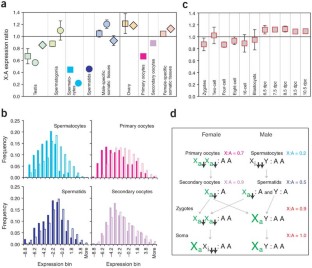 Accession codes
Accessions
Gene Expression Omnibus
References
1

Charlesworth, B. & Charlesworth, D. The degeneration of Y chromosomes. Phil. Trans. R. Soc. Lond. B 355, 1563–1572 (2000).

2

Lyon, M. Gene action in the X-chromosome of the mouse (Mus musculus L). Nature 190, 372–373 (1961).

3

Ohno, S. Sex Chromosomes and Sex Linked Genes (Springer Verlag, Berlin, 1967).

4

Birchler, J.A., Pal-Bhadra, M. & Bhadra, U. Dosage dependent gene regulation and the compensation of the X chromosome in Drosophila males. Genetica 117, 179–190 (2003).

5

Straub, T., Dahlsveen, I.K. & Becker, P.B. Dosage compensation in flies: mechanism, models, mystery. FEBS Lett. 579, 3258–3263 (2005).

6

Adler, D.A. et al. Evidence of evolutionary up-regulation of the single active X chromosome in mammals based on Clc4 expression levels in Mus spretus and Mus musculus. Proc. Natl. Acad. Sci. USA 94, 9244–9248 (1997).

7

FitzPatrick, D.R. et al. Transcriptome analysis of human autosomal trisomy. Hum. Mol. Genet. 11, 3249–3256 (2002).

8

Saran, N.G., Pletcher, M.T., Natale, J.E., Cheng, Y. & Reeves, R.H. Global disruption of the cerebellar transcriptome in a Down syndrome mouse model. Hum. Mol. Genet. 12, 2013–2019 (2003).

9

Amano, K. et al. Dosage-dependent over-expression of genes in the trisomic region of Ts1Cje mouse model for Down syndrome. Hum. Mol. Genet. 13, 1333–1340 (2004).

10

Zhou, X. et al. Identification of discrete chromosomal deletion by binary recursive partitioning of microarray differential expression data. J. Med. Genet. 42, 416–419 (2005).

11

Gartler, S.M. & Andina, R.J. Mammalian X-chromosome inactivation. Adv. Hum. Genet. 7, 99–140 (1976).

12

Cheng, M.K. & Disteche, C.M. Silence of the fathers: early X inactivation. Bioessays 26, 821–824 (2004).

13

Gartler, S.M., Liskay, R.M., Campbell, B.K., Sparkes, R. & Gant, N. Evidence for two functional X chromosomes in human oocytes. Cell Differ. 1, 215–218 (1972).

14

McMahon, A., Fosten, M. & Monk, M. Random X-chromosome inactivation in female primordial germ cells in the mouse. J. Embryol. Exp. Morphol. 64, 251–258 (1981).

15

Monesi, V. Differential rate of ribonucleic acid synthesis in the autosomes and sex chromosomes during male meiosis in the mouse. Chromosoma 17, 11–21 (1965).

16

Turner, J.M. et al. Silencing of unsynapsed meiotic chromosomes in the mouse. Nat. Genet. 37, 41–47 (2005).

17

Huynh, K.D. & Lee, J.T. Inheritance of a pre-inactivated paternal X chromosome in early mouse embryos. Nature 426, 857–862 (2003).

18

Okamoto, I., Otte, A.P., Allis, C.D., Reinberg, D. & Heard, E. Epigenetic dynamics of imprinted X inactivation during early mouse development. Science 303, 644–649 (2004).

19

Mak, W. et al. Reactivation of the paternal X chromosome in early mouse embryos. Science 303, 666–669 (2004).

20

Su, A.I. et al. Large-scale analysis of the human and mouse transcriptomes. Proc. Natl. Acad. Sci. USA 99, 4465–4470 (2002).

21

Su, A.I. et al. A gene atlas of the mouse and human protein-encoding transcriptomes. Proc. Natl. Acad. Sci. USA 101, 6062–6067 (2004).

22

Pritchard, C.C., Hsu, L., Delrow, J. & Nelson, P.S. Project normal: defining normal variance in mouse gene expression. Proc. Natl. Acad. Sci. USA 98, 13266–13271 (2001).

23

Walker, J.R. et al. Applications of a rat multiple tissue gene expression data set. Genome Res. 14, 742–749 (2004).

24

Wang, J. et al. Function-informed transcriptome analysis of Drosophila renal tubule. Genome Biol. 5, R69 (2004).

25

Rinn, J.L. et al. Major molecular differences between mammalian sexes are involved in drug metabolism and renal function. Dev. Cell 6, 791–800 (2004).

26

Welle, S., Brooks, A.I., Delehanty, J.M., Needler, N. & Thornton, C.A. Gene expression profile of aging in human muscle. Physiol. Genomics 14, 149–159 (2003).

27

Carrel, L. & Willard, H.F. X-inactivation profile reveals extensive variability in X-linked gene expression in females. Nature 434, 400–404 (2005).

28

Disteche, C.M., Filippova, G.N. & Tsuchiya, K.D. Escape from X inactivation. Cytogenet. Genome Res. 99, 36–43 (2002).

29

Uddin, M. et al. Sister grouping of chimpanzees and humans as revealed by genome-wide phylogenetic analysis of brain gene expression profiles. Proc. Natl. Acad. Sci. USA 101, 2957–2962 (2004).

30

McCarrey, J.R., Dilworth, D.D. & Sharp, R.M. Semiquantitative analysis of X-linked gene expression during spermatogenesis in the mouse: ethidium-bromide staining of RT-PCR products. Genet. Anal. Tech. Appl. 9, 117–123 (1992).

31

Hendriksen, P.J. et al. Postmeiotic transcription of X and Y chromosomal genes during spermatogenesis in the mouse. Dev. Biol. 170, 730–733 (1995).

32

Odorisio, T., Mahadevaiah, S.K., McCarrey, J.R. & Burgoyne, P.S. Transcriptional analysis of the candidate spermatogenesis gene Ube1y and of the closely related Ube1x shows that they are coexpressed in spermatogonia and spermatids but are repressed in pachytene spermatocytes. Dev. Biol. 180, 336–343 (1996).

33

Khalil, A.M., Boyar, F.Z. & Driscoll, D.J. Dynamic histone modifications mark sex chromosome inactivation and reactivation during mammalian spermatogenesis. Proc. Natl. Acad. Sci. USA 101, 16583–16587 (2004).

34

Malkov, M., Fisher, Y. & Don, J. Developmental schedule of the postnatal rat testis determined by flow cytometry. Biol. Reprod. 59, 84–92 (1998).

35

Schultz, N., Hamra, F.K. & Garbers, D.L. A multitude of genes expressed solely in meiotic or postmeiotic spermatogenic cells offers a myriad of contraceptive targets. Proc. Natl. Acad. Sci. USA 100, 12201–12206 (2003).

36

Schlecht, U. et al. Expression profiling of mammalian male meiosis and gametogenesis identifies novel candidate genes for roles in the regulation of fertility. Mol. Biol. Cell 15, 1031–1043 (2004).

37

Hamra, F.K. et al. Defining the spermatogonial stem cell. Dev. Biol. 269, 393–410 (2004).

38

Khil, P.P., Smirnova, N.A., Romanienko, P.J. & Camerini-Otero, R.D. The mouse X chromosome is enriched for sex-biased genes not subject to selection by meiotic sex chromosome inactivation. Nat. Genet. 36, 642–646 (2004).

39

Hamatani, T. et al. Age-associated alteration of gene expression patterns in mouse oocytes. Hum. Mol. Genet. 13, 2263–2278 (2004).

40

Wang, Q.T. et al. A genome-wide study of gene activity reveals developmental signaling pathways in the preimplantation mouse embryo. Dev. Cell 6, 133–144 (2004).

41

Zeng, F., Baldwin, D.A. & Schultz, R.M. Transcript profiling during preimplantation mouse development. Dev. Biol. 272, 483–496 (2004).

42

Gupta, V. et al. Global analysis of X-chromosome dosage compensation. J. Biol. (in the press).

43

Akhtar, A. Dosage compensation: an intertwined world of RNA and chromatin remodelling. Curr. Opin. Genet. Dev. 13, 161–169 (2003).

44

Zheng, P. et al. Expression of genes encoding chromatin regulatory factors in developing rhesus monkey oocytes and preimplantation stage embryos: possible roles in genome activation. Biol. Reprod. 70, 1419–1427 (2004).

45

Migeon, B.R. et al. Differential expression of steroid sulphatase locus on active and inactive human X chromosome. Nature 299, 838–840 (1982).

46

Zechner, U. et al. A high density of X-linked genes for general cognitive ability: a run-away process shaping human evolution? Trends Genet. 17, 697–701 (2001).

47

Ropers, H.H. & Hamel, B.C. X-linked mental retardation. Nat. Rev. Genet. 6, 46–57 (2005).

48

Birchler, J.A., Riddle, N.C., Auger, D.L. & Veitia, R.A. Dosage balance in gene regulation: biological implications. Trends Genet. 21, 219–226 (2005).

49

Charlesworth, B. The evolution of chromosomal sex determination and dosage compensation. Curr. Biol. 6, 149–162 (1996).
Acknowledgements
This work was supported by grants from the US National Institutes of Health (NIH). We thank J. Birchler (University of Missouri), B. Oliver (National Institute of Diabetes & Digestive & Kidney Diseases, NIH) and M. Cheng (University of Washington), for helpful discussions. We thank C. Pritchard, I. Coleman and P. Nelson (Fred Hutchinson Cancer Research Center); J. Hogenesch, T. Wilshire and J. Walker (Genomics Institute of the Novartis Research Foundation); G. Martin and B. Cool (Department of Pathology, University of Washington); C. Bondy (National Institute of Child Health, NIH); M. Ko (National Institute of Aging, NIH); P. Khaitovich (Max-Planck-Institute for Evolutionary Anthropology, Leipzig); R. Bumgarner and the staff at Array Expression Database (http://www.ebi.ac.uk/arrayexpress/) for providing data for these analyses. We thank the Locke Computer Center and the Department of Biostatistics (University of Washington) for help with the statistical analysis, L. McKitrick and H. Vendettuoli, for technical assistance.
Ethics declarations
Competing interests
The authors declare no competing financial interests.
Supplementary information
Repression of the X chromosome during testis development. (PDF 275 kb)
Array types and characteristics. (PDF 60 kb)
X:autosome expression ratios. (PDF 41 kb)
About this article
Cite this article
Nguyen, D., Disteche, C. Dosage compensation of the active X chromosome in mammals. Nat Genet 38, 47–53 (2006). https://doi.org/10.1038/ng1705
Received:

Accepted:

Published:

Issue Date: