Abstract
Double fertilization of the egg cell and the central cell by one sperm cell each produces the diploid embryo and the typically triploid endosperm and is one of the defining characteristics of flowering plants (angiosperms). Endosperm and embryo develop in parallel to form the mature seed, but little is known about the coordination between these two organisms. We characterized a mutation of the Arabidopsis thaliana Cdc2 homolog CDC2A (also called CDKA;1), which has a paternal effect. In cdc2a mutant pollen, only one sperm cell, instead of two, is produced. Mutant pollen is viable but can fertilize only one cell in the embryo sac, allowing for a genetic dissection of the double fertilization process. We observed exclusive fertilization of the egg cell by cdc2a sperm cells. Moreover, we found that unfertilized endosperm developed, suggesting that a previously unrecognized positive signal from the fertilization of the egg cell initiates proliferation of the central cell.
Relevant articles
Open Access articles citing this article.
Jingpu Song

,

Xin Xie

…

Yuhai Cui

Nature Communications Open Access 25 June 2021

Hirofumi Harashima

,

Nico Dissmeyer

…

Arp Schnittger

BMC Plant Biology Open Access 26 September 2016

Xike Qin

,

Richard Warguchuk

…

Gregory G Brown

BMC Plant Biology Open Access 18 November 2014
Access options
Subscribe to this journal
Receive 12 print issues and online access
$189.00 per year
only $15.75 per issue
Rent or buy this article
Get just this article for as long as you need it
$39.95
Prices may be subject to local taxes which are calculated during checkout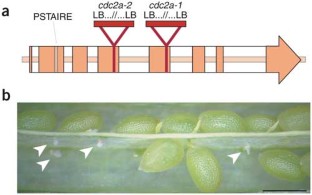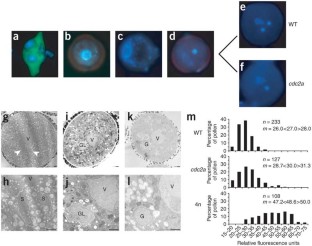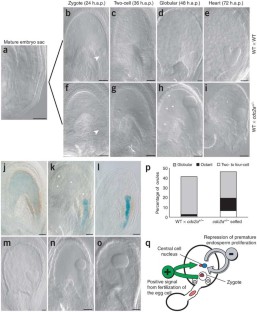 References
Drews, G.N. & Yadegari, R. Development and function of the angiosperm female gametophyte. Annu. Rev. Genet. 36, 99–124 (2002).

McCormick, S. Control of male gametophyte development. Plant Cell 16 Suppl, S142–S153 (2004).

Ferreira, P.C., Hemerly, A.S., Villarroel, R., Van Montagu, M. & Inze, D. The Arabidopsis functional homolog of the p34cdc2 protein kinase. Plant Cell 3, 531–540 (1991).

Hirayama, T., Imajuku, Y., Anai, T., Matsui, M. & Oka, A. Identification of two cell-cycle-controlling cdc2 gene homologs in Arabidopsis thaliana. Gene 105, 159–165 (1991).

Vandepoele, K. et al. Genome-wide analysis of core cell cycle genes in Arabidopsis. Plant Cell 14, 903–916 (2002).

Hemerly, A. et al. Dominant negative mutants of the Cdc2 kinase uncouple cell division from iterative plant development. EMBO J. 14, 3925–3936 (1995).

Hemerly, A.S., Ferreira, P.C., Van Montagu, M., Engler, G. & Inze, D. Cell division events are essential for embryo patterning and morphogenesis: studies on dominant-negative cdc2aAt mutants of Arabidopsis. Plant J. 23, 123–130 (2000).

Leiva-Neto, J.T. et al. A dominant negative mutant of cyclin-dependent kinase A reduces endoreduplication but not cell size or gene expression in maize endosperm. Plant Cell 16, 1854–1869 (2004).

Friedman, W.E. Expression of the cell cycle in sperm of Arabidopsis: implications for understanding patterns of gametogenesis and fertilization in plants and other eukaryotes. Development 126, 1065–1075 (1999).

Rotman, N. et al. A novel class of MYB factors controls sperm-cell formation in plants. Curr. Biol. 15, 244–248 (2005).

Guitton, A.E. et al. Identification of new members of Fertilisation Independent Seed Polycomb Group pathway involved in the control of seed development in Arabidopsis thaliana. Development 131, 2971–2981 (2004).

Vinkenoog, R. et al. Genomic imprinting and endosperm development in flowering plants. Mol. Biotechnol. 25, 149–184 (2003).

Ebel, C., Mariconti, L. & Gruissem, W. Plant retinoblastoma homologues control nuclear proliferation in the female gametophyte. Nature 429, 776–780 (2004).

Berger, F. Endosperm: the crossroad of seed development. Curr. Opin. Plant Biol. 6, 42–50 (2003).

Grossniklaus, U., Spillane, C., Page, D.R. & Kohler, C. Genomic imprinting and seed development: endosperm formation with and without sex. Curr. Opin. Plant Biol. 4, 21–27 (2001).

Chaudhury, A.M. et al. Control of early seed development. Annu. Rev. Cell Dev. Biol. 17, 677–699 (2001).

Hsieh, T.F., Hakim, O., Ohad, N. & Fischer, R.L. From flour to flower: how Polycomb group proteins influence multiple aspects of plant development. Trends Plant Sci. 8, 439–445 (2003).

Chaudhury, A.M. et al. Fertilization-independent seed development in Arabidopsis thaliana. Proc. Natl. Acad. Sci. USA 94, 4223–4228 (1997).

Morgan, D.O. Cyclin-dependent kinases: engines, clocks, and microprocessors. Annu. Rev. Cell Dev. Biol. 13, 261–291 (1997).

Rios, G. et al. Rapid identification of Arabidopsis insertion mutants by non-radioactive detection of T-DNA tagged genes. Plant J. 32, 243–253 (2002).

Grini, P.E., Jurgens, G. & Hulskamp, M. Embryo and endosperm development is disrupted in the female gametophytic capulet mutants of Arabidopsis. Genetics 162, 1911–1925 (2002).

Sessions, A., Weigel, D. & Yanofsky, M.F. The Arabidopsis thaliana MERISTEM LAYER 1 promoter specifies epidermal expression in meristems and young primordia. Plant J. 20, 259–263 (1999).
Acknowledgements
We thank N. Dissmeyer, M. Heese, G. Jürgens, M. Lenhard and R. O'Connell for critical reading and comments on the manuscript; H. Hillebrand for help with the statistical analysis; A. Chaudhury for the homozygous fis1 mutant line; the Salk Institute Genomic Analysis Laboratory for providing the sequence-indexed A. thaliana T-DNA insertion mutants; and the Arabidopsis Biological Resource Center for providing seeds and BACs. M.K.N. is a fellow of the International Max-Planck-Research School. P.E.G. was supported by the Norwegian Research Council and the Norwegian Arabidopsis Research Centre, a part of the Norwegian Research Council National Programme for Research in Functional Genomics. This work was supported by a grant of the Volkswagen-Stiftung to A.S.
Ethics declarations
Competing interests
The authors declare no competing financial interests.
Supplementary information
About this article
Cite this article
Nowack, M., Grini, P., Jakoby, M. et al. A positive signal from the fertilization of the egg cell sets off endosperm proliferation in angiosperm embryogenesis. Nat Genet 38, 63–67 (2006). https://doi.org/10.1038/ng1694
Received:

Accepted:

Published:

Issue Date:

DOI: https://doi.org/10.1038/ng1694