Abstract
We examined the coding sequence of 518 protein kinases, ∼1.3 Mb of DNA per sample, in 25 breast cancers. In many tumors, we detected no somatic mutations. But a few had numerous somatic mutations with distinctive patterns indicative of either a mutator phenotype or a past exposure.
This is a preview of subscription content
Access options
Subscribe to Journal
Get full journal access for 1 year
$59.00
only $4.92 per issue
All prices are NET prices.
VAT will be added later in the checkout.
Tax calculation will be finalised during checkout.
Rent or Buy article
Get time limited or full article access on ReadCube.
from$8.99
All prices are NET prices.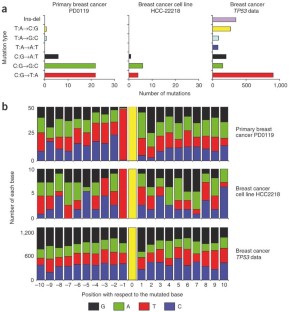 References
1

Manning, G., Whyte, D.B., Martinez, R., Hunter, T. & Sudarsanam, S. Science 298, 1912–1934 (2002).

2

Huang, M.E., Rio, A.G., Nicolas, A. & Kolodner, R.D. Proc. Natl. Acad. Sci. USA. 100, 11529–11534 (2003).

3

Xiao, W., Fontanie, T., Bawa, S. & Kohalmi, L. Mutat. Res. 431, 155–165 (1999).

4

Wagner, E. & Lykke-Andersen, J. J. Cell Sci. 115, 3033–3038 (2002).

5

Persons, D.L., Borelli, K.A. & Hsu, P.H. Mod. Pathol. 10, 720–727 (1997).

6

Wang, T.L. et al. Proc. Natl. Acad. Sci. USA 99, 3076–3080 (2002).

7

Olivier, M. et al. Hum. Mutat. 19, 607–614 (2002).
Ethics declarations
Competing interests
The authors declare no competing financial interests.
Supplementary information
About this article
Cite this article
Stephens, P., Edkins, S., Davies, H. et al. A screen of the complete protein kinase gene family identifies diverse patterns of somatic mutations in human breast cancer. Nat Genet 37, 590–592 (2005). https://doi.org/10.1038/ng1571
Received:

Accepted:

Published:

Issue Date: