Abstract
Experimental infection with mouse cytomegalovirus (MCMV) has been used to elucidate the intricate host-pathogen mechanisms that determine innate resistance to infection. Linkage analyses in F2 progeny from MCMV-resistant MA/My (H2k) and MCMV-susceptible BALB/c (H2d) and BALB.K (H2k) mouse strains indicated that only the combination of alleles encoded by a gene in the Klra (also called Ly49) cluster on chromosome 6, and one in the major histocompatibility complex (H2) on chromosome 17, is associated with virus resistance. We found that natural killer cell–activating receptor Ly49P specifically recognized MCMV-infected cells, dependent on the presence of the H2k haplotype. This binding was blocked using antibodies to H-2Dk but not antibodies to H-2Kk. These results are suggestive of a new natural killer cell mechanism implicated in MCMV resistance, which depends on the functional interaction of the Ly49P receptor and the major histocompatibility complex class I molecule H-2Dk on MCMV-infected cells.
Relevant articles
Open Access articles citing this article.
Jean P. Elbers

,

Mary B. Brown

&

Sabrina S. Taylor

BMC Genomics Open Access 19 January 2018

Matthew D Hall

&

Dieter Ebert

BMC Biology Open Access 15 July 2013
Access options
Subscribe to this journal
Receive 12 print issues and online access
$209.00 per year
only $17.42 per issue
Rent or buy this article
Prices vary by article type
from$1.95
to$39.95
Prices may be subject to local taxes which are calculated during checkout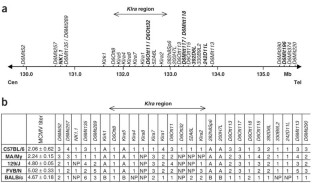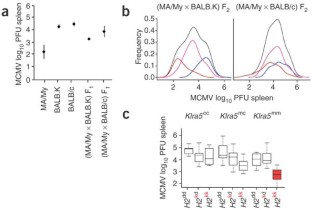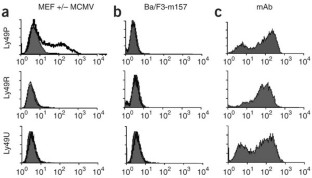 References
Britt, W.J. & Alford, C.A. Cytomegalovirus. in Fields Virology (eds. Fields, B.N., Knipe, D.M. & Howley, P.M.) 2493–2524 (Lippincott-Raven, Philadelphia, 1996).

Reusser, P. Management of viral infections in immunocompromised cancer patients. Swiss. Med. Wkly. 132, 374–378 (2002).

Soderberg-Naucler, C. & Emery, V.C. Viral infections and their impact on chronic renal allograft dysfunction. Transplantation 71, SS24–SS30 (2001).

Trincado, D.E. & Rawlinson, W.D. Congenital and perinatal infections with cytomegalovirus. J. Paediatr. Child Health 37, 187–192 (2001).

Biron, C.A., Byron, K.S. & Sullivan, J.L. Severe herpesvirus infections in an adolescent without natural killer cells. N. Engl. J. Med. 320, 1731–1735 (1989).

Biron, C.A., Nguyen, K.B., Pien, G.C., Cousens, L.P. & Salazar-Mather, T.P. Natural killer cells in antiviral defense: function and regulation by innate cytokines. Annu. Rev. Immunol. 17, 189–220 (1999).

Chalmer, J.E., Mackenzie, J.S. & Stanley, N.F. Resistance to murine cytomegalovirus linked to the major histocompatibility complex of the mouse. J. Gen. Virol. 37, 107–114 (1977).

Grundy, J.E., Mackenzie, J.S. & Stanley, N.F. Influence of H-2 and non-H-2 genes on resistance to murine cytomegalovirus infection. Infect. Immun. 32, 277–286 (1981).

Scalzo, A.A., Fitzgerald, N.A., Simmons, A., La Vista, A.B. & Shellam, G.R. Cmv-1, a genetic locus that controls murine cytomegalovirus replication in the spleen. J. Exp. Med. 171, 1469–1483 (1990).

Scalzo, A.A. et al. The effect of the Cmv-1 resistance gene, which is linked to the natural killer cell gene complex, is mediated by natural killer cells. J. Immunol. 149, 581–589 (1992).

Depatie, C., Muise, E., Lepage, P., Gros, P. & Vidal, S.M. High-resolution linkage map in the proximity of the host resistance locus Cmv1. Genomics 39, 154–163 (1997).

Scalzo, A.A. et al. Genetic mapping of Cmv1 in the region of mouse chromosome 6 encoding the NK gene complex-associated loci Ly49 and musNKR-P1. Genomics 27, 435–441 (1995).

Brown, M.G. et al. A 2-Mb YAC contig and physical map of the natural killer gene complex on mouse chromosome 6. Genomics 42, 16–25 (1997).

Brown, M.G., Scalzo, A.A., Matsumoto, K. & Yokoyama, W.M. The natural killer gene complex: a genetic basis for understanding natural killer cell function and innate immunity. Immunol. Rev. 155, 53–65 (1997).

Yokoyama, W.M. & Plougastel, B.F. Immune functions encoded by the natural killer gene complex. Nat. Rev. Immunol. 3, 304–316 (2003).

Long, E.O. Regulation of immune responses through inhibitory receptors. Annu. Rev. Immunol. 17, 875–904 (1999).

Arase, H., Mocarski, E.S., Campbell, A.E., Hill, A.B. & Lanier, L.L. Direct recognition of cytomegalovirus by activating and inhibitory NK cell receptors. Science 296, 1323–1326 (2002).

Smith, H.R. et al. Recognition of a virus-encoded ligand by a natural killer cell activation receptor. Proc. Natl. Acad. Sci. USA 99, 8826–8831 (2002).

Lee, S.H. et al. Haplotype mapping indicates two independent origins for the Cmv1s susceptibility allele to cytomegalovirus infection and refines its localization within the Ly49 cluster. Immunogenetics 53, 501–505 (2001).

Makrigiannis, A.P. et al. A BAC contig map of the Ly49 gene cluster in 129 mice reveals extensive differences in gene content relative to C57BL/6 mice. Genomics 79, 437–444 (2002).

Arase, H. & Lanier, L.L. Specific recognition of virus-infected cells by paired NK receptors. Rev. Med. Virol. 14, 83–93 (2004).

Makrigiannis, A.P. et al. Class I MHC-binding characteristics of the 129/J Ly49 repertoire. J. Immunol. 166, 5034–5043 (2001).

Silver, E.T. et al. Ly-49P activates NK-mediated lysis by recognizing H-2Dd. J. Immunol. 165, 1771–1781 (2000).

Makrigiannis, A.P. et al. Cloning and characterization of a novel activating Ly49 closely related to Ly49A. J. Immunol. 163, 4931–4938 (1999).

Nakamura, M.C., Hayashi, S., Niemi, E.C., Ryan, J.C. & Seaman, W.E. Activating Ly-49D and inhibitory Ly-49A natural killer cell receptors demonstrate distinct requirements for interaction with H2-D(d). J. Exp. Med. 192, 447–454 (2000).

Nakamura, M.C. & Seaman, W.E. Ligand interactions by activating and inhibitory Ly-49 receptors. Immunol. Rev. 181, 138–148 (2001).

Peruzzi, M., Wagtmann, N. & Long, E.O. A p70 killer cell inhibitory receptor specific for several HLA-B allotypes discriminates among peptides bound to HLA-B*2705. J. Exp. Med. 184, 1585–1590 (1996).

Franksson, L. et al. Peptide dependency and selectivity of the NK cell inhibitory receptor Ly-49C. Eur. J. Immunol. 29, 2748–2758 (1999).

Radaev, S. & Sun, P.D. Structure and function of natural killer cell surface receptors. Annu. Rev. Biophys. Biomol. Struct. 32, 93–114 (2003).

Dam, J. et al. Variable MHC class I engagement by Ly49 natural killer cell receptors demonstrated by the crystal structure of Ly49C bound to H-2K(b). Nat. Immunol. 4, 1213–1222 (2003).

Trowsdale, J. et al. The genomic context of natural killer receptor extended gene families. Immunol. Rev. 181, 20–38 (2001).

Belkin, D. et al. Killer cell Ig-like receptor and leukocyte Ig-like receptor transgenic mice exhibit tissue- and cell-specific transgene expression. J. Immunol. 171, 3056–3063 (2003).

Khakoo, S.I. et al. HLA and NK cell inhibitory receptor genes in resolving hepatitis C virus infection. Science 305, 872–874 (2004).

Martin, M.P. et al. Epistatic interaction between KIR3DS1 and HLA-B delays the progression to AIDS. Nat. Genet. 31, 429–434 (2002).

Scalzo, A.A., Farrell, H. & Karupiah, G. Techniques for studying murine natural killer cells in defense against viral infection. in Natural Killer Cell Protocols, Cellular and Molecular Methods (eds. Campbell, K.S. & Colonna, M.) 163–177 (Humana, Totowa, New Jersey, 2000).

Truett, G.E. et al. Preparation of PCR-quality mouse genomic DNA with hot sodium hydroxide and tris (HotSHOT). Biotechniques 29, 52, 54 (2000).

Depatie, C. et al. Assessment of Cmv1 candidates by genetic mapping and in vivo antibody depletion of NK cell subsets. Int. Immunol. 11, 1541–1551 (1999).

Depatie, C. et al. Sequence-ready BAC contig, physical, and transcriptional map of a 2-Mb region overlapping the mouse chromosome 6 host-resistance locus Cmv1. Genomics 66, 161–174 (2000).

Peng, S.L. & Craft, J. PCR-RFLP genotyping of murine MHC haplotypes. Biotechniques 21, 362–368 (1996).

Silver, E.T., Gong, D., Hazes, B. & Kane, K.P. Ly-49W, an activating receptor of nonobese diabetic mice with close homology to the inhibitory receptor Ly-49G, recognizes H-2D(k) and H-2D(d). J. Immunol. 166, 2333–2341 (2001).

Manly, K.F. & Olson, J.M. Overview of QTL mapping software and introduction to map manager QT. Mamm. Genome 10, 327–334 (1999).

Pierce, C.A., Block, R.A. & Aquinis, H. Cautionary note on reporting eta-squared from multifactor ANOVA designs. Educ. Psychol. Meas. 64, 916–924 (2004).
Acknowledgements
We thank S.-H. Lee for the initial characterization of the MA/My strain; F. Takei for providing the YE1/48 antibody for depletion experiments; D. Albert and M.-H. Lacombe for technical support; M. Reuben for editorial assistance; and P. Gros, E. Schurr and M. Fujiwara for critical reading of the manuscript. This work was supported by grants from the Canadian Institutes of Health Research and the Canadian Genetic Diseases Network (Network of Centres of Excellence program). A.K., S.G.A. and J.-C.L.-O. were Canadian Institutes of Health Research Training Fellows in Infectious Diseases and Autoimmunity. A.K. was also supported by a McGill Majors Fellowship. M.B.L., T.P. and L.L.L. are supported by a grant from the US National Institutes of Health. L.L.L. is an American Cancer Society Research Professor. S.M.V. is a Canada Research Chair.
Ethics declarations
Competing interests
The authors declare no competing financial interests.
Supplementary information
Expression of the Ly49P receptor on MA/My NK cells, and the effect of depletion of Ly49P+ NK cells on MCMV resistance. (PDF 68 kb)
About this article
Cite this article
Desrosiers, MP., Kielczewska, A., Loredo-Osti, JC. et al. Epistasis between mouse Klra and major histocompatibility complex class I loci is associated with a new mechanism of natural killer cell–mediated innate resistance to cytomegalovirus infection. Nat Genet 37, 593–599 (2005). https://doi.org/10.1038/ng1564
Received:

Accepted:

Published:

Issue Date:

DOI: https://doi.org/10.1038/ng1564