Abstract
Roberts syndrome is an autosomal recessive disorder characterized by craniofacial anomalies, tetraphocomelia and loss of cohesion at heterochromatic regions of centromeres and the Y chromosome. We identified mutations in a new human gene, ESCO2, associated with Roberts syndrome in 15 kindreds. The ESCO2 protein product is a member of a conserved protein family that is required for the establishment of sister chromatid cohesion during S phase and has putative acetyltransferase activity.
Access options
Subscribe to Journal
Get full journal access for 1 year
$59.00
only $4.92 per issue
All prices are NET prices.
VAT will be added later in the checkout.
Tax calculation will be finalised during checkout.
Rent or Buy article
Get time limited or full article access on ReadCube.
from$8.99
All prices are NET prices.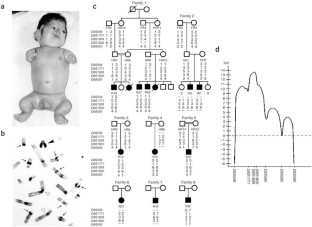 Accession codes
Accessions
GenBank/EMBL/DDBJ
References
1

Van Den Berg, D.J. & Francke, U. Am. J. Med. Genet. 47, 1104–1123 (1993).

2

German, J. Clin. Genet. 16, 441–447 (1979).

3

Ivanov, D. et al. Curr. Biol. 12, 323–328 (2002).

4

Skibbens, R.V., Corson, L.B., Koshland, D. & Hieter, P. Genes Dev. 13, 307–319 (1999).

5

Tóth, A. et al. Genes Dev. 13, 320–333 (1999).

6

Tanaka, K. et al. Mol. Cell. Biol. 20, 3459–3469 (2000).

7

Williams, B.C. et al. Curr. Biol. 13, 2025–2036 (2003).

8

Bellows, A.M., Kenna, M.A., Cassimeris, L. & Skibbens, R.V. Nucleic Acids Res. 31, 6334–6343 (2003).

9

Petronczki, M., Siomos, M.F. & Nasmyth, K. Cell 112, 423–440 (2003).

10

Jabs, E.W., Tuck-Muller, C.M., Cusano, R. & Rattner, J.B. Chromosoma 100, 251–261 (1991).

11

Tomkins, D.J. & Sisken, J.E. Am. J. Hum. Genet. 36, 1332–1340 (1984).

12

Burns, M.A. & Tomkins, D.J. Mutat. Res. 216, 243–249 (1989).

13

Gimenez-Abian, J.F. et al. Curr. Biol. 14, 1187–1193 (2004).

14

Hoque, M.T. & Ishikawa, F. J. Biol. Chem. 277, 42306–42314 (2002).

15

Tomkins, D., Hunter, A. & Roberts, M. Am. J. Med. Genet. 4, 17–26 (1979).
Acknowledgements
We thank the families with Roberts syndrome for their interest and cooperation; D. Tomkins for R22 sample; Biobank at the Istituto Giannina Gaslini for R34 sample; and M. Camargo for technical support. H.V. was supported by scholarships from the Japanese Ministry of Education, Culture, Sports, Science and Technology and the Instituto Colombiano para el Desarrollo de la Ciencia y la Tecnologia. M.G. is supported by the Smile Train Fellowship award to the Center for Craniofacial Development and Disorders at Johns Hopkins University. M.G. and E.W.J. were supported by the Louis H. Gross Foundation, J.S. Sutland and L. and S. Pakula. Q.W. was supported by the Netherlands Organization for Health Research and Development.
Ethics declarations
Competing interests
The authors declare no competing financial interests.
Supplementary information
About this article
Cite this article
Vega, H., Waisfisz, Q., Gordillo, M. et al. Roberts syndrome is caused by mutations in ESCO2, a human homolog of yeast ECO1 that is essential for the establishment of sister chromatid cohesion. Nat Genet 37, 468–470 (2005). https://doi.org/10.1038/ng1548
Received:

Accepted:

Published:

Issue Date: