Abstract
To address the biological function of RNA interference (RNAi)-related pathways in mammals, we disrupted the gene Dicer1 in mice. Loss of Dicer1 lead to lethality early in development, with Dicer1-null embryos depleted of stem cells. Coupled with our inability to generate viable Dicer1-null embryonic stem (ES) cells, this suggests a role for Dicer, and, by implication, the RNAi machinery, in maintaining the stem cell population during early mouse development.
This is a preview of subscription content
Access options
Subscribe to Journal
Get full journal access for 1 year
$59.00
only $4.92 per issue
All prices are NET prices.
VAT will be added later in the checkout.
Tax calculation will be finalised during checkout.
Buy article
Get time limited or full article access on ReadCube.
$32.00
All prices are NET prices.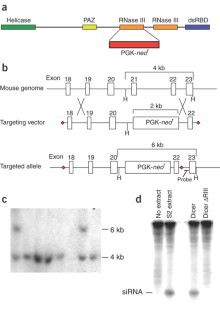 References
Hannon, G.J. Nature 418, 244–251 (2002).

Bernstein, E., Caudy, A.A., Hammond, S.M. & Hannon, G.J. Nature 409, 363–366 (2001).

Ketting, R.F. et al. Genes Dev. 15, 2654–2659 (2001).

Knight, S.W. & Bass, B.L. Science 293, 2269–2271 (2001).

Hutvagner, G. et al. Science 293, 834–838 (2001).

Grishok, A. et al. Cell 106, 23–34 (2001).

Hutvagner, G. & Zamore, P.D. Science 1, 1 (2002).

Zhang, P., Li, M.Z. & Elledge, S.J. Nat. Genet. 30, 31–39 (2002).

Blaszczyk, J. et al. Structure (Camb) 9, 1225–1236 (2001).

Carmell, M.A., Xuan, Z., Zhang, M.Q. & Hannon, G.J. Genes Dev. 16, 2733–2742 (2002).

Nichols, J. et al. Cell 95, 379–391 (1998).

Niwa, H., Masui, S., Chambers, I., Smith, A.G. & Miyazaki, J. Mol. Cell Biol. 22, 1526–1536 (2002).

Avilion, A.A. et al. Genes Dev. 17, 126–140 (2003).

Yeom, Y.I. et al. Development 122, 881–894 (1996).

Shauer, S.E., Jacobsen, S.E., Meinke, D.W. & Ray, A. Trends Plant Sci. 7, 487–491 (2002).
Acknowledgements
We thank L. Bianco and J. Coblentz for assistance with animals; B. Holdener, M.J. Garcia-Garcia and the Stony Brook University Histology Facility for help with initial embryo dissections; and M. Zhang and Z. Xuan for bioinformatics. E.M. is a Elisabeth Sloane Livingston Fellow of the Watson School of Biological Sciences. M.C. is supported by a US Army Breast Cancer Research Program Predoctoral Fellowship. This work was supported in part by grants from the US National Institutes of Health (G.J.H, S.J.E. and K.V.A) and the Howard Hughes Medical Institute (S.J.E.).
Ethics declarations
Competing interests
The authors declare no competing financial interests.
About this article
Cite this article
Bernstein, E., Kim, S., Carmell, M. et al. Dicer is essential for mouse development. Nat Genet 35, 215–217 (2003). https://doi.org/10.1038/ng1253
Received:

Accepted:

Published:

Issue Date:

DOI: https://doi.org/10.1038/ng1253