After initiating transcription, RNA polymerase II often stalls a short distance downstream of promoters. The recent discovery of stalled polymerases at a large number of eukaryotic promoters suggests that the regulation of stalling plays a more important role in gene expression and development than previously suspected.
Access options
Subscribe to Journal
Get full journal access for 1 year
$79.00
only $6.58 per issue
All prices are NET prices.
VAT will be added later in the checkout.
Tax calculation will be finalised during checkout.
Buy article
Get time limited or full article access on ReadCube.
$32.00
All prices are NET prices.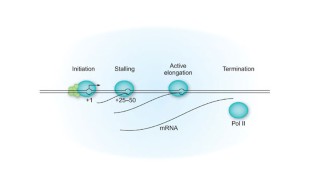 References
Saunders, A., Core, L.J. & Lis, J.T. Nat. Rev. Mol. Cell Biol. 7, 557–567 (2006).

Lis, J. Cold Spring Harb. Symp. Quant. Biol. 63, 347–356 (1998).

Guenther, M.G., Levine, S.S., Boyer, L.A., Jaenisch, R. & Young, R.A. Cell 130, 77–88 (2007).

Kim, T.H. et al. Nature 436, 876–880 (2005).

Barski, A. et al. Cell 129, 823–837 (2007).

Muse, G.W. et al. Nat. Genet. 39, 1507–1511 (2007).

Zeitlinger, J. et al. Nat. Genet. 39, 1512–1516 (2007).

Azuara, V. et al. Nat. Cell Biol. 8, 532–538 (2006).

Bernstein, B.E. et al. Cell 125, 315–326 (2006).
About this article
Cite this article
Tamkun, J. Stalled polymerases and transcriptional regulation. Nat Genet 39, 1421–1422 (2007). https://doi.org/10.1038/ng1207-1421
Issue Date:

DOI: https://doi.org/10.1038/ng1207-1421