Abstract
DNA vectors that express short hairpin RNAs (shRNAs) from RNA polymerase III (Pol III) promoters are a promising new tool to reduce gene expression in mammalian cells. shRNAs are processed to small interfering RNAs (siRNAs) of 21 nucleotides (nt) that guide the cleavage of the cognate mRNA by the RNA-induced silencing complex. Although siRNAs are thought to be too short to induce interferon expression, we report here that a substantial number of shRNA vectors can trigger an interferon response.
Access options
Subscribe to Journal
Get full journal access for 1 year
$59.00
only $4.92 per issue
All prices are NET prices.
VAT will be added later in the checkout.
Tax calculation will be finalised during checkout.
Rent or Buy article
Get time limited or full article access on ReadCube.
from$8.99
All prices are NET prices.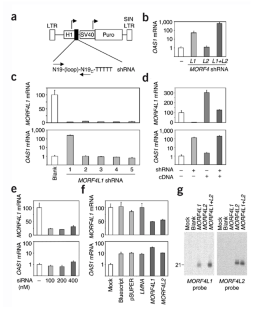 References
1

Bertram, M.J. et al. Mol. Cell. Biol. 19, 1479–1485 (1999).

2

Yochum, G.S. & Ayer, D.E. Mol. Cell. Biol. 22, 7868–7876 (2002).

3

Brummelkamp, T.R., Bernards, R. & Agami, R. Science 296, 550–553 (2002).

4

Naldini, L. et al. Science 272, 263–267 (1996).

5

Akusjarvi, G., Svensson, C. & Nygard, O. Mol. Cell. Biol. 7, 549–551 (1987).

6

Stojdl, D.F. et al. Nat. Med. 6, 821–825 (2000).
Acknowledgements
We thank P. Gonczy for critical reading of the manuscript, T. Brummelkamp for supplying pSUPER, the Swiss Institute for Experimental Cancer Research microarray and bioinformatics core facilities for technical assistance and advice on data analysis and the Swiss National Science Foundation NCCR Molecular Oncology Programme and MEDIC Foundation for financial support.
Ethics declarations
Competing interests
The authors declare no competing financial interests.
Supplementary information
About this article
Cite this article
Bridge, A., Pebernard, S., Ducraux, A. et al. Induction of an interferon response by RNAi vectors in mammalian cells. Nat Genet 34, 263–264 (2003). https://doi.org/10.1038/ng1173
Received:

Accepted:

Published:

Issue Date: