Glutamate receptors have long been implicated in neurological processes underpinning learning and memory. A new study now shows that mutations in genes encoding glutamate receptor subunits can cause variable neurodevelopmental phenotypes including intellectual disability and epilepsy.
This is a preview of subscription content
Access options
Subscribe to Journal
Get full journal access for 1 year
$59.00
only $4.92 per issue
All prices are NET prices.
VAT will be added later in the checkout.
Tax calculation will be finalised during checkout.
Buy article
Get time limited or full article access on ReadCube.
$32.00
All prices are NET prices.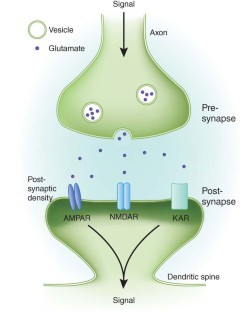 References
Ropers, H.H. Annu. Rev. Genomics Hum. Genet. 11, 161–187 (2010).

Mefford, H.C. Genet. Med. 11, 836–842 (2009).

Endele, S. et al. Nat. Genet. 42, 1021–1026 (2010).

Sakimura, K. et al. Nature 373, 151–155 (1995).

Kutsuwada, T. et al. Neuron 16, 333–344 (1996).

Gécz, J. et al. Curr. Opin. Genet. Dev. 16, 308–316 (2006).

Tang, Y.P. et al. Nature 401, 63–69 (1999).

Wang, D. et al. PLoS ONE 4, e7486 (2009).

Reutlinger, C. et al. Epilepsia 51, 1870–1873 (2010).

van Spronsen, M. & Hoogenraad, C.C. Curr. Neurol. Neurosci. Rep. 10, 207–214 (2010).

Wu, Y. et al. Proc. Natl. Acad. Sci. USA 104, 18163–18168 (2007).

Motazacker, M.M. et al. Am. J. Hum. Genet. 81, 792–798 (2007).

Poot, M. et al. Eur. J. Hum. Genet. 18, 39–46 (2010).

State, M.W. Nat. Genet. 42, 478–479 (2010).

Laumonnier, F. et al. Am. J. Hum. Genet. 80, 205–220 (2007).
Ethics declarations
Competing interests
The author declares no competing financial interests.
About this article
Cite this article
Gécz, J. Glutamate receptors and learning and memory. Nat Genet 42, 925–926 (2010). https://doi.org/10.1038/ng1110-925
Published:

Issue Date:

DOI: https://doi.org/10.1038/ng1110-925