Hedgehog signaling has a key role in hair follicle development, as well as in induction of the most common cancer in individuals of European descent, basal cell carcinoma (BCC). A new study shows that BCCs strongly resemble embryonic hair follicles and that BCC induction requires active Wnt/β-catenin signaling.
Access options
Subscribe to Journal
Get full journal access for 1 year
$79.00
only $6.58 per issue
All prices are NET prices.
VAT will be added later in the checkout.
Tax calculation will be finalised during checkout.
Buy article
Get time limited or full article access on ReadCube.
$32.00
All prices are NET prices.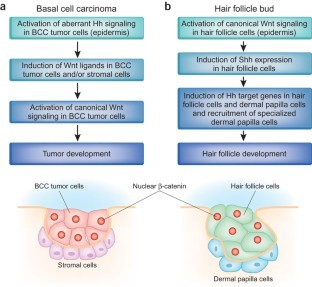 References
Hahn, H. et al. Cell 85, 841–851 (1996).

Johnson, R.L. et al. Science 272, 1668–1671 (1996).

Gailani, M.R. et al. Nat. Genet. 14, 78–81 (1996).

Morgan, B.A., Orkin, R.W., Noramly, S. & Perez, A. Dev. Biol. 201, 1–12 (1998).

St.-Jacques, B. et al. Curr. Biol. 8, 1058–1068 (1998).

Chiang, C. et al. Dev. Biol. 205, 1–9 (1999).

Sato, N., Leopold, P.L. & Crystal, R.G. J. Clin. Invest. 104, 855–864 (1999).

Gat, U., DasGupta, R., Degenstein, L. & Fuchs, E. Cell 95, 605–614 (1998).

Lo Celso, C., Prowse, D.M. & Watt, F.M. Development 131, 1787–1799 (2004).

Yang, S.H. et al. Nat. Genet. 40, 1130–1135 (2008).

Asplund, A. et al. Br. J. Dermatol. 158, 527–538 (2008).

Yu, M. et al. J. Invest. Dermatol. 128, 1797–1805 (2008).

Adolphe, C., Hetherington, R., Ellis, T. & Wainwright, B. Cancer Res. 66, 2081–2088 (2006).
About this article
Cite this article
Roop, D., Toftgård, R. Hedgehog in Wnterland. Nat Genet 40, 1040–1041 (2008). https://doi.org/10.1038/ng0908-1040
Issue Date:

DOI: https://doi.org/10.1038/ng0908-1040