The discovery of genetic risk factors for multiple sclerosis has proven difficult. IL-7Rα, encoded by IL7R, is a pleiomorphic cytokine receptor now implicated in the pathogenesis of multiple sclerosis in independently replicated genetic association studies.
Access options
Subscribe to Journal
Get full journal access for 1 year
$79.00
only $6.58 per issue
All prices are NET prices.
VAT will be added later in the checkout.
Tax calculation will be finalised during checkout.
Buy article
Get time limited or full article access on ReadCube.
$32.00
All prices are NET prices.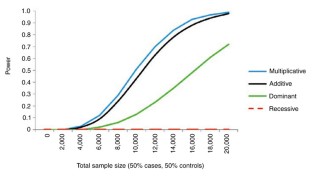 References
Kenealy, S.J., Pericak-Vance, M.A. & Haines, J.L. J. Neuroimmunol. 143, 7–12 (2003).

Gregory, S.G. et al. Nat. Genet. 39, 1083–1091 (2007).

Lundmark, F. et al. Nat. Genet. 39, 1108–1103 (2007).

The International Multiple Sclerosis Genetics Consortium. N. Engl. J. Med., published online 29 July 2007 (doi:10.1056/NEJMoa073493).

Silman, A.J. et al. Br. J. Rheumatol. 32, 903–907 (1993).

Klein, R.J. et al. Science 308, 385–389 (2005).

Teutsch, S.M., Booth, D.R., Bennetts, B.H., Heard, R.N. & Stewart, G.J. Eur. J. Hum. Genet. 11, 509–515 (2003).

NCI-NHGRI Working Group on Replication in Association Studies et al. Nature 447, 655–660 (2007).

Hauser, M.A. et al. Hum. Mol. Genet. 12, 671–676 (2003).

Noureddine, M.A. et al. Mov. Disord. 20, 1299–1309 (2005).

Whewell, W. in Theory of Scientific Method (ed. Butts, R.) (Hackett Publishing, Indianapolis, Indiana, 1989).

Skol, A.D. et al. Nat. Genet. 38, 209–213 (2006).

Gordon, D. et al. Hum. Hered. 54, 22–33 (2002).

Gordon, D. et al. Pac. Symp. Biocomput. 490–501 (2003).
Ethics declarations
Competing interests
The author declares no competing financial interests.
About this article
Cite this article
Harley, J. IL-7Rα and multiple sclerosis risk. Nat Genet 39, 1053–1054 (2007). https://doi.org/10.1038/ng0907-1053
Issue Date:

DOI: https://doi.org/10.1038/ng0907-1053
This article is cited by
K L Moser
J A Kelly
J B Harley

Genes & Immunity (2009)

Nicolas Couturier
Pierre-Antoine Gourraud
David Brassat

European Journal of Human Genetics (2009)