Abstract
WNT signalling orchestrates a number of developmental programs1,2,3. In response to this stimulus, cytoplasmic β-catenin (encoded by CTNNB1 ) is stabilized, enabling downstream transcriptional activation by members of the LEF/TCF family4,5. One of the target genes for β-catenin/TCF encodes c-MYC, explaining why constitutive activation of the WNT pathway can lead to cancer, particularly in the colon6. Most colon cancers arise from mutations in the gene encoding adenomatous polyposis coli (APC), a protein required for ubiquitin-mediated degradation of β-catenin7, but a small percentage of colon and some other cancers harbour β-catenin–stabilizing mutations (refs 8,9,10,11, 12,13,14,15,16, 17). Recently, we discovered that transgenic mice expressing an activated β-catenin are predisposed to developing skin tumours resembling pilomatricomas18. Given that the skin of these adult mice also exhibits signs of de novo hair-follicle morphogenesis, we wondered whether human pilomatricomas might originate from hair matrix cells and whether they might possess β-catenin–stabilizing mutations. Here, we explore the cell origin and aetiology of this common human skin tumour. We found nuclear LEF-1 in the dividing tumour cells, providing biochemical evidence that pilomatricomas are derived from hair matrix cells. At least 75% of these tumours possess mutations affecting the amino-terminal segment, normally involved in phosphorylation-dependent, ubiquitin-mediated degradation of the protein. This percentage of CTNNB1 mutations is greater than in all other human tumours examined thus far, and directly implicates β-catenin/LEF misregulation as the major cause of hair matrix cell tumorigenesis in humans.
Access options
Access options
Subscribe to Journal
Get full journal access for 1 year
$225.00
only $18.75 per issue
All prices are NET prices.
VAT will be added later in the checkout.
Rent or Buy article
Get time limited or full article access on ReadCube.
from$8.99
All prices are NET prices.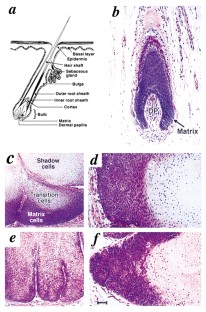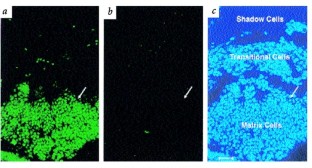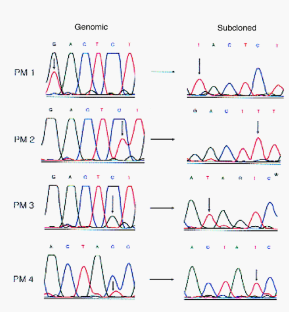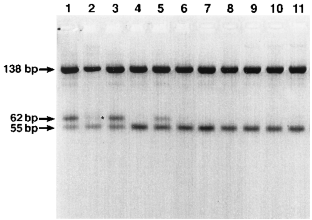 References
1

Miller, J.R. & Moon, R.T. Signal transduction through β-catenin and specification of cell fate during embryogenesis. Genes Dev. 10, 2527–2539 ( 1996).

2

Willert, K. & Nusse, R. β-catenin: a key mediator of Wnt signaling. Curr. Opin. Genet. Dev. 8, 95–102 (1998).

3

Barth, A.I., Nathke, I.S. & Nelson, W.J. Cadherins, catenins and APC protein: interplay between cytoskeletal complexes and signaling pathways. Curr. Opin. Cell Biol. 9, 683–690 ( 1997).

4

Behrens, J. et al. Functional interaction of β-catenin with the transcription factor LEF-1. Nature 382, 638– 642 (1996).

5

Bienz, M. TCF: transcriptional activator or repressor? Curr. Opin. Cell Biol. 10, 366–372 ( 1998).

6

He, T.C. et al. Identification of c-MYC as a target of the APC pathway. Science 281, 1509–1512 ( 1998).

7

Kinzler, K.W. & Vogelstein, B. Lessons from hereditary colorectal cancer. Cell 87, 159–170 (1996).

8

Rubinfeld, B. et al. Stabilization of β-catenin by genetic defects in melanoma cell lines. Science 275, 1790– 1792 (1997).

9

Morin, P.J. et al. Activation of β-catenin-Tcf signaling in colon cancer by mutations in β-catenin or APC. Science 275, 1787–1790 (1997).

10

Palacios, J. & Gamallo, C. Mutations in the β-catenin gene (CTNNB1) in endometrioid ovarian carcinomas. Cancer Res. 58, 1344–1347 (1998).

11

Muller, O., Nimmrich, I., Finke, U., Friedl, W. & Hoffmann, I. A β-catenin mutation in a sporadic colorectal tumor of the RER phenotype and absence of β-catenin germline mutations in FAP patients. Genes Chromosomes Cancer 22, 37 –41 (1998).

12

Miyoshi, Y. et al. Activation of the β-catenin gene in primary hepatocellular carcinomas by somatic alterations involving exon 3. Cancer Res. 58, 2524–2527 ( 1998).

13

Zurawel, R.H., Chiappa, S.A., Allen, C. & Raffel, C. Sporadic medulloblastomas contain oncogenic β-catenin mutations. Cancer Res. 58, 896–899 (1998).

14

Voeller, H.J., Truica, C.I. & Gelmann, E.P. β-catenin mutations in human prostate cancer. Cancer Res. 58, 2520–2523 (1998).

15

Fukuchi, T. et al. β-catenin mutation in carcinoma of the uterine endometrium. Cancer Res. 58, 3526–3528 (1998).

16

Sparks, A.B., Morin, P.J., Vogelstein, B. & Kinzler, K.W. Mutational analysis of the APC/β-catenin/Tcf pathway in colorectal cancer. Cancer Res. 58, 1130–1134 (1998).

17

de La Coste, A. et al. Somatic mutations of the β-catenin gene are frequent in mouse and human hepatocellular carcinomas. Proc. Natl Acad. Sci. USA 95, 8847– 8851 (1998).

18

Gat, U., DasGupta, R., Degenstein, L. & Fuchs, E. De novo hair follicle morphogenesis and hair tumors in mice expressing a truncated β-catenin in skin. Cell 95, 605–614 (1998).

19

Zhou, P., Byrne, C., Jacobs, J. & Fuchs, E. Lymphoid enhancer factor 1 directs hair follicle patterning and epithelial cell fate. Genes Dev. 9, 570–583 ( 1995).

20

van Genderen, C., Okamura, R.M., Farinas, I., Quo, R.-G. & Parslow, T.G. Development of several organs that require inductive epithelial-mesenchymal interactions is impaired in LEF-1-deficient mice. Genes Dev. 8, 2691 –2703 (1994).

21

Munemitsu, S., Albert, I., Rubinfeld, B. & Polakis, P. Deletion of an amino-terminal sequence stabilizes β-catenin in vivo and promotes hyperphosporylation of the adenomatous polyposis coli tumor suppressor protein. Mol. Cell. Biol. 16, 4088– 4094 (1996).

22

Aberle, H., Bauer, A., Stappert, J., Kispert, A. & Kemler, R. β-catenin is a target for the ubiquitin-proteasome pathway. EMBO J. 16, 3797– 3805 (1997).

23

Cadigan, K.M. & Nusse, R. Wnt signaling: a common theme in animal development. Genes Dev. 11, 3286– 3305 (1997).

24

Peifer, M., Pai, L.M. & Casey, M. Phosphorylation of the Drosophila adherens junction protein Armadillo: roles for wingless signal and zeste-white 3 kinase. Dev. Biol. 166, 543–556 (1994).

25

Yost, C. et al. The axis-inducing activity, stability, and subcellular distribution of β-catenin is regulated in Xenopus embryos by glycogen synthase kinase 3. Genes Dev. 10, 1443– 1454 (1996).

26

Orford, K., Crockett, C., Jensen, J.P., Weissman, A.M. & Byers, S.W. Serine phosphorylation-regulated ubiquitination and degradation of β-catenin. J. Biol. Chem. 272, 24735–24738 ( 1997).

27

Chen, Z.J., Parent, L. & Maniatis, T. Site-specific phosphorylation of IκBα by a novel ubiquitination-dependent protein kinase activity. Cell 84, 853–862 ( 1996).

28

Wong, M.W., Rubinfeld, B. & Gordon, J.I. Effects of forced expression of a NH2-terminal truncated β-catenin on mouse intestinal epithelial homeostasis. J. Cell Biol. 141, 765–777 (1998).

29

Foulkes, W.D. A tale of four syndromes: familial adenomatous polyposis, Gardner syndrome, attenuated APC and Turcot syndrome. QJM 88, 853–863 (1995).

30

Pujol, R.M., Casanova, J.M., Egido, R., Pujol, J. & de Moragas, J.M. Multiple familial pilomatricomas: a cutaneous marker for Gardner's syndrome? Pediatr. Dermatol. 12, 331–335 (1995).
Acknowledgements
We thank A. Christiano, M. Tharp and R. Elenitsas for tissue samples; R. Grosschedl for LEF-1 antibody; and M. Medenica for providing H&E-stained slides of normal human scalp skin. This work was supported in part by the National Institutes of Health (NIH-RO1-AR31737 and NCI-P50DE/CA-11921). E.F. is an Investigator of the Howard Hughes Medical Institute. E.F.C. is supported by the Howard Hughes Medical Institute Postdoctoral Research Fellowship for Physicians.